Zimbabwe marks 30 painful years under Mugabe
When will all this end? It's a common refrain in Zimbabwe.
"Only when the old man goes," said Tinaye Garande, a street vendor.
Zimbabwe yesterday marked 30 years of rule by Zimbabwean President Robert Mugabe, who swept to power during the heady optimistic days of independence in 1980. Three decades later, the country — once an agricultural powerhouse and educational beacon — is mired in a continuing political stalemate with an impoverished, stagnant economy.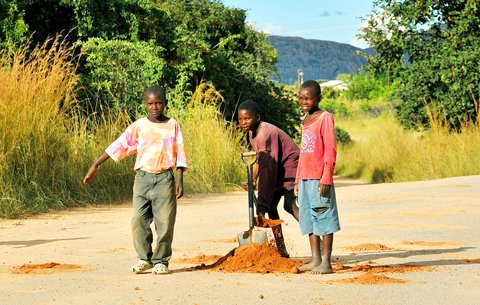 Boys stop cars on the road into Domboshava, Zimbabwe, on Friday, saying that they are fixing the potholes in the road and are looking for donations.
PHOTO: AFP
Garande, 27, sells cheap sunglasses and trinkets in a parking lot outside a suburban Harare store. He is of a generation known as the "born frees" who never suffered under British colonial rule.
The unkempt Garande, however, with worn clothing and untended dreadlocked hair, knows the hard life. He lost his menial job at a paper and packaging firm when it went broke in the economic meltdown four years ago.
He has two children and like many Zimbabweans was educated as a result of Mugabe's post-­independence boom in schools and health services — making "born frees" some of the best taught and healthiest students in Africa — but today he fights to stay alive and blames Mugabe for blocking real improvements in living standards.
It is still an offense to publicly insult Mugabe — several cases are pending in the courts — and Zimbabweans know it.
"Surely it is time for him to enjoy retirement," Garande said guardedly.
However, Mugabe, 86, who dyes his hair black and still walks with a spring in his step, is going nowhere. The ascetic former schoolteacher retains a tight grip on his ZANU-PF party that in December chose him to lead it for another five years. He has no plans to yield the reins of state power, said John Makumbe, a political scientist at the main University of Zimbabwe in Harare.
"He is afraid of the consequences of leaving office, he wants to die there," Makumbe said.
Critics say Mugabe, a political leader in the guerrilla army that ended white rule in 1980, has shown a toxic streak in his character all along.
"He is like a chameleon who looks good when things are going well, but now the dark side is showing," Makube continued.
Mugabe was initially viewed favorably in the West for the strides he made in expanding education and health services in the 1980s, ensuring Tinaye Garande and his "born free" classmates had Africa's highest literacy rate of more than 80 percent.
However, schools and social services have collapsed in recent years.
Human rights organizations have called for Mugabe to face trial at the International Criminal Court on charges of political violence, vote-rigging and human rights violations by state agents over the last decade. The allegations stretch far back: Groups say Mugabe should be held responsible for the massacre of up to 20,000 civilians by loyalist troops who crushed an armed uprising against him in western Zimbabwe soon after independence from 1982 to 1987.
In 2000, Mugabe ordered the ­often-violent seizures of thousands of white-owned farms that disrupted the agriculture-based economy and led to acute food shortages and world-record inflation. He argued the program corrected colonial era imbalances in land ownership.
Bespectacled and always impeccably dressed in suits with color-matched neckties and breast-pocket handkerchiefs, Mugabe says Western sanctions caused the economic collapse. A scholar with a string of academic degrees, he speaks perfectly British-accented English interspersed with the local Shona language and has admitted being an "anglophile" despite his avowed hatred of British colonial rule.
Western embargoes include financial and travel bans on him and his associates.
Before the visa restrictions that sparked his growing isolation, Mugabe often visited his London tailor and the Harrods department store.
Mugabe counts among his dwindling international supporters such pariahs as Venezuelan President Hugo Chavez and Iranian President Mahmoud Ahmadinejad, scheduled to be his guest of honor at a trade exposition in the second city of Bulawayo on Friday.
A recent hoax on the social networking site Facebook said Mugabe was looking for friends to join him in "fighting imperialism."
Mugabe has been described as "the spoiler" in the coalition and likened to a sportsman who intentionally kicks the ball off the field of play to buy time while his cronies enjoy the spoils — profits on land, business deals and speculative construction and import and export contracts enabling them to buy cars and mansions and live in luxury.
"They've gone past getting rich, it's now a sick obsession with money," Makumbe said.
Garande, the "born free" street vendor, said he will go to the main stadium on Sunday, Independence day, not to listen to Mugabe's speech but to watch military displays and a soccer match without having to pay admission.
He said he's resigned to more of Mugabe.
Long life runs in Mugabe's family; his mother died in her late 90s. He also employs a Malaysian physician known as a specialist in "longevity and regenerative medicine."
Comments will be moderated. Keep comments relevant to the article. Remarks containing abusive and obscene language, personal attacks of any kind or promotion will be removed and the user banned. Final decision will be at the discretion of the Taipei Times.