Pro-government forces take town in south Somalia
Pro-government militiamen in southern Somalia have seized a second town from rebels as Somalian President Sheikh Sharif Ahmed's fragile administration seeks to crush the insurgents, witnesses said yesterday.
Western security agencies say Somalia, which has been torn by civil war for the past 18 years, has become a haven for militants plotting attacks in the Horn of Africa and beyond.
The international community is trying to bolster Ahmed's UN-backed government, which until this week only controlled small pockets of the coastal capital Mogadishu.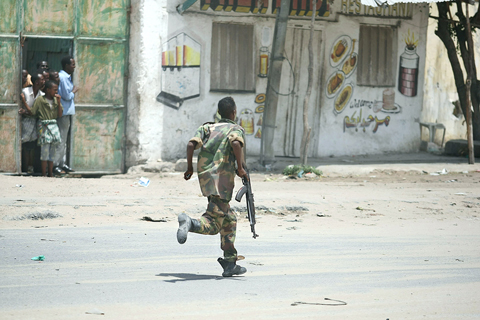 A Somali government soldier runs to the frontline during clashes with al-Shabab militia in Mogadishu on Aug. 12.
PHOTO: AFP
Residents in the Gedo region, which borders Kenya and Ethiopia, said heavily armed militiamen, including the Ahlu Sunna Waljamaca group, swept into Luuq town after seizing Bulahawa on Monday.
Local man Ahmed Mohamed said Luuq had been under the control of Hizbul Islam rebels, who fled as their foes approached.
"They have regrouped outside the town and fighting might start," he said.
Luuq businessman Yusuf Hure said both sides appeared to be receiving reinforcementsand many residents had fled town.
On Monday, Ahlu Sunna Waljamaca forces chased another insurgent group, al-Shabaab, out of Gedo's Bulahawa town without firing a shot. The US accuses al-Shabaab of being al-Qaeda's proxy in Somalia.
Earlier this month, US Secretary of State Hillary Clinton pledged to increase Washington's support for Ahmed's government, including additional funding.
The US has sent more than 40 tonnes of weapons and ammunitions to the administration in Mogadishu, but it was not clear whether that had any connection with this week's gains by the pro-government militias in Gedo region.
Al Shabaab and its insurgent allies have been in control of much of the impoverished country's southern and central regions, imposing a harsh interpretation of Islam that is rejected by many Somalis, who are traditionally moderate Muslims.
The pro-government militia says it wants to drive the rebels from the town of Baidoa and strategic port of Kismayu. A spokesman for the fighters that seized Luuq said Ethiopian soldiers had accompanied them.
"We are going to recapture Kismayu and Bay [region]. There are Ethiopian troops with us," Isaq Huru Ali said.
Comments will be moderated. Keep comments relevant to the article. Remarks containing abusive and obscene language, personal attacks of any kind or promotion will be removed and the user banned. Final decision will be at the discretion of the Taipei Times.