Gurkhas welcome actress Joanna Lumley as 'goddess'
ABSOLUTELY FABULOUS: The British star met Nepal's prime minister yesterday, who thanked Lumley for her efforts to help former Gurkha soldiers after she arrived to a rapturous reception
Hundreds of cheering Gurkha veterans gave Joanna Lumley a standing ovation yesterday as the British actress and campaigner addressed a mass rally in Kathmandu.
The star of television comedy Absolutely Fabulous said she was proud to be accepted as a "daughter of Nepal" as she delivered an emotional speech to the veterans and their families in Kathmandu City Hall.
A huge cheer went up as Lumley, wearing traditional flower garlands around her neck, took to the podium and greeted the crowd with a few words of Nepali, saying how happy she was to visit the country.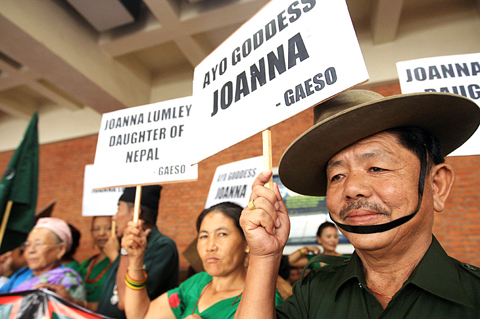 Former Gurkha soldiers and family members wait for the arrival of British actress and Gurkha campaigner Joanna Lumley at Tribhuvan International Airport in Kathmandu on Sunday. They gave Lumley a hero's welcome when she landed on her first-ever visit to the Himalayan nation.
PHOTO: AFP
"Today I speak to you as a daughter of the regiment," said the actress, who lead a successful campaign for the British army veterans to be allowed to settle in Britain.
"My father was a Gurkha officer ... and I feel that he and all the departed soldiers are with us today," she continued, saying her father had cherished the Gurkhas' legendary courage, grace and friendliness.
"On my first visit to Nepal — but not the last — it makes me so proud to know that I have been accepted as a daughter of Nepal," she said, before leading the crowd in a rousing rendition of the Gurkha war cry.
Earlier Nepal's prime minister thanked Lumley for bringing "justice" to Gurkha soldiers who served in the British army, as she was feted on her visit to the country.
Madhav Kumar Nepal said all Nepalese people recognized the achievements of the 63-year-old.
"I think the Gurkhas have got justice, whether complete or just to some extent I cannot see," he told journalists after meeting Lumley. "We are all rejoicing over what she has achieved."
Lumley, who arrived in Nepal to a rapturous welcome on Sunday, presented the prime minister with a scarf from Scotland, saying she had heard that the winters were cold in Nepal.
"We are just so proud to be here and to have it recognized at such a high level," she told journalists after the meeting. "It's just such a tremendous privilege to be here today consolidating the bond [between Britain and Nepal]."
Crowds of supporters waited hours at Kathmandu airport on Sunday, braving the monsoon rain and carrying banners that read "Welcome Joanna, daughter of Nepal" "ayo goddess Joanna" and "here comes goddess Joanna."
Organizers of her trip said some Gurkha veterans living in remote areas have already started walking to the three towns she is set to visit while in Nepal.
"She is like a goddess to the Gurkhas," said Gyanendra Rai, a Falklands war veteran who was one of several Gurkhas refused the right to settle in Britain, despite being injured in the 1982 conflict.
Lumley is accompanied by her family and by British local government representative Peter Carroll, who in 2007 persuaded her to join the "Gurkha Justice" campaign that he started.
She has said that her father, a British major in the 6th Gurkha Rifles during World War II, would have been "overwhelmed with shame and fury" at Britain's treatment of Gurkha veterans.
The British government announced in May that all Gurkha veterans who had served at least four years in the army could apply for residency after a climbdown in the face of Lumley's campaign.
Previously, only those who retired after 1997 had been eligible to apply.
The Gurkhas have been part of the British army for almost 200 years and more than 45,000 have died in British uniform.
Comments will be moderated. Keep comments relevant to the article. Remarks containing abusive and obscene language, personal attacks of any kind or promotion will be removed and the user banned. Final decision will be at the discretion of the Taipei Times.