Thais mark Thaksin's birthday
OUT AND ABOUT: The ousted prime minister launched new Facebook and Twitter pages to communicate with his supporters and inform them of his movements
Thousands of supporters of Thailand's fugitive former prime minister Thaksin Shinawatra gathered at temples across the country yesterday to celebrate his 60th birthday, police said.
About 60 temples were expected to hold Buddhist ceremonies in his honor, with the biggest taking place at Kaew Fah Temple in central Nonthaburi Province.
"More than 10,000 people have gathered at the temple since the early morning," Police Colonel Songsak Soisuwan said. "We have around 100 police officers taking care of security. So far the situation is peaceful."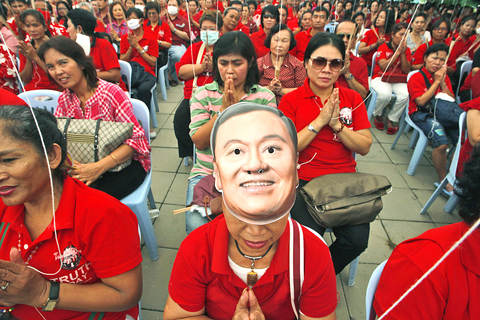 Supporters of former Thai prime minister Thaksin Shinawatra gather at Wat Kaew Fa on the outskirts of Bangkok, Thailand, for religious ceremonies to honor Thaksin's birthday yesterday.
PHOTO: AP
Thaksin, who is living abroad to escape a jail term for corruption, was expected to make a phone-in address to his followers later in the day. He also marked the occasion by launching accounts on the social networking Web sites Twitter and Facebook, Thaksin's close aide and former lawyer Noppadon Pattama said.
"It's another channel for Thaksin to communicate with his supporters. They can sign up to wish him happy birthday or monitor his movements," Noppadon said.
Since Thaksin was ousted in a coup in September 2006, Thai society has been wracked by divisions between his "Red Shirt" supporters among the largely rural poor, and the powerful Bangkok cliques in the palace, military and bureaucracy.
The opponents of Thaksin, known as "Yellow Shirts," staged protests last year that led to a nine-day blockade of Bangkok's airports and left more than 300,000 visitors stranded, badly denting the kingdom's tourist-friendly image.
The "Red Shirts" stormed a key Asian summit in the Thai coastal resort of Pattaya on April 11, forcing its cancellation, before rampaging through the capital, leaving two people dead and 123 injured.
Thai Prime Minister Abhisit Vejjajiva declared emergency rule and protesters clashed with security forces in Bangkok over two days, but finally dispersed after troops surrounded them and threatened to move them by force.
Thaksin fled abroad in August last year, shortly before being sentenced to two years in prison for conflict of interest concerning a cut-price land purchase by his then-wife Pojaman.
Earlier this month Thailand's highest court began a hearing to determine if authorities can seize about US$2.2 billion of his assets, which were frozen by a government anti-corruption body soon after he was forced from power.
Comments will be moderated. Keep comments relevant to the article. Remarks containing abusive and obscene language, personal attacks of any kind or promotion will be removed and the user banned. Final decision will be at the discretion of the Taipei Times.