World News Quick Take
■AUSTRALIA
Asian names enter Top 20
Smith is still the most common surname in Sydney, but the Anglo-Saxon names Thompson, Anderson, Walker and Ryan have ceded their places in the top 20 to the Chinese-heritage Chen, Wang, Zhang and Chan. The latest White Pages telephone directory, released yesterday, also shows Indian surname Singh edging into the top 20 for the first time along with Korean Kim. Lee came second in the naming stakes, with the Vietnamese surname Nguyen shifting Jones from third to fourth place. A quarter of the nation's 21 million people were born abroad and in Sydney, a city of 4 million, the proportion of foreign-born is higher.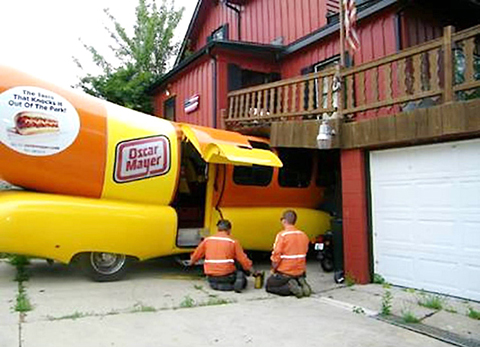 ■MALAYSIA
Oil tanker fire extinquished
A maritime official says a Singaporean oil tanker caught fire while docking in Borneo. One Indonesia crewmember suffered burns on his hands and one leg, but the other 17 crewmembers escaped unharmed. Captain Xavier Thevadas Gnanaprasagam, district chief of the Malaysian Maritime Enforcement Agency, said the MT Sinar Agra was anchoring at Sepanggar Bay in Sabah state on late Saturday when a small explosion occurred. He says the fire was put out within minutes and that the cargo of liquid gasoline was unaffected. Authorities are investigating the incident.
■CHINA
Military jet crashes
A military jet crashed in northeast China yesterday morning as the armed forces prepared for joint exercises with Russia, Xinhua news agency said. The two-man jet was flying over a training base in Taonan, Jilin Province, when it crashed. There was no word on the fate of the crew. The five-day military exercises, dubbed Peace Mission 2009, will start on Wednesday.
■SOUTH KOREA
Cloned dogs go to work
Customs has deployed what it claims to be the world's first cloned working sniffer dogs, officials said yesterday. Six out of seven puppies, cloned from a Canadian-born sniffer dog in late 2007, reported for duty after completing their 16-month training on Friday, the Korea Customs Service said. The six, each called "TOPPY" referring to "Tomorrow's Puppy," had successfully gone through their training, but one had to drop out because of an injury, the service said. The customs authorities said they secured the clones by reproducing a "superb" Canadian sniffer Labrador Retriever dog, called Chaser. The 300 million won (US$238,000) project was carried out by Lee Byung-chun, who played a major role in the world's first successful cloning of a dog by creating a duplicate of a three-year-old Afghan Hound. Lee was a former colleague of disgraced cloning scientist Hwang Woo-suk, who was indicted for fraud, ethical breaches, embezzlement and other charges in 2006.
■MALAYSIA
Police detain clubbers
Police detained 32 patrons who tested positive for methamphetamine when they raided a nightclub in the capital early yesterday, a news report said. Police said they found the drug Eramin 5 strewn all over the floor of the premises, the Star daily reported. City police spokesman Mohamad Ashril Mohamad Johar said the club was packed with about 500 men and 34 women during the raid. Mohamad Ashril said 28 men and four women aged between 20 and 50 years old were remanded to face drug charges.
■NEW ZEALAND
Air Force ends search
The Air Force withdrew yesterday from a weeklong search for 18 people missing after a ferry capsized and sank near Kiribati, citing a lack of fuel, a news report said. A New Zealand plane had been assisting local authorities in the hunt for bodies and survivors since the boat went down last Monday while ferrying passengers from the main island of Tarawa to outlying Maiana island, Radio New Zealand reported. Twenty survivors have been retrieved and seven bodies were recovered. The ferry, a 17m double-hulled canoe, capsized when the captain attempted to recover a crewman lost overboard in high waves.
■PAKISTAN
Monsoons kill at least 15
Torrential monsoon rain in Karachi has killed at least 15 people and cut power to most of the city, a relief agency said. The rain flooded low-lying parts of the city, damaging hundreds of homes, downing power lines and inundating power grid stations. Virtually all of the city was left without electricity on Saturday night, but power was gradually being restored. Many of those killed were electrocuted, said Qamar Pervez, an official with the Ehdi Foundation, an organization involved in the relief efforts. "Even my office has turned into a swimming pool and we're sitting on tables as we speak," Pervez said.
■HONG KONG
Tree falls on bus
Three people were injured and a double-decker bus was hit by a falling tree as tropical storm Molave barreled past Hong Kong early yesterday. The territory went on alert early yesterday morning as the storm came within 40km, bringing high winds and torrential rain. The severe storm signal was raised for three hours as Molave neared. Ferry services and some bus services were suspended and up to 150mm of rain fell as the storm passed. All public transport services were back to normal yesterday morning.
■WEST BANK
Pastry brings hope
Hope returned on Saturday to the West Bank city of Nablus, devastated after a decade of tight Israeli military blockade, as local cooks sought to enter the Guinness Book of Records with a huge plate of pastry. The plate of kanafeh, made of shreds of pastry noodles covering sweetened cheese and sprinkled with pistachios soaked with syrup, weighed 1,750kg, 400kg more than the weight needed to enter the Guinness book. The plate was more than 75m long and a meter wide. An estimated 800kg of cheese was used in preparing the pastry, event organizer Muhannad Rabi said. He said that it took 150 local makers of kanafeh 25 days of preparation and 36 hours of constant work to prepare the plate. Rabi expressed hope that the event would place Nablus on the map again as Israel gradually eases the blockade.
■UNITED KINGDOM
Snail 'speeds' to victory
Terry the snail was declared the World's fastest on Saturday, slithering to victory in an annual race in eastern England, taking two minutes 49 seconds to cover 33cm. His owner, Claire Hopkins, had purchased him for £0.20 (around US$0.35) shortly beforehand from race organizer Neil Riseborough. It was the 15th time he had organized the event, which has been going on since the 1960s. Terry left 11 fellow molluscs in his slimy wake. Terry's time was well short of the 1995 record held by of Archie, who covered the 33cm distance in just under two minutes. The races take place on specially-lubricated tables. Snails must reach the edge of the table, having been set down in the middle. Terry won a silver cup full of lettuce leaves.
■MAURITANIA
Challengers reject poll
The main challengers to former coup leader General Mohamed Ould Abdel Aziz, favorite in the country's presidential election, have rejected Saturday's poll and called for an international investigation. The vote was the first since Abdel Aziz led a coup last August, ousting the state's first democratically elected leader. The main opposition candidates initially planned to boycott the poll but agreed to take part after lengthy negotiations. "Firstly we firmly reject these prefabricated results, secondly we call on the international community to put in place an enquiry to shed some light on the electoral process," the group said in a statement issued yesterday.
■GERMANY
Home disappears into lake
Three people were missing after their lakeside home and another building suddenly collapsed on Saturday into the water. A 350m stretch of shoreline gave way next to an old open-cast mine converted to a lake in the town of Nachterstedt. A county spokeswoman said those missing were a married couple and another man. They lived in a house which had been 120m from the shorline but had disappeared under the surface of the lake.
■WEST BANK
Al-Jazeera returns
Palestinian Prime Minister Salam Fayyad is allowing al-Jazeera satellite TV to resume operations in the West Bank, ending a four-day ban. Walid al-Omari, the senior al-Jazeera correspondent in the region, says he received a phone call from Fayyad informing him of the decision. Al-Omari said yesterday that Fayyad told him his government would press ahead with a lawsuit against the station for alleged incitement. Last week, an al-Jazeera talk show hosted an official in Palestinian President Mahmoud Abbas' Fatah movement who alleged Abbas played a role in the death of Yasser Arafat.
■UNITED STATES
Wienermobile hits house
An iconic Oscar Mayer Wienermobile crashed into a southern Wisconsin home as the driver tried to turn around the giant hot dog on wheels. The hot dog company's promotional Wienermobile on Friday crashed into the deck and garage of a home in Mount Pleasant as the 22-year-old driver was trying to turn the Wienermobile around in the driveway and thought she was moving in reverse, Mount Pleasant Police Chief Tim Zarzecki said. But she instead went forward and hit the home. No one was home and neither the driver or passenger in the Wienermobile was injured. No citations were immediately issued. Both the home and vehicle suffered moderate damage, which Oscar Mayer spokeswoman Sydney Lindner said insurance would cover. Oscar Mayer has six Wienermobiles nationwide, she said.
■UNITED STATES
Train crash injures 48
A light-rail train crashed into the rear of another train at a San Francisco boarding platform on Saturday, injuring at least 48 people, authorities said. The injured were treated at hospitals — four of them with what appeared to be severe injuries — after a westbound a San Francisco Municipal Railway train barreled into another as it emerged from a tunnel connecting downtown San Francisco to the city's western neighborhoods about 2:30pm. A San Francisco Fire Department official said about half of those wounded suffered moderate injuries and that everyone who was injured remained conscious. The trains were full. The front of the first train was smashed, while the second train did not appear to suffer major damage. The operator of the first train was among the people who were seriously injured.
■UNITED STATES
Fruitvale brushes off fame
A baby sea lion who had a brief brush with fame when he wandered on to a busy San Francisco Bay area freeway last month has returned to the sea. The pup was released on Saturday near the Farallon Islands about 43km west of the Golden Gate Bridge. The sea lion was nicknamed Fruitvale for the Oakland neighborhood where he was found on June 22. He was rescued from Interstate 880 near the Oakland Coliseum after dozens of drivers reported the odd sight on the freeway's center divider. He and other rescued sea lions rode on a fishing boat from San Francisco and released at a protective cove where sea lions are known to gather.
■UNITED STATES
Jackson butter statue axed
Michael Jackson, who has been memorialized around the country in events lavish and little, will not be sculptured in butter at the Iowa State Fair next month after all, despite plans announced earlier by the fair's leaders. "We started hearing concerns from the public that he wasn't an Iowan and didn't have a connection to the fair," said Lori Chappell, the fair's marketing director, explaining why organizers ultimately put the question to a public vote. No such concerns were raised about Tiger Woods or Harry Potter, previous honorees. And in truth, Chappell said, the King of Pop and his four brothers did perform at the fair in 1971. But apparently the link was too tenuous [or discomforting] to a majority of those who cast votes last week in the fair's admittedly "unscientific online poll."
Comments will be moderated. Keep comments relevant to the article. Remarks containing abusive and obscene language, personal attacks of any kind or promotion will be removed and the user banned. Final decision will be at the discretion of the Taipei Times.