KFC mascot rescued from Osaka river
He was covered in mud when pulled from the river and had lost both legs and hands, not to mention his glasses. But Colonel Sanders still had his trademark smile, 24 years later.
A statue of the KFC mascot has been found in a river in Osaka, a city official said yesterday, nearly a quarter century after being tossed in by crazed baseball fans who felt the image of restaurant founder Harland Sanders resembled a key team member.
"He was apparently found standing upright, which is fitting, because although he was a nice man he could also be very strict and demanding," said Sumeo Yokakawa, a spokeswoman at the chain's Tokyo headquarters.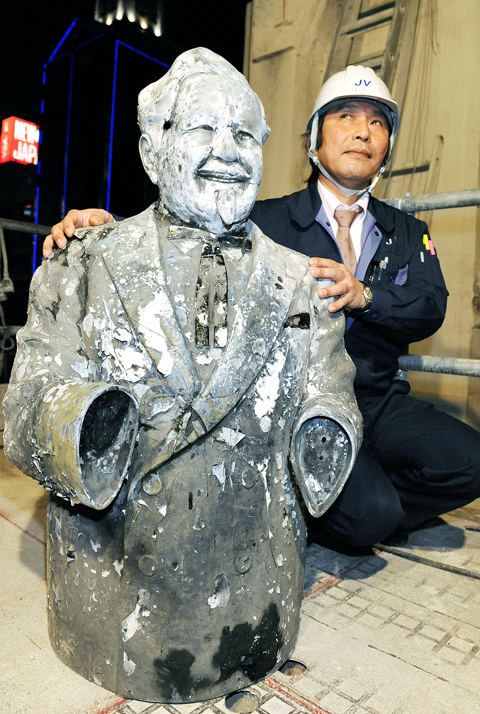 A Colonel Sanders statue, which was found in a river, is pictured in Osaka, western Japan, on Tuesday.
PHOTO: AP
She said the statue was taken from a nearby KFC restaurant and tossed in the river as part of a celebration by baseball fans in 1985, the year Osaka's baseball team, the Hanshin Tigers, won the national championship.
Local fans thought the Colonel bore a resemblance to Randy Bass, a bearded power hitter and first baseman from the US who played for the team at the time.
Fans often jump into the murky river to celebrate the team's successes, but there has been little to celebrate in recent years.
Many fans feel the team has been plagued by the "curse of Colonel Sanders" since his effigy was submerged in 1985.
It has failed to win a national championship since, although it did win its division in 2003.
The upper half of the statue was found on Tuesday in Osaka's Dotonburi River during construction work to build a new walkway, city official Hideo Yuko said. His legs and right hand were found yesterday morning.
The colonel will be kept in police custody for the time being, but Yokakawa said KFC was considering donating him to the home stadium of the Tigers in Osaka. The store where he originally stood has since closed.
The KFC chain operates about 1,160 restaurants in Japan and has about 1,000 Colonel Sanders statues in the country.
Osaka, Japan's second-largest city after Tokyo, is located about 420km west of the capital.
Comments will be moderated. Keep comments relevant to the article. Remarks containing abusive and obscene language, personal attacks of any kind or promotion will be removed and the user banned. Final decision will be at the discretion of the Taipei Times.