Aid gets to isolated Sumatrans
GOING HOME Water levels have dropped, allowing 100,000 of the 400,000 displaced to return home, but more heavy rain upstream caused further flash floods yesterday
Aid has finally reached the most isolated areas of Sumatra island a week after flash floods killed more than 100 people and forced 400,000 to flee, Indonesian officials said yesterday.
Relief workers had faced problems with slow and limited supplies, as well as access difficulties due to the floods and landslides which have destroyed roads and bridges in worst-hit Aceh Province and neighboring North Sumatra.
"Maybe relief distribution has not been perfect but we have managed to reach all previously isolated areas," Aceh provincial spokesman Nurdin Joes said.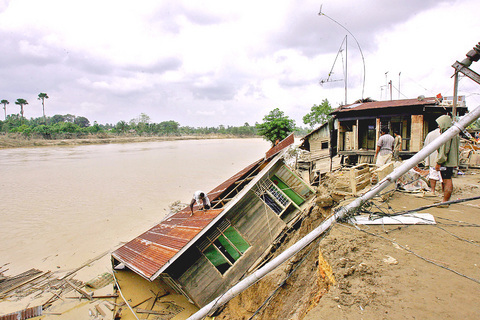 Residents collect reuseable items from their flood-collapsed houses along the river Tamiyang in Kuala Simpang, Aceh Tamiyang, yesterday.
PHOTO: AFP
The Kompas daily, however, said several villages remained cut off.
"At least 16 villages are still unreachable by water and land vehicles," it said, quoting the disaster mitigation unit in the worst-affected district of Aceh Tamiang.
Tonnes of food, water, tents and medical supplies have been trucked and flown into the main cities and towns in areas hit by the flash floods triggered by torrential rains.
But slow distribution of food sparked anger in Aceh Tamiang on Thursday as around 100 flood victims, most of them mothers carrying their children, looted an aid distribution post in Payabedi.
Joes said helicopter air drops to remote areas had been fairly successful as the weather had been quite good in the past few days, but he remained alert for any possible eventualities.
"In difficult to reach areas, the people deliver aid along a distribution chain, in a relay from district capital all the way to the worst-affected areas," he said.
"We still need instant food, medicine and mosquito nets," he added.
The US said yesterday it would provide US$100,000 in emergency assistance through the Red Cross to supply hygiene kits, plastic sheets, sleeping mats and other items for flood victims.
Some 400,000 people fled the floods, with 365,335 people displaced in Aceh Province alone as whole villages were swallowed. Hundreds of hectares of rice paddy have also been destroyed just ahead of the harvest.
With water levels dropping more than 100,000 people had returned home by Thursday.
But further rainfall upstream has created fresh floods in some areas.
In Kuala Simpang, capital of Aceh Tamiang district, more than 10 houses were swept away yesterday when the Tamiang river rose.
Comments will be moderated. Keep comments relevant to the article. Remarks containing abusive and obscene language, personal attacks of any kind or promotion will be removed and the user banned. Final decision will be at the discretion of the Taipei Times.