Chavez visits Harlem church, gives poor more oil
Venezuelan President Hugo Chavez visited a Harlem church and promised to more than double the amount of discounted heating oil his country ships to needy Americans. He also took another swipe at US President George W. Bush.
A day after he called Bush "the devil" in a speech to the UN, Chavez on Thursday said of the US president: "He's an alcoholic and a sick man."
Bush has acknowledged that he had a drinking problem when he was young but says he gave up alcohol 20 years ago.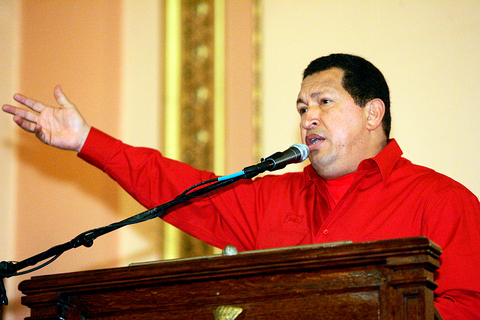 Venezuelan President Hugo Chavez speaks at the Mount Olive Baptist Church in Harlem on Thursday.
PHOTO: AP
Chavez received a round of applause from the crowd at Mount Olivet Baptist Church, which included activists and other supporters as well as actor Danny Glover. Some laughed and applauded when Chavez compared Bush to cowboy movie icon John Wayne.
He called Bush's policies in Iraq criminal, adding he hopes Americans will soon "awaken" and elect a better president. While he opposes Bush, Chavez said the American people "are our friends."
He announced that Citgo, the US-based refining arm of Venezuela's state-run oil company, plans to more than double the amount of heating oil it is making available under the program for low-income families to 380 million liters this winter, up from 150 million liters.
Chavez started the heating oil program last winter, accusing Bush of neglecting the poor.
Citgo said its discounted heating oil will benefit some 1.2 million Americans in 17 US states this winter, including Indians in Alaska, some of whom were flown to New York and attended the ceremony in traditional dress. They performed a dance and offered Chavez a walrus figurine carved out of whale bone as a gift.
"This will go a long way for a lot of families," said Ian Erlich, a leader of the Alaska Intertribal Council who said many struggle to afford heating oil where he lives in Kotzebue, Alaska.
Comments will be moderated. Keep comments relevant to the article. Remarks containing abusive and obscene language, personal attacks of any kind or promotion will be removed and the user banned. Final decision will be at the discretion of the Taipei Times.