Japan leads whaling nations to `symbolic victory'
Japan and other whaling nations on Sunday for the first time in more than two decades got a whaling group to criticize a global whaling ban, signaling they might finally have the muscle to challenge the moratorium.
The approval of a non-binding pro-whaling declaration by the International Whaling Commission (IWC), does not immediately threaten the 1986 moratorium on commercial whaling, which saved the Earth's largest creatures from extinction and which Japan would like to overturn.
But in backing by 33 votes to 32 a statement that said the whaling ban was no longer necessary, whales were responsible for depleting fish stocks and non-governmental organizations were a "threat," the IWC boosted Japan's hopes of chipping away at the ban. There was one abstention.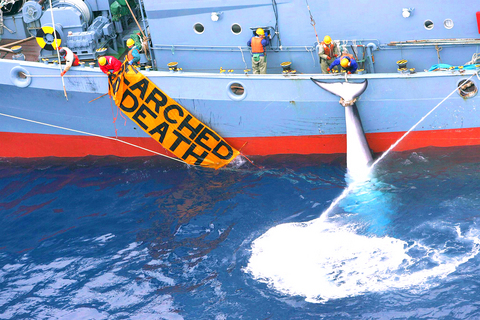 A Greenpeace handout picture dated Jan. 12 shows a banner reading ``Researched To Death'' beside a whale which has just been harpooned and killed by the Yushin Maru No. 2 catcher ship of the Japanese whaling fleet in the Southern Ocean.
PHOTO: EPA
"This is a huge disaster," said Kitty Block of Humane Society International after the vote at a June 16-20 meeting of the commission in the Caribbean island state of St Kitts and Nevis. "This is now going to be their propaganda."
Japan has abided by the moratorium since it came into force two decades ago, but, along with Iceland, uses a loophole to conduct scientific whaling. Norway is the only country that ignores the ban.
More than 25,000 whales have been hunted and killed since the moratorium.
Even so, Japan and its allies have sought to return the IWC to its 1946 roots as an organization that regulates whaling, and they have encouraged new pro-whaling nations to join the commission in the hope of wresting control from protectionists. They would need 75 percent of votes in the IWC to actually end the moratorium.
"Anti-whaling countries might see this as an ending," said Joji Morishita, Japan's alternate commissioner at the IWC.
"This is the beginning of a new time for the IWC," Morishita said, adding he "wouldn't be surprised" if the next year witnessed a frantic IWC recruitment drive by both sides.
Rune Frovik, secretary of Norwegian pro-whaling lobby the High North Alliance, acknowledged the victory was symbolic, but he said it was historic.
"They've been kicking us down all the time," Frovik said. "Now we can kick back and they are on the floor."
Japan, which says some whale species have recovered enough to be hunted in a sustainable way, had been expected to secure a majority in St Kitts and Nevis -- its first in the body since the ban was approved in 1982. The moratorium came into force four years later.
But it was defeated in four far more substantive votes that preceded Sunday's so-called St Kitts and Nevis declaration.
Sue Lieberman, director of the global species program at WWF International, said the fact that a majority of IWC members had adopted language anti-whaling activists consider scientifically invalid, such as the claim that whales eat large quantities of sought-after fish, was significant but ultimately not that consequential.
"What is more important than that is this does show that Japan's recruitment drive has finally succeeded. It should be a wake-up call," Lieberman said.
Anti-whaling Australia, which argues that whale watching is far more lucrative than killing them, dismissed the declaration.
"It doesn't mean much in terms of the historic battle between the whalers and those of us who want to lock away the moratorium and bring an end to commercial whaling for all time," Australian Environment Minister Ian Campbell said.
But the inclusion of landlocked nations like Mali and Mongolia in the IWC has fueled accusations that pro-whaling Japan has been using foreign aid to persuade friendly countries to join and help it try to overturn a 1986 ban on commercial whaling.
The growing ranks of the world whaling body, which started in 1946 with 15 members and now has 70, is not due to pro-whaling nations alone.
"There are more landlocked countries against whaling than in favor of whaling," Frovik said.
Austria, the Czech Republic, Luxembourg, Slovakia, Switzerland and San Marino oppose Japan and its allies at every turn.
Comments will be moderated. Keep comments relevant to the article. Remarks containing abusive and obscene language, personal attacks of any kind or promotion will be removed and the user banned. Final decision will be at the discretion of the Taipei Times.