Relatives remember massacre victims
BAD MEMORIES China's state-controlled media ignored preparations for today's anniversary of the massacre of pro-democracy protesters in Beijing's Tiananmen Square
Under the watchful eye of the Chinese police, citizens who lost relatives in the 1989 Tiananmen massacre were preparing low-key ceremonies for today's 17th anniversary of the crackdown.
Zhang Xianling (張先玲), a Beijing woman whose son would now have been 36 if he had not killed by an army bullet on the fateful night of June 4, 1989, planned to go to the Wan'an Cemetery in the west of the capital.
"Every year on June 4, relatives of the victims gather together at the cemetery," she said.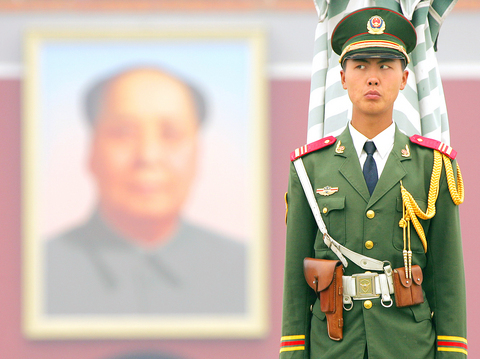 A paramilitary police officer stands guard in front of a portrait of Mao Zedong in Beijing's Tiananmen Square, on the eve of the 17th anniversary of the bloody crackdown on democracy protesters yesterday.
PHOTO: AP
"We all feel very sad and try to comfort each other. Of course, the police are always there," Zhang said.
She said police behavior at the cemetery had become more brazen in recent years, as plain-clothes officers had been replaced with officers in full uniform, often openly filming the memorial ceremonies.
China's state-controlled media on yesterday entirely ignored the approach of the anniversary, reflecting the authorities' determination to let yet another year pass without incident.
Jiang Peikun (蔣培坤), the father of a young Tiananmen victim, said police had been posted outside his Beijing flat since early in the week.
When his wife, Ding Zilin (丁子霖), left for pneumonia treatment at a local hospital early yesterday, they followed her every step of the way, he said.
"Every year police call us and other relatives to ask when and where we plan to go," Jiang said.
Outside Beijing, quiet ceremonies were also being prepared by people refusing to forget.
One of them was Lin Mu (林牧), the former secretary of 1980s reformist Communist Party leader Hu Yaobang (胡耀邦).
"I don't have special activities planned outside, but I do intend to hold a memorial ceremony at home," said Lin, now a prominent dissident voice.
He said that for him, the injustice of 1989 reverberated in today's modernizing Chinese society.
"Apart from June 4, there are a lot of other problems in China, like human rights," he said.
"There are a lot of rights infringement cases in China. The government says it is pursuing a `people first policy,' but it's just talk, and it's not really followed up by any action."
Hundreds, if not thousands, of unarmed protesters and citizens were gunned down in the streets of Beijing when the People's Liberation Army moved in to quell six weeks of democracy protests in 1989.
The government has insisted to this day that the decision to quell what it called "the counter-revolutionary rebellion" paved the way for 17 years of robust economic growth.
Nothing suggests that this verdict will change anytime soon, but Lin Mu said he was optimistic about the future of human rights in the world's most populous country.
"More people than before strive for their rights, and it happens in all walks of life," he said. "As for June 4, I'm confident it will be correctly dealt with in the future, I just don't know when."
While the nation's Communist rulers have brought material welfare to unprecedented numbers of Chinese, many still harbor bitterness over the events of June 1989.
Zhang Xianling described how her son was left helpless and bleeding after he was shot by military forces advancing down Chang'an Avenue in the early hours of June 4.
"Although he was shot in the head, he didn't die immediately," she said. "But the troops didn't allow doctors and students to reach him and save him."
Comments will be moderated. Keep comments relevant to the article. Remarks containing abusive and obscene language, personal attacks of any kind or promotion will be removed and the user banned. Final decision will be at the discretion of the Taipei Times.