Morales enjoys warm welcome in Cuba
Bolivia's socialist president-elect, Evo Morales, won a hero's welcome and a cooperation deal in Havana, with Cuban President Fidel Castro promising the world "the [political] map is changing."
Alluding to numerous shifts to the left in Latin America, the latest in Bolivia, Castro said: "It appears the [political] map is changing, and we need to be reflective, to watch closely and stay informed."
A military band played and an honor guard stood at attention after Morales arrived on Friday at Jose Marti International airport for his first visit abroad since winning Bolivia's Dec. 18 presidential vote.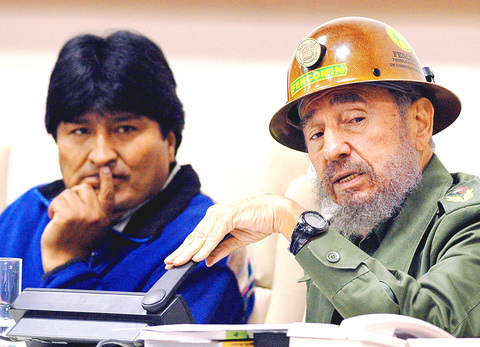 Bolivian president-elect Evo Morales listens as Cuban President Fidel Castro, wearing a miner's helmet that Morales gave him, speaks to Bolivian students in Havana, Cuba, on Friday.
PHOTO: EPA
Castro, 79, had sent his private plane to bring Morales to Havana and after the president-elect stepped off the plane onto a red carpet, the two leaders embraced.
Morales, who has never hidden his admiration for Cuba's revolution, said he felt "joy, great emotion to be here." Wearing a red sweater, Morales referred to Castro as el comandante and said his trip was a gesture of "friendship with the Cuban people."
Morales' choice of Cuba as his first visit abroad after his electoral victory underlines the political loyalties of the leftist leader, who pledged to join Castro's "anti-imperialist struggle" in a message to the Cuban people the day after his election.
As Bolivia's first indigenous president, Morales' election was "something extraordinary" that had "rocked the world," Castro said.
"We invited him before the elections because we knew that he would win," said Castro, wearing his customary military fatigues.
Despite US efforts to isolate Cuba, Castro enjoys very close ties to Venezuela's leftist President Hugo Chavez, whose international profile has risen steadily as Venezuelan oil earnings have mounted. Meanwhile left-of-center governments have come to power elsewhere in the region, from Argentina to Uruguay to Chile and Brazil.
Castro said "during our discussion we were in touch with Chavez," but he did not offer further details on the kind of three-way alliance that has Washington increasingly concerned.
A week ago, Chavez warned, referring to Morales' win, that "the [US] threats have already begun. From here on in, we are demanding that the immoral imperialist US government respect the holy sovereignty of Bolivia and the government elected by Bolivia."
As an activist for coca farmers in Bolivia, Morales cultivated friendly ties with Castro for years and has pledged to support Chavez's effort to defeat a US-proposed free trade area.
Morales has vowed to nationalize Bolivia's large natural gas industry in South America's poorest nation, and end the US-sponsored coca eradication program that he says has hurt farmers and failed to curb drug trafficking.
Comments will be moderated. Keep comments relevant to the article. Remarks containing abusive and obscene language, personal attacks of any kind or promotion will be removed and the user banned. Final decision will be at the discretion of the Taipei Times.