Canadian leader rebuffs US warning
Canadian Prime Minister Paul Martin warned on Wednesday he would not "be dictated to," one day after the US ambassador told Canadian lawmakers not to drag the US' good name through the mud.
Martin, fighting for his political life ahead of a Jan. 23 election, said on the campaign trail: "I am not going to be dictated to as to the subjects I should raise."
"This dispute with the US demands leadership at the national level in Canada, even if that leadership happens to rankle some in the US," Martin said.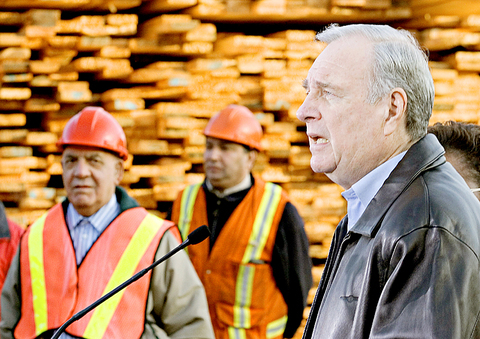 Canadian Prime Minister Paul Martin responds to questions during a news conference after visiting a sawmill in Richmond on Wednesday. He said he would not be told what he could or could not say about the US when it came to defending Canadian interests.
PHOTO: AP
The Canadian leader spoke after US Ambassador David Wilkins urged Canadian politicians on Tuesday to watch what they said about his country.
"Canada never has to tear the United States down to build itself up," Wilkins said, adding, "it may be smart election-year politics to thump your chest and criticize your friend and your No. 1 trading partner constantly.
"But it is a slippery slope, and all of us should hope that it doesn't have a long-term impact on the relationship," he said.
Seeking votes in western Canada, Martin said he would continue to speak his mind, especially where Canadian interests are concerned.
"The American ambassador is a man for whom I have a great deal of respect, but that does not change a vital point. When it comes to defending Canadian values, when it comes to standing up for Canadian interests, I'm going to call it like I see it," Martin said on Wednesday.
Wilkins, meanwhile, stressed that he had not been seeking to interfere in Canada's election.
"What I said yesterday was not in any way intended to affect an election. That's obviously Canada's business and Canadians will make that decision in January," he said.
Relations between the two neighbors chilled after Canada declined to support the 2003 US-led invasion of Iraq. A poll in Canada last month found 38 percent of respondents thought US President George W. Bush was the world's most dangerous figure.
However, other issues have tarnished US-Canadian relations, including a spat over Canadian softwood lumber exports and differences over environmental policies.
Martin is campaigning for re-election after his scandal-tainted Liberal Party minority government was ousted in a no-confidence vote.
Comments will be moderated. Keep comments relevant to the article. Remarks containing abusive and obscene language, personal attacks of any kind or promotion will be removed and the user banned. Final decision will be at the discretion of the Taipei Times.