FBI files a goldmine for digging celebrity dirt
The Beach Boys. Frank Sinatra. Liberace.
Sonically, the trio shared little -- from the California group's soaring harmonies to Sinatra's saloon singing to Liberace's marshmallow soft vocals. But their offstage antics were music to the ears of the FBI, where all three became the subject of muckraking files in the agency's Washington headquarters.
The portfolios contain innuendo and allegations, with the occasional revelation thrown in. The Beach Boys' penchant for psychedelic drugs and Sinatra's alleged sex parties with US President John F. Kennedy are old news.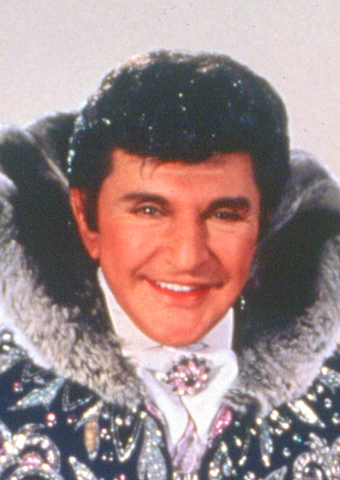 Liberace, pictured here in 1985, was a keen gambler and had his own bookie, if you believe the FBI.
PHOTO: AP
But who knew of Liberace's reputed fondness for gambling? The file on Wladziu Valentino Liberace reports that the rhinestone-worshipping Las Vegas entertainer was betting with a bookie in blue-collar Buffalo for years.
Celebrities and criminals, rock stars and mob stars, athletes and artists -- scores of high-profile Americans have their very own FBI file, a bold-faced universe rife with dirt and scandal. It's no surprise that gossip columnists such as Walter Winchell turn up as sources.
The files chronicle mass marketer Walt Disney and mass murderer Ted Bundy, comic genius Groucho Marx and cosmic genius Albert Einstein. There are reports of canoodling -- although the FBI prefers "extramarital affairs" -- heavy boozing, mob ties, drug use and the rest of the requisite dish.
Robert Blake was prevented by the FBI from starring in a TV show named after the agency.
PHOTO: AP
The sheer volume became clear in response to a Freedom Of Information Act (FOIA) request by The Associated Press for every FBI "High Visibility Memorandum" filed between 1974 and this year, allowing a lengthy traipse through the lives of celebrities from A (Louis Armstrong) to K (Danny Kaye) to Z (Efrem Zimbalist). The request produced more than 500 redacted memos totaling nearly 1,500 pages -- a stack of documents 15cm high.
Tucked inside the pile of paperwork were FBI memos on spouses/stars Desi Arnaz and Lucille Ball; football stars Dexter Manley and Walter Payton; mayors Marion Barry and Frank Rizzo; and mobsters Carlo Gambino and Mickey Cohen.
The memos even contain information never made public. The February 2001 paperwork on film director Otto Preminger's file mentioned "all of the information on Preminger's desire to be a source for the FBI is being withheld."
Until now.
In the FBI's files, Andy Warhol's 15 minutes of fame never expire. Instead, as his memo noted, the 38 pages about the artist's film company and a 1968-1969 investigation are there for eternity.
Jimmy Hoffa's daughter asked for the files regarding her long-missing father -- 69 volumes of documents and memorandums. James Earl Ray, the assassin who killed Martin Luther King Jr., filed more than 50 FOIA requests from 1977 to 1995 on a variety of subjects -- including one seeking records about the FBI's electronic surveillance of King's widow.
The FBI also kept a file on The FBI -- the long-running television show starring Zimbalist as Inspector Lewis Erskine. The real FBI, according to memos, had casting control over its video incarnation: both Bette Davis and Robert Blake were banned from appearing.
Davis was bumped as an alleged communist sympathizer. Blake, recently acquitted of killing his wife, was brushed off after expressing his opinion that "killers aren't at fault, society is," according to a memo.
Sinatra's file generated national headlines upon its 1998 release, as much for its lack of headline-making material as for anything it contained.
But tons of other material is out there, some of it barely noticed in the vast verbal ocean of Web sites, books, newspapers and other publications.
The presence of a file or a memo doesn't necessarily mean the subject was targeted for an investigation.
"Celebrity files can be tricky to understand," FBI historian John Fox said. "They can be collections of information gathered from other files ... Louis Armstrong is a good example of that. It would be incorrect to say the FBI investigated him."
The FBI won't divulge its exact number of files, but estimates are that it could total more than 6 million. The agency has long maintained that its era of surveillance for political purposes is over, reflecting changes that followed FBI Director J. Edgar Hoover's death in 1972.
The high-visibility memorandums are generated for a number of reasons: the notoriety of the requester, whether it's a top government official (former US president Gerald Ford) or a higher-profile Hollywood type (Sinatra); if the request could reveal improper FBI activities; and if the request comes from a scoop-seeking journalist.
One of the files' more entertaining aspects is the failure to distinguish between legitimate and slanderous sources. Gossip-column clips sit side by side with anonymous letters like the one ripping Gleason and Hoover for hanging around with Sinatra, who -- as his file showed -- had once volunteered to work for the FBI undercover in 1950.
Comments will be moderated. Keep comments relevant to the article. Remarks containing abusive and obscene language, personal attacks of any kind or promotion will be removed and the user banned. Final decision will be at the discretion of the Taipei Times.