Hungry crows fingered in enigma of exploding toads
Why are toads puffing up and spontaneously exploding in northern Europe?
It began in a posh German neighborhood and has spread across the border into Denmark. It has left onlookers baffled, but one German scientist studying the splattered amphibian remains now has a theory: Hungry crows may be pecking out their livers.
"The crows are clever," said Frank Mutschmann, a Berlin veterinarian who collected and tested specimens at the Hamburg pond. "They learn quickly from watching other crows how to get the livers."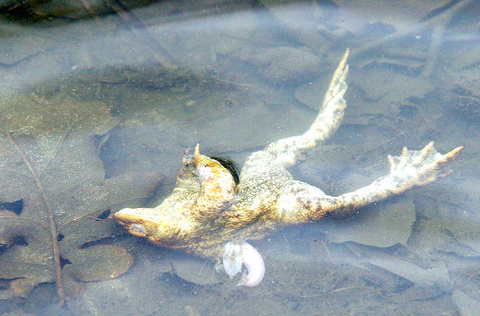 A dead toad floats in the so-called ``pond of death'' in Hamburg on April 14. A veterinary surgeon suggested on Thursday that toads have been exploding by the hundreds in Germany because of attacks by crows.
PHOTO: AFP
So far, more than 1,000 toad corpses have been found at a pond in Hamburg and in Denmark. But the pond water in Hamburg has been tested, and its quality is no better or worse than elsewhere in the city. The remains have been checked for a virus or bacteria, but none has been found.
Based on the wounds, Mutschmann said, it appears that a bird pecks into the toad with its beak between the amphibian's chest and abdominal cavity, and the toad puffs itself up as a natural defense mechanism.
But, because the liver is missing and there's a hole in the toad's body, the blood vessels and lungs burst and the organs ooze out.
As gruesome as it sounds, it isn't actually that unusual, he said.
"It's not unique -- it's in a city area, and that makes it spectacular," he said. "Of course, it's something very dramatic."
There have also been reports of exploded toads in a pond near Laasby in Denmark.
Local environmental workers in Hamburg have described it as a scene out of a horror or science fiction movie, with the bloated frogs agonizing and twitching for several minutes, inflating like a balloon before suddenly bursting.
"It's horrible," biologist Heidi Mayerhoefer was quoted as telling the Hamburger Morgenpost daily. "The toads burst, the entrails slide out. But the animal isn't immediately dead -- they keep struggling for several minutes."
Hamburg's Institute for Hygiene and the Environment regularly tests water quality in the city, and found no evidence that the toads were diseased. The institute even ruled out that the toads were suffering because of a fungus brought in from South America.
Other theories have been that horses on a nearby track infected them with a virus, or even that the toads are taking the selfless way out -- sacrificing themselves by suicide to save others from overpopulation.
Could hungry crows be a reasonable answer?
"We haven't seen that. It might be, it might not be," institute spokeswoman Janne Kloepper said.
Local officials in Hamburg were advising residents to stay away from the pond dubbed "the death pool" by German tabloids.
Comments will be moderated. Keep comments relevant to the article. Remarks containing abusive and obscene language, personal attacks of any kind or promotion will be removed and the user banned. Final decision will be at the discretion of the Taipei Times.