Swedes angry over disaster response
Hours after tsunamis flattened south Asian beaches popular with vacationing Swedes, Foreign Minister Laila Freivalds went to the theater. The next morning, as the magnitude of the disaster became apparent and thousands of Swedes were injured, dead or missing, planes from Sweden sat idle. \nIn the week since, the country's leaders have weathered hostility and resentment for its slowness to react in what will likely be the biggest peacetime disaster it has ever encountered. \nWith 52 confirmed killed in the disaster and more than 2,300 missing, Sweden is facing a potential loss of life on scale of the Sept. 11, 2001 terror attacks in New York and Washington. Analysts warned the Social Democratic government could suffer from its response to the crisis when Swedes go to the polls in national elections next year. \n"Injured Swedes risk dying from infections because the government didn't press the red button to get them home. It's a shame and a scandal," columnist Johanna Hildebrandt wrote in tabloid Aftonbladet. \nDespite pleas from Swedish doctors in Thailand on Dec. 28 to immediately transport injured Swedes to European hospitals, the first two air ambulances didn't leave Sweden until Dec. 30. \nNeighboring Finland and Norway acted quicker, sending the first planes the day after the tsunami struck. Freivalds, the foreign minister, faced heavy criticism for going to the theater as news reached the Swedish Embassy in Thailand that thousands of Swedes were in the disaster zone. She defended her decision saying her mobile phone was switched on during the performance. \nOther Foreign Ministry officials were criticized for not immediately interrupting their holidays and help answer phone calls from relatives of potential victims. \n"I am ashamed of being Swedish when I have a prime minister who says that they can't get more people answering telephones because it is Boxing Day and people have the day off," wrote Claes Thilander in an e-mail to respected Swedish daily Dagens Nyheter. \n"Your government's incompetence shines like a bonfire in the night," another e-mail read. \nThe tabloid Expressen said it received hundreds of e-mails demanding Freivalds' resignation. \n"We could have got started more forcefully, but the scope of the disaster did not become evident before after a while," she said. \nPrime Minister Goeran Persson has reiterated his confidence in Freivalds, adding he won't seek her resignation, nor of any other government minister. \nThe number of missing is nearly six times the number of Swedes killed when the ferry Estonia sank in the Baltic Sea in 1994. The reach is so pervasive in the country of 9 million that Persson said it would be hard not to find someone in Sweden untouched by the tragedy that has claimed at least 137,000 lives. Since last Wednesday, planes have begun ferrying Swedes home and temporary consular offices have been set up in Phuket to speed their transit out of the country. \nOn Monday, Swedes were clamoring for information about the missing. Denmark, Norway and Finland had posted lists of their missing on the Internet and in newspapers, a move that helped them lower their figures of missing residents dramatically.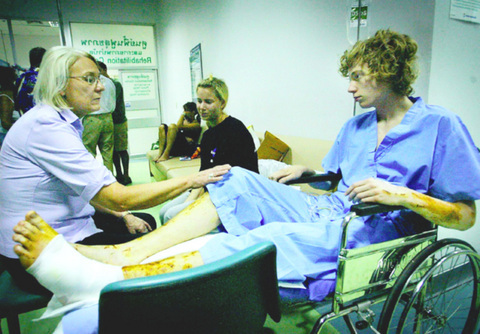 Swedish Foreign Minister Laila Freivalds, left, visits injured Swede Johan Utberg, right, and his sister Anna, center, at a Phuket, Thailand, hospital on Dec. 29, 2004.
PHOTO: AP
Comments will be moderated. Keep comments relevant to the article. Remarks containing abusive and obscene language, personal attacks of any kind or promotion will be removed and the user banned. Final decision will be at the discretion of the Taipei Times.