Former Thai strongman, booted out in 1973, dies
TYRANT Long reviled among Thais as one of the `Three Tyrants,' Thanom Kittikachorn had spent his later years attempting to rehabilitate his reputation
Thanom Kittikachorn, a former prime minister whose military regime was ousted from office by a popular uprising in 1973, has died, the state-run news agency said. He was 92.
Thanom died of shock and heart failure late Wednesday after spending five months at Bangkok Hospital, the Thai News Agency reported, citing a hospital announcement early yesterday morning.
Thanom came to be popularly reviled as one of the country's "Three Tyrants" when he ran the country as a military dictatorship in a triumvirate in the 1960s and early 1970s with Field Marshal Praphas Charusathien and Colonel Narong Kittikachorn, Thanom's son and Praphas' son-in-law.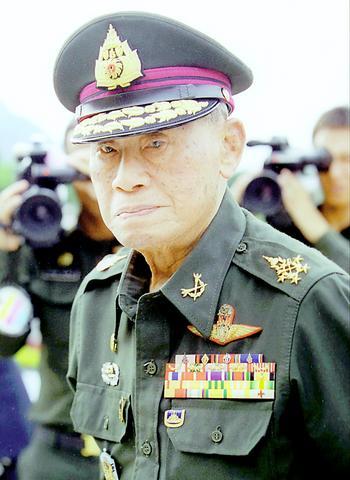 This undated file photo shows one of the most controversial figures in modern Thai history, former prime minister and coup leader Thanom Kittikachorn.
PHOTO: AFP
Thanom, who also held the rank of field marshal, was generally seen as the more conciliatory partner, and Praphas the hardliner.
The three were driven into exile following a bloody student-led uprising in October 1973.
They were accused of nepotism, massive corruption and ordering the massacre of protesters in the streets of Bangkok during the uprising.
A brief period of raucous democracy followed, which many influential and conservative Thais found unsettling, and feared would lead to a communist takeover similar to those that occurred in Vietnam, Laos and Cambodia in 1975.
Thanom was allowed to return to Thailand in late 1976 to serve as a Buddhist monk, sparking new demonstrations by pro-democracy protesters. Many believe his return was meant to set the stage for a counterrevolution, and on Oct. 6, 1976, a massacre of student protesters by police and the army took place at Bangkok's Thammasat University, and a coup installed a new, military-guided right-wing government.
Neither Thanom nor his two former partners in rule resumed any public political role. Thanom generally kept a low public profile afterward, though over the past decade, he made an effort to rehabilitate his public image -- arguing that he was not responsible for the violence unleashed on the 1973 protesters -- and sought to recover some property seized when he was overthrown. Praphas died in 1997.
Thanom was born Aug. 11, 1911 in the northern province of Tak. He attended Army Cadet Academy and his move up the ranks was accelerated after he took part in a 1947 coup.
During the 1950s Thanom served as deputy defense minister and defense minister, and was appointed a figurehead prime minister for nine months in 1958 before military strongman Sarit Thanarat assumed dictatorial powers until his death in 1963.
Thanom's regime -- like Sarit's -- was close to the US because of their shared drive against communism, and massive corruption. During the Vietnam War, his government allowed tens of thousands of US servicemen to be stationed in the country. The US bases were closed after his government was overthrown.
His government allowed a veneer of democracy, but even the mild dissent proved unacceptable to it, and it staged a coup against itself in 1971 to sweep away peaceful but pesky opponents in parliament. However, the high-handed tactic sharpened opposition to his rule, leading to the 1973 student revolution.
Comments will be moderated. Keep comments relevant to the article. Remarks containing abusive and obscene language, personal attacks of any kind or promotion will be removed and the user banned. Final decision will be at the discretion of the Taipei Times.