Roh vows to further US alliance
REASSURANCE South Korea's president sought to ease fears he was endangering his country's alliance with the US, saying his government would nurture relations
South Korean President Roh Moo-hyun -- who has advocated less dependence on US forces stationed here -- vowed yesterday to "nurture" a continuing alliance with Washington as the two countries prepared for highly sensitive talks on a US plan to withdraw troops.
The US and South Korea were scheduled to begin discussions today on Washington's plan to move out up to a third of the 37,000 US troops stationed here.
Washington has kept troops here since the 1950-1953 Korean war in a bid to help Seoul deter potential aggression from North Korea. The war ended in an uneasy truce, and tensions are high over the communist North's nuclear weapons programs.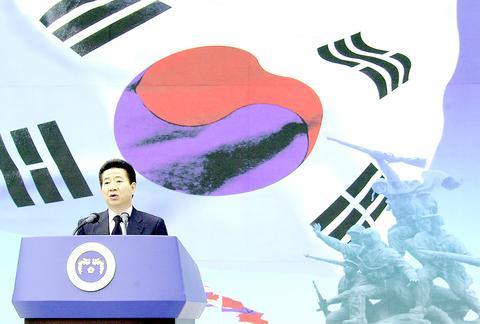 South Korean President Roh Moo-hyun delivers a speech during a ceremony marking Korean Memorial Day at the Seoul National Cemetery yesterday. Roh stressed the importance of the South Korea-US alliance, calling it the cornerstone of South Korea's independence rather than a violation of its sovereignty.
PHOTO: AFP
Roh has been advocating a policy of "self-defense" and less dependence on US forces.
That policy -- along with the US troop reduction plan and widespread anti-American sentiments, especially among young South Koreans -- has triggered fears among some that the liberal president may be endangering his country's alliance with the US.
Many older South Koreans, who have painful memories of the North Korean invasion that triggered the war, consider the US troops posted near the inter-Korean border to be a vital safeguard.
Trying to dispel concerns, Roh said yesterday that his government "will properly nurture the South Korea-US alliance.
"The concepts of self-defense and an alliance can complement each other," he said in a nationally televised speech marking the country's Memorial Day for the war dead.
Roh also stood by his plan to send 3,600 South Korean troops to Iraq in what would become the third-largest part of the US-led coalition, after the US and Britain.
Some members of Roh's ruling liberal Uri Party have urged the government not to send South Korean troops.
Roh said Sunday his country must dispatch forces to Iraq in a way that "can strengthen a friendship with the US, our old friend, and at the same is welcomed by the Iraqis and other Arab people."
Seoul wants to send military engineers and medics to Irbil, a town in the Kurdish region of northeastern Iraq.
A US delegation, led by Assistant Secretary of Defense Richard Lawless, is scheduled to meet South Korean officials today to explain what will become the first major troop cut on the Korean Peninsula since 1992.
Washington said earlier this month it plans to redeploy 3,600 South Korea-based troops to Iraq in the coming months. It remains unclear whether that redeployment is part of the planned troop reduction.
The planned US troop reduction is seen as part of Washington's stated global effort to realign its forces so they can better respond to emergencies worldwide.
Although the number of US troops in South Korea will decrease, Washington says the allies' defense capabilities will not weaken. The two Koreas remain technically at war because the 1950s conflict ended in a truce, not a peace treaty.
Comments will be moderated. Keep comments relevant to the article. Remarks containing abusive and obscene language, personal attacks of any kind or promotion will be removed and the user banned. Final decision will be at the discretion of the Taipei Times.