Tiananmen Mothers maintain their rage
TREMBLING HEARTS The mothers of those killed face house arrest and worse for fighting against the official interpretation of the killing, but they won't be silenced
Fifteen years after troops backed by tanks crushed China's democracy movement centered on Beijing's Tiananmen Square, some survivors and families of the dead are still seeking redress.
For Ding Zilin (丁子霖), a 67-year-old retired professor, the anniversary of her teenage son's death is another reason to press China's new generation of leaders to reverse the official verdict on the protests and come clean about those who disappeared.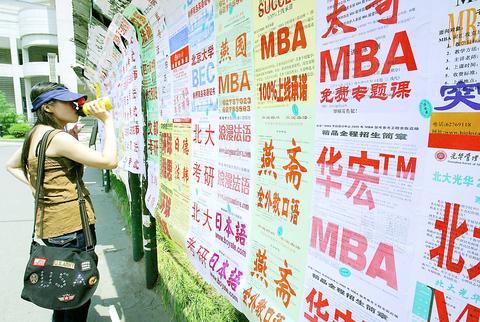 A student at Peking University stops to read ads promoting further educational and career opportunities posted at the school's famous ``triangle square'' yesterday. Fifteen years after the crushing of the Tiananmen democracy movement, students at universities where the protests began are far more concerned about finding jobs than marking an event of which they have little understanding.
PHOTO: AFP
"Today, as we face those names so familiar to us, our hearts continue to tremble and bleed," she wrote on behalf of the Tiananmen Mothers advocacy group in a letter sent to reporters in Beijing. "We should remember that the system we live in is full of barbarism, inhumanity and hypocrisy.
"It remains a system in which freedom and democracy are smothered, in which any sparks of civilization must be extinguished, and in which any who challenge this system must be ruthlessly suppressed," she wrote.
The mothers demanded that China's current leadership, led by President Hu Jintao (胡錦濤) and Premier Wen Jiabao (溫家寶), who are keen to burnish their "men of the people" image, recognize the military suppression as a crime against humanity.
"[They need] the kind of courage that can face the crimes of history with true repentance," wrote Ding, who rights groups say is under house arrest to prevent her from meeting journalists or publicly commemorating the June 4 anniversary.
Hu replaced Jiang Zemin (江澤民) as Communist Party chief in November 2002, and as Chinese president last year. Jiang had succeeded Zhao Ziyang (趙紫陽), who was sacked as party chief in 1989 for opposing the massacre.
The Tiananmen Mothers recorded the names of 182 people killed during the massacre, including Cheng Renxing (程仁興), who fell at the base of a flagpole flying the Chinese flag at the center of the square, and Wu Guofeng (吳國鋒), who appeared to die from bayonet wounds.
In March, Wen ruled out an appraisal of the 1989 protests, citing the need for unity and stability.
But authorities have changed their description of the protest from a "counter-revolutionary rebellion" to a "political disturbance," ostensibly playing down its significance in the hope that people would forget about it.
Witnesses and rights groups say hundreds, if not thousands, of people died during the crackdown. Some died on the streets giving first aid to the injured. Most victims are unaccounted for because their families fear repercussions if they come forward.
Many were killed at intersections such as the Muxidi Bridge in western Beijing, where ordinary citizens gathered to block tanks from rolling into the city center, they said.
For Bao Tong (鮑彤), Zhao's top aide in 1989 and the most senior official jailed over the protests, the use of force could have been avoided.
"It even should have been possible to seize the opportunity to expand political reform, which aimed at greater democracy," Bao wrote in a commentary, a copy of which was made available to foreign media.
Instead, human rights violations and curbs on press freedom had only worsened, he said.
"The party seems to have put itself back in charge of judging and making arrests in political cases, and in charge of media and publishing, all to support its policy of `stability above all,'" wrote Bao, who has been under tight surveillance since his release from prison in 1996.
Analysts said a reassessment of the protests was next to impossible in the near future because leaders who were either involved in or benefited from the crackdown are still alive.
Journalist Dai Qing (戴晴), one of China's most celebrated dissident writers and a 1989 protester, says moderate activism is the most effective path to reform.
"Back in those days, Wang Dan (王丹) would never choose to do small things. But I don't think that just because it's small, it's not worth doing," she said.
Comments will be moderated. Keep comments relevant to the article. Remarks containing abusive and obscene language, personal attacks of any kind or promotion will be removed and the user banned. Final decision will be at the discretion of the Taipei Times.