Less PFAS in Taiwan's water than in other nations
Levels of per- and polyfluoroalkyl substances (PFAS) in sources of drinking water in Taiwan are lower than those in other countries, the Ministry of Environment said in response to concerns.
"PFAS are a group of chemicals used to make fluoropolymer coatings and products that resist heat, oil, stains, grease and water," the US Centers for Disease Control and Prevention Web site says.
"There has been concern over possible health effects from exposures to PFAS, including elevated risks of cancers of the kidney and testis," the US National Cancer Institute Web site says.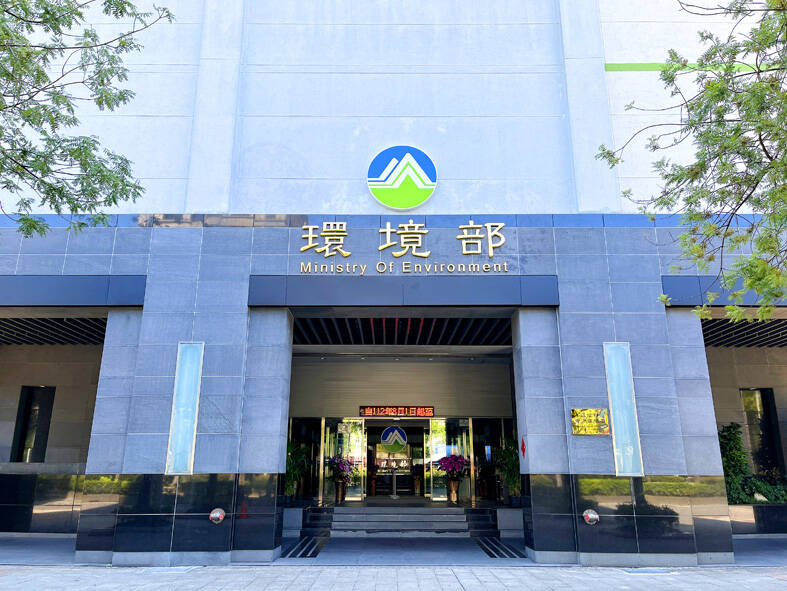 The entrance to the Ministry of Environment in Taipei is pictured in an undated photograph.
Photo: Chen Chia-yi, Taipei Times
Japanese authorities recently announced that PFAS were found in rivers and groundwater in the Kansai region, prompting the testing of residents in the area. Blood tests of residents in Settsu, a city in Osaka Prefecture, showed that 31 of 87 people had PFAS levels exceeding US safety standards, prompting plans for expanded screening.
The ministry on Sunday said that it would refer to international practices and consider defining safe PFAS levels as part of the country's drinking water standards.
"Water purification plants in Taiwan are testing for all three of those substances, and the results are all lower than the recommended values set by various countries," said Lo Jen-chun (羅仁鈞), who is in charge of the ministry's drinking water protection policies.
While some countries have drinking water guidelines or recommended values for common PFAS, none have formulated mandatory regulations based on those guidelines, Lo said.
"There are many types of PFAS, and they are widely distributed in the environment, so countries have proposed different standards that target different PFAS," he said. "Listing and managing all PFAS under drinking-water regulations would be a major undertaking."
For example, Australia has proposed a combined guideline value for perfluorooctane sulfonate and perfluorohexane sulfonate in drinking water of less than 70 nanograms per liter, Lo said.
The US has proposed the same combined value for a health advisory for perfluorooctane sulfonate and perfluorooctanoate, he said.
Lo said the US in March proposed draft regulations for six types of PFAS in drinking water.
In the draft, the standard for perfluorooctane sulfonate and perfluorooctanoate was set at four parts per trillion, which is "very stringent" compared with the current recommended value, he said.
"Although the draft is still in the discussion stage, it has attracted great attention from the EU, as well as Australia and other countries," he said.
If that draft is adopted, the ministry would refer to it and might follow up with a similar proposal for Taiwan, he said.
Yen Tsung-hai (顏宗海), head of the department of clinical toxicology at Linkou Chang Gung Memorial Hospital, said that PFAS do not easily decompose in the environment.
There is no clinical way of reducing PFAS that have accumulated in the human body, he said, adding that the US Centers for Disease Control reported in its most recent National Health and Nutrition Examination Survey that 98 percent of Americans contain some level of PFAS in their blood.
"Medical research shows that long-term exposure to PFAS can lead to increased blood lipid concentrations, abnormal liver function, and an increased risk of kidney cancer and testicular cancer," he said. "The exposure of pregnant women to PFAS can also affect fetal development."
To avoid PFAS people should try not to use grease-proof paper takeout bags, use nonstick pans at a low heat and not scratch the surface of nonstick pans, Yen said.
Comments will be moderated. Keep comments relevant to the article. Remarks containing abusive and obscene language, personal attacks of any kind or promotion will be removed and the user banned. Final decision will be at the discretion of the Taipei Times.