CDC urges parents to vaccinate children against flu
TAKE CARE: The vaccination rate is only 50.9% among children aged six months to six years, but many in that age group do not properly protect themselves against disease
Preschool-age children are more at risk of developing severe complications from the flu, so parents are advised to get them vaccinated, the Centers for Disease Control (CDC) said yesterday, while announcing that five flu-related deaths and 23 cases of severe flu complications were reported last week, including two children who experienced altered consciousness.
CDC Epidemic Intelligence Center Director Guo Hung-wei (郭宏偉) said there were 56,049 hospital visits for flu-like illnesses last week, down from the week before, but still higher than the same week over the past few years.
All of the five people who died last week had underlying health conditions, and none had been vaccinated against the flu this season, Guo said, adding that 23 cases of severe flu complications were also reported, including 21 people who had not been vaccinated.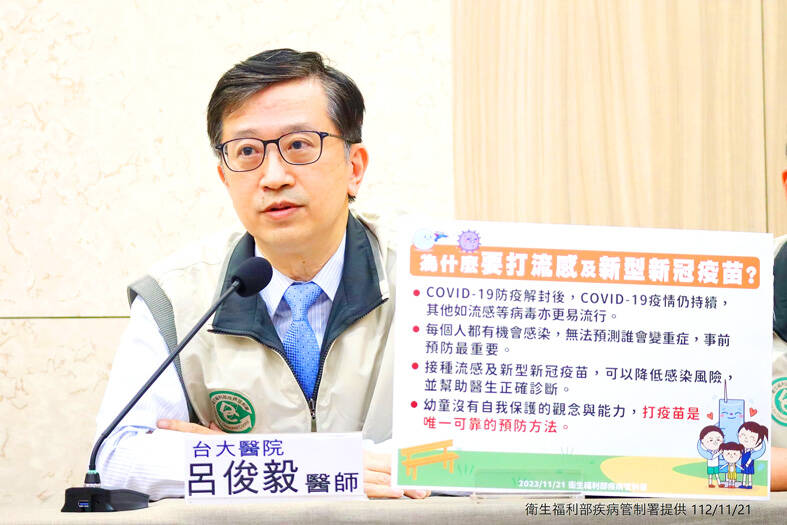 National Taiwan University Hospital pediatrician Lu Chun-yi speaks at a news conference held by the Centers for Disease Control in Taipei yesterday.
Photo courtesy of the Centers for Disease Control
CDC physician Lin Yung-ching (林詠青) said the youngest of the severe flu cases was a seven-year-old boy who did not have a chronic health condition and had not been vaccinated.
He had a fever, runny nose and phlegm, and suddenly developed altered consciousness the next day, so was taken to hospital, where he was treated in intensive care for six days, Lin said.
The boy had an influenza A infection with encephalitis and pneumonia, he said, adding that he has returned home.
Another serious case was a 13-year-old boy with no underlying health conditions who had not been vaccinated, Lin said.
The teen had a fever and vomiting early this month, but although the symptoms disappeared, he gradually developed respiratory problems and was diagnosed with influenza A, he said.
Although he took antivirals, he began experiencing anxiety, dependency, personality changes, drowsiness and his leg began twitching, Lin said, adding that the teen's doctor diagnosed him as having acute encephalopathy, and he has been hospitalized.
National Taiwan University Hospital pediatrician Lu Chun-yi (呂俊毅) said encephalopathy linked to influenza is not common, but it is usually serious, and as there is no way to predict who is prone to it, getting vaccinated is the best precaution.
Children who contract the flu usually have a fever for two to three days, as well as fatigue and respiratory symptoms, he said.
However, if they develop shortness of breath, panting or wheezing, they might have pneumonia, or if they develop altered consciousness, are sleepy and unable to wake up, or their personality changes, they might have encephalopathy, and should seek immediate medical attention, Lu said.
As temperatures are dropping, many viruses are circulating in local communities, and most young children do not properly protect themselves against them, Lu said, adding that getting vaccinated is the best way to avoid infection and allows doctors to make an accurate diagnosis faster.
CDC Deputy Director-General Tseng Shu-hui (曾淑慧) said that since the government-funded flu vaccination program started last month, more than 5.54 million doses had been administered as of Monday.
However, among children aged six months to six years the vaccination rate is only 50.9 percent, Tseng said.
Meanwhile, the COVID-19 situation was previously forecast to peak late next month, but the CDC now expects it to peak in middle-to-late January, she added.
Comments will be moderated. Keep comments relevant to the article. Remarks containing abusive and obscene language, personal attacks of any kind or promotion will be removed and the user banned. Final decision will be at the discretion of the Taipei Times.