Taiwanese have a China choice: Lai
'WORLD WATCHING': The vice president said he would continue to lead Taiwan on a stable path and seek opportunities while avoiding heavy reliance on China
Taiwanese have to make a choice in January's presidential election between continuing on the road of democracy or "walking into the embrace of China," Vice President William Lai (賴清德), the Democratic Progressive Party's (DPP) presidential candidate, said yesterday.
After formally registering the candidacies of himself and his running mate, former representative to the US Hsiao Bi-khim (蕭美琴), with the Central Election Commission, Lai told reporters and supporters that Taiwan's security is an international issue and the whole world would be watching the vote.
"The people of Taiwan have to choose between trusting Taiwan — allowing Taiwan to continue to move forward on the road of democracy — and relying on China, following the old path of the one-China principle and walking into the embrace of China," he said.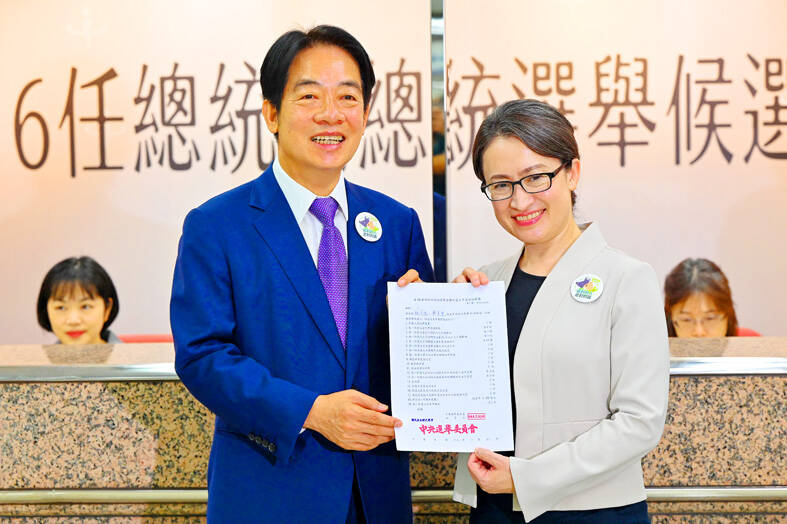 Vice President William Lai, left, the Democratic Progressive Party's presidential candidate, and former representative to the US Hsiao Bi-khim, his running mate, hold a document at the Central Election Commission in Taipei yesterday after registering for January's election.
Photo: AFP
He and Hsiao would continue to lead Taiwan on a stable path, seeking opportunities to engage with the international community while avoiding heavy reliance on China, Lai said.
"We are firmly resolved and fully confident," he said. "We both deeply love this land and this country, and are committed to doing our utmost to safeguard Taiwan and promote democracy, peace and prosperity."
The Lai-Hsiao pairing represents responsible and steady governance, as we have decades of experience as public servants, Lai said, adding that Taiwanese society could not afford turmoil, nor could it be used as a testing ground.
Lai was likely hitting back at Taiwan People's Party (TPP) Chairman and presidential nominee Ko Wen-je (柯文哲), who last week said that a proposed coalition TPP-Chinese Nationalist Party (KMT) government would be an "experiment."
Meanwhile, Time magazine yesterday published a feature on Lai, titled "Taiwan's presidential frontrunner faces a balancing act with China."
The DPP can "maintain Taiwan's sovereignty without endorsing the fiction of reunification," Lai was quoted as saying.
He also said he wanted to "expand Taiwan's growing web of economic ties to make the island indispensable to the global economy."
"For Lai, every Taiwanese investment abroad and foreign investment at home incrementally boosts the island's security," the article said.
Comments will be moderated. Keep comments relevant to the article. Remarks containing abusive and obscene language, personal attacks of any kind or promotion will be removed and the user banned. Final decision will be at the discretion of the Taipei Times.