Nearly one-fifth of hotpot ingredients fail inspections
A random inspection of 55 hotpot ingredients resulted in 10 failing the tests as they contained excessive pesticide residues, preservatives or aflatoxin, the Taipei Department of Health said yesterday.
Department chief secretary Chiu Hsiu-yi (邱秀儀) said that with weather turning cooler, the department last month conducted random tests of hotpot ingredients — a popular fare especially during winter in Taiwan.
The 55 items were: 15 types of vegetables that are at a higher risk of containing pesticide residues, 15 frozen hotpot processed foods, 10 meat products, five seafood items, five soybean products and five peanut powder.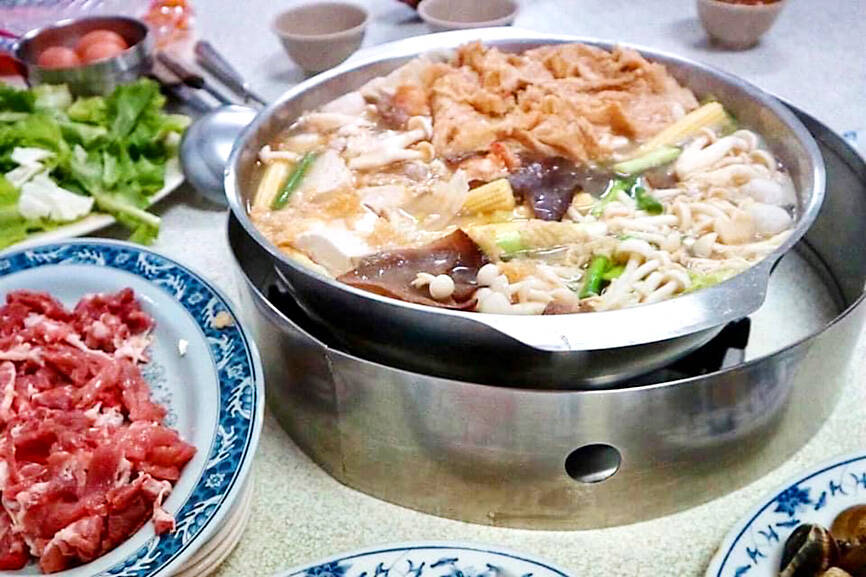 Hotpot dishes are pictured in Taipei in an undated photograph.
Photo: Chiu Chih-jou, Taipei Times
They were tested for veterinary drug residues, animal ingredients, heavy metal substances, pesticide residues, food additives and fungal toxins, she said.
Five vegetables (three bok choy and two scallions) were found with pesticide residue levels exceeding maximum residue levels (MRLs), two peanut powder items had excessive levels of aflatoxins and three tofu products contained the preservative benzoic acid, Lee said
Most of the items that failed the inspections were taken from hotpot restaurants: bok choy from a Mo-Mo-Paradise branch contained three types of pesticides exceeding the MRLs; a peanut powder provided by Tian La Ma La (天辣麻辣) hotpot restaurant had excessive levels of aflatoxins; and a tofu from a Xin Dian Hotpot (辛殿麻辣鍋) contained benzoic acid, department data showed.
The items have been removed from the shelves and the department has notified its counterparts in other cities and counties where some of the items were produced.
As two of the three tofu items had no labels indicating where they were sourced, the two restaurants were each fined NT$30,000 (US$976).
"We urge farmers to use pesticides appropriately to reduce the risk of excessive residues," Lee said. "We also encourage consumers to buy seasonal fruit and vegetables and wash them with running water, especially the roots and the stems, soak them for about 10 to 20 minutes and wash them again with running water before cooking, preferably with the pot not covered."
Aflatoxins are toxic secondary metabolites produced by certain fungi that are often found in agricultural crops, such as peanuts, corn, rice, oat and nuts, and Taiwan's high humidity and temperatures are conducive to their reproduction, so consumers should buy such products from reputable brands, check if their packaging is intact and store them in a dry place after opening, she said.
While benzoic acid is a legal food preservative, they cannot be used in soybean products, such as tofu, frozen tofu and soymilk, Lee said.
Excessive intake of the substance may cause diarrhea, abdominal pain and a rapid heartbeat, but it is soluble in water, so drinking plenty of water can help flush it out of the system, she said.
Comments will be moderated. Keep comments relevant to the article. Remarks containing abusive and obscene language, personal attacks of any kind or promotion will be removed and the user banned. Final decision will be at the discretion of the Taipei Times.