Coalition of trade unions call for pension rate hike
A coalition of trade unions yesterday demanded that the minimum required contributions of companies to employee pension accounts be increased to improve the finances of workers when they retire.
The Labor Pension Act (勞工退休金條例) stipulates that employers must put at least 6 percent of an employee's salary into an employee's pension account every month.
The employee can collect the amount contributed as a lump sum or a monthly annuity after they turn 60.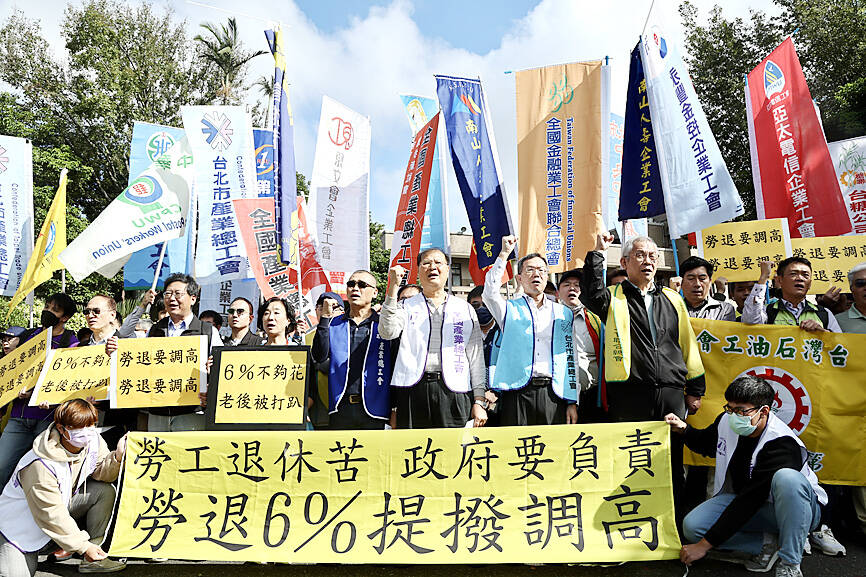 Representatives of the Taiwan Confederation of Trade Unions and other trade unions hold a rally in front of the Executive Yuan in Taipei yesterday.
Photo: CNA
That has been the standard since the act took effect in 2005, Chiang Chien-hsing (江健興), head of the Taiwan Confederation of Trade Unions, told a rally outside government offices in Taipei.
It is time for a change, Chiang said.
Chiang said he learned through conversations with union members across Taiwan that the 6 percent rate has become their greatest concern, as they could face poverty in their retirement.
Taiwan Federation of Financial Unions head Chung Fu-chi (鍾馥吉) said that the act stipulates a 6 percent minimum contribution, but employers treat it as a maximum rate and refuse to go higher.
Whenever unions petition for the rate to be increased, the government says it is an issue that should be settled through labor-management negotiations, ignoring that workers have less bargaining power, Chung said.
The rate should be increased to 12.5 percent, which would serve as a base for labor-management negotiations, he said.
Chiang did not offer a specific rate, but used a previous Labor Standards Act (勞動基準法) rule as a benchmark.
Under those provisions, workers received a lump sum pension payment of the average monthly salary that an employee was paid in the six months prior to retirement multiplied by 45, Chiang said.
That meant a worker who earned NT$50,000 (US$1,557) per month and retired after working for 30 years would receive a lump sum of NT$2.25 million, while today's rules only allow NT$1.08 million (NT$3,000 per month for 30 years), he said.
However, people had to work for the same employer for 25 consecutive years or have been at least 55 and worked for the same employer for 15 years to be eligible for the payout under the old system, conditions that left 90 percent of people without a pension, he said.
In Taiwan, most private-sector employees rely on the labor insurance system for retirement benefits rather than the labor pension system because of the high eligibility threshold under the Labor Standards Act.
However, the labor insurance benefits are relatively low and the labor pension system has been emphasized since the Labor Pension Act was passed because pensions would supplement labor insurance system payments.
Chung called on the candidates in January's presidential election to announce their support for increasing the pension contribution rate to gain support from workers.
The ministry said in a statement that a legislative change would require all parties to reach a consensus.
Until then, employers and employees could negotiate higher contribution rates in collective bargaining agreements, it said.
Comments will be moderated. Keep comments relevant to the article. Remarks containing abusive and obscene language, personal attacks of any kind or promotion will be removed and the user banned. Final decision will be at the discretion of the Taipei Times.