Hon Hai founder Terry Gou qualifies to run for president
Hon Hai Precision Industry Co founder Terry Gou (郭台銘) yesterday officially qualified for the presidential election in January after the Central Election Commission (CEC) validated the signatures he had collected to run as an independent candidate.
Gou and his running mate, Tammy Lai (賴佩霞), submitted 1,038,031 signatures — more than the 1,036,778 counted by their campaign staff — of which 902,389, or 87 percent, were valid, the CEC said in a statement.
They needed at least 289,667 signatures, or 1.5 percent of all eligible voters, to get on the ballot.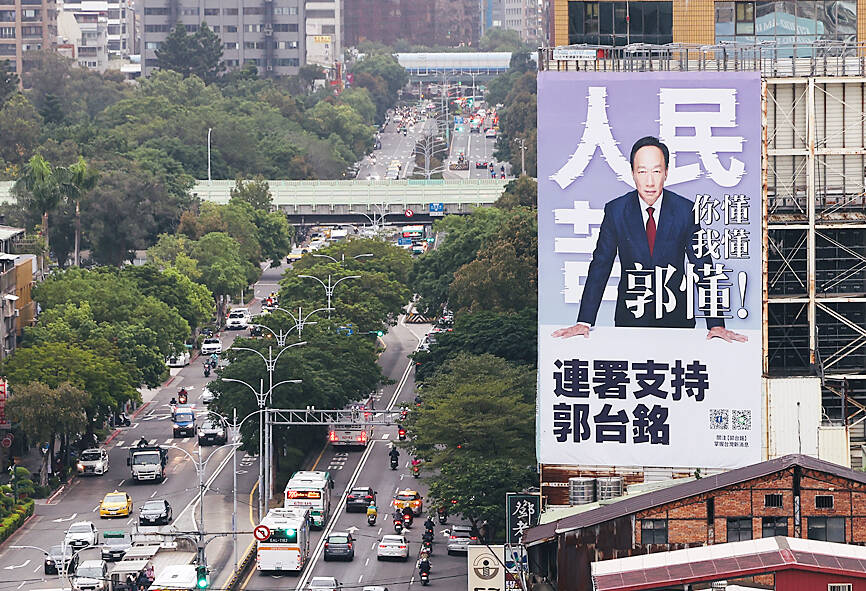 A billboard promoting Hon Hai Precision Industry Co founder Terry Gou's presidential bid is pictured in Taipei yesterday.
Photo:CNA
Of the 10 signature campaigns registered with the CEC, only five submitted signatures. Besides Gou and Lai, none of the other campaigners passed the threshold.
The nine unsuccessful campaigners would each forfeit their NT$1 million (US$30,931) deposits for failing to collect half the required number of endorsements, the CEC said.
In a statement, Gou's campaign office thanked CEC staff and everyone who supported the signature drive, saying that Gou would aim to bring about cross-strait peace, as well as prosperity and a "clean" government, if he wins the election.
In other developments, representatives of the Chinese Nationalist Party (KMT) and Taiwan People's Party (TPP) are to meet again today to negotiate whether they will field a joint ticket for the presidential race.
The meeting is to take place at the Ma Ying-jeou Foundation in Taipei, with former president Ma Ying-jeou (馬英九) of the KMT invited to participate as a witness, statements issued by the two parties said.
The attendees would include the KMT's presidential candidate New Taipei City Mayor Hou You-yi (侯友宜), TPP Chairman and presidential candidate Ko Wen-je (柯文哲), and KMT Chairman Eric Chu (朱立倫), the TPP said.
Due to venue restrictions, reporters would not be allowed to attend the meeting, but a news conference would be held afterward, the TPP said.
The meeting was arranged after the two parties agreed to partly determine who would run for president and would run for vice president using public polls after months of deadlock.
What remain to be determined are the content and rules of the poll, Chu said.
Comments will be moderated. Keep comments relevant to the article. Remarks containing abusive and obscene language, personal attacks of any kind or promotion will be removed and the user banned. Final decision will be at the discretion of the Taipei Times.