Ministry welcomes UN envoys from diplomatic allies
The Ministry of Foreign Affairs yesterday welcomed a delegation of five permanent representatives to the UN from the nation's diplomatic allies, thanking them for supporting Taiwan's participation in the global body through concrete actions.
Inga Rhonda King of Saint Vincent and the Grenadines, Amatlain Elizabeth Kabua of the Marshall Islands, Margo Reminisse Deiye of Nauru, Carlos Fuller of Belize and Jose Eduardo Pereira Sosa of Paraguay are "true friends of Taiwan," the ministry said in a news release.
Through the visit, the envoys could learn about Taiwan's current political and economic development and exchange opinions with various government agencies on issues of concern to the UN system, it said.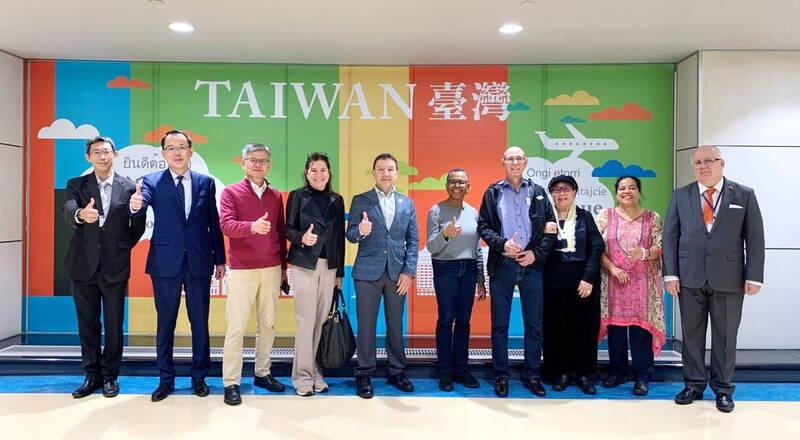 UN representatives from five of Taiwan's diplomatic allies — Saint Vincent and the Grenadines, the Marshall Islands, Nauru, Belize and Paraguay — pose for a photograph at Taiwan Taoyuan International Airport yesterday.
Photo courtesy of the Ministry of Foreign Affairs
With their rich experience and knowledge of UN affairs, the government could gain a deeper understanding of the UN system and form policies that are in line with international standards, it said.
The exchange could help Taiwan better protect the well-being of Taiwanese and further contribute to the international community, which would highlight the nation's image as a force for good in the world, it said.
During the visit, which ends on Saturday, the delegation is to meet with government officials including President Tsai Ing-wen (蔡英文), Legislative Speaker You Si-kun (游錫?), Minister of Foreign Affairs Joseph Wu (吳釗燮) and Minister of Environment Shieu Fuh-sheng (薛富盛), it said.
The delegation is also to participate in the Global Corporate Sustainability Forum, which takes place from today through Friday, the ministry added.
Comments will be moderated. Keep comments relevant to the article. Remarks containing abusive and obscene language, personal attacks of any kind or promotion will be removed and the user banned. Final decision will be at the discretion of the Taipei Times.