Large vessels to patrol near Itu Aba: NSB
Larger ships are to patrol around Itu Aba Island (Taiping Island, 太平島) in addition to regular coast guard patrols, National Security Bureau (NSB) Director-General Tsai Ming-yen (蔡明彥) said on Monday, following reports that Chinese navy ships sailed near the Taiwan-administered island in the South China Sea.
During a session of the legislature's Foreign and National Defense Committee, Chinese Nationalist Party (KMT) Legislator Charles Chen (陳以信) asked about reports that Chinese and US warships sailed near 12 nautical miles (22.2km) of the island on Friday last week.
Although they did not sail within its restricted 6km radius, Chen asked whether the Chinese vessel sailed within the 12 nautical mile boundary and why the ships were sailing in the region.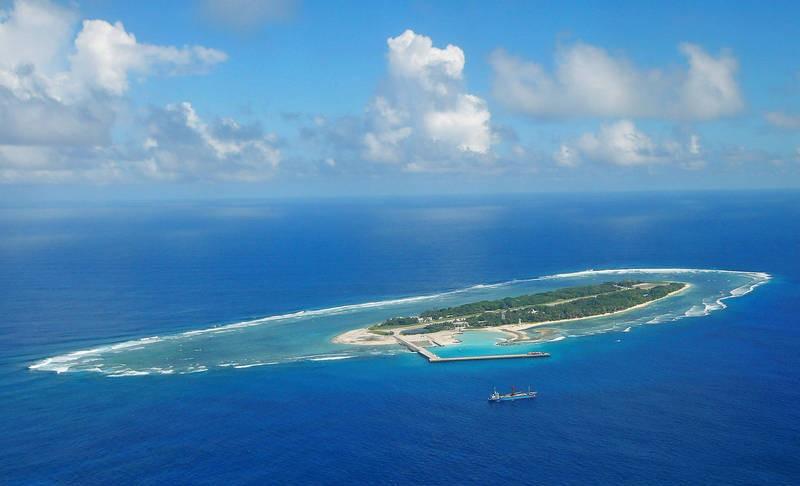 Itu Aba Island is pictured in an undated photograph.
Photo: Reuters
Tsai said the bureau was aware of the ships' movements, and would notify the Ministry of Foreign Affairs to respond if a warship were to come within 12 nautical miles.
Asked whether strengthened defenses were required around the island, Tsai said that about 200 people are already stationed there, and the relevant authorities would be briefed on the situation.
The bureau has prepared responses to high, medium and low-level threats near the Spratly Islands, and the coast guard regularly patrols around Itu Aba, Tsai said.
The coast guard would also deploy larger vessels near the island to help stabilize the situation in the region, he added.
Itu Aba, the largest among the Spratly Islands, lies 1,600km southwest of Kaohsiung and is administered as part of Kaohsiung's Cijin District (旗津), although it is also claimed by China, the Philippines and Vietnam.
It is one of the two territories controlled by Taiwan in the South China Sea, the other being Pratas Island (Dongsha Island, 東沙島) about 450km southwest of Kaohsiung.
Asked by KMT Legislator Johnny Chiang (江啟臣) why marine corps personnel are stationed on Pratas Island and not Itu Aba, Tsai said the suggestion would need to be holistically evaluated.
As any action taken by Taiwan could stir regional tensions, the bureau would provide recommendations to each agency after evaluating practical conditions, he added.
Comments will be moderated. Keep comments relevant to the article. Remarks containing abusive and obscene language, personal attacks of any kind or promotion will be removed and the user banned. Final decision will be at the discretion of the Taipei Times.