NASA certifies Lulin station for calibration
The Lulin Atmospheric Background Station yesterday became the world's third atmospheric monitoring facility to receive Aerosol Robotic Network (AERONET) calibration certification from NASA, the Ministry of Environment said.
The only monitoring facility of its kind to be NASA-certified in Asia, the Lulin station has long been a center of scientific endeavors to measure greenhouse gases, atmospheric radiation flux and airborne pollutants, it said.
These activities are crucial to understanding climate warming and dynamics of air pollution levels, enabling Taiwan to make important contributions to global environment and sustainability goals, the ministry said.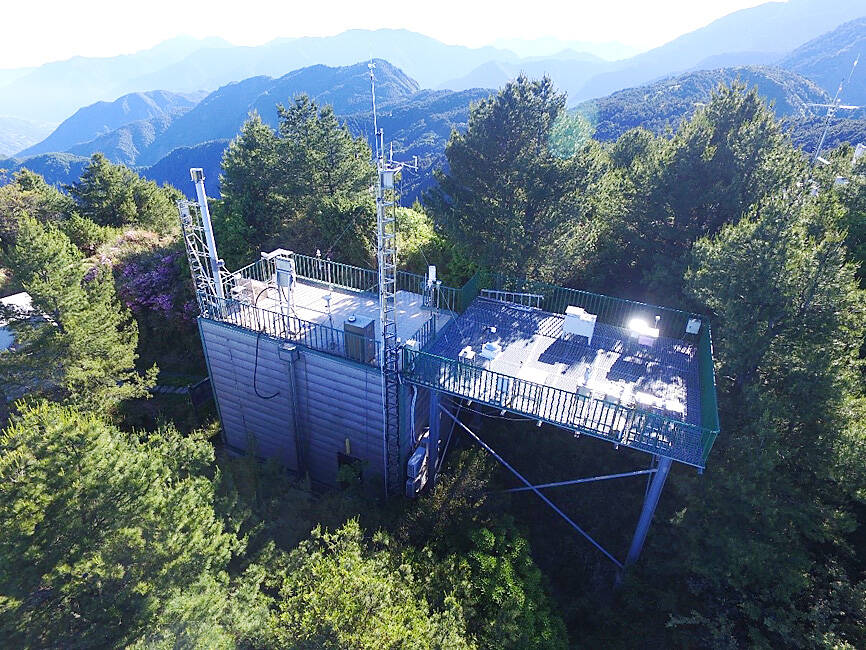 The Lulin Atmospheric Background Station on the border of Chiayi and Nantou counties is pictured in an undated photograph.
Photo courtesy of the Ministry of Environment
The Lulin site has been collaborating with the US space agency on a multitude of scientific projects and is a member of NASA's AERONET initiative that surveils the extent of aerosol particles in the atmosphere, it said.
The Mauna Loa station in Hawaii, Izana station in Spain and Lulin station are the only facilities to be certified to serve as calibration and training centers among the 1,000 sites that participate in AERONET, the ministry said.
The initiative's air quality readings dating back 30 years are among the world's most broadly cited source of data for assessing global climate change and air pollution, it said.
The site's 2,862m altitude in Yushan National Park allows for unique advantages in observing atmospheric conditions, the ministry said, adding that Taiwan has been a global leader in meteorological and remote sensing research.
Wang Sheng-hsiang (王聖翔), a professor at National Central University's Center for Environmental Monitoring and Technology, said that aerosols cause significant damaging to climate, air quality and machine equipment.
The Lulin site has the capability to identify the type and source of airborne pollutants and can calibrate close to 20 sets of instruments per year, he said, adding that researchers have plans to improve the station.
Comments will be moderated. Keep comments relevant to the article. Remarks containing abusive and obscene language, personal attacks of any kind or promotion will be removed and the user banned. Final decision will be at the discretion of the Taipei Times.