Candidates from TPP and KMT fail to agree on deal
The presidential candidates from the two main opposition parties convened on Tuesday in a bid to break the deadlock and work out a deal for January's election, but failed to agree on the details of a proposed joint presidential ticket.
The Chinese Nationalist Party's (KMT) presidential candidate, New Taipei City Mayor Hou You-yi (侯友宜), and KMT Chairman Eric Chu (朱立倫) met with Taiwan People's Party (TPP) presidential candidate and Chairman Ko Wen-je (柯文哲) in Taipei in the evening.
The meeting, which lasted about 53 minutes, was held after limited progress had been made by the two parties to forge a partnership that could take on Vice President William Lai (賴清德), the Democratic Progressive Party's (DPP) candidate in the Jan. 13 election.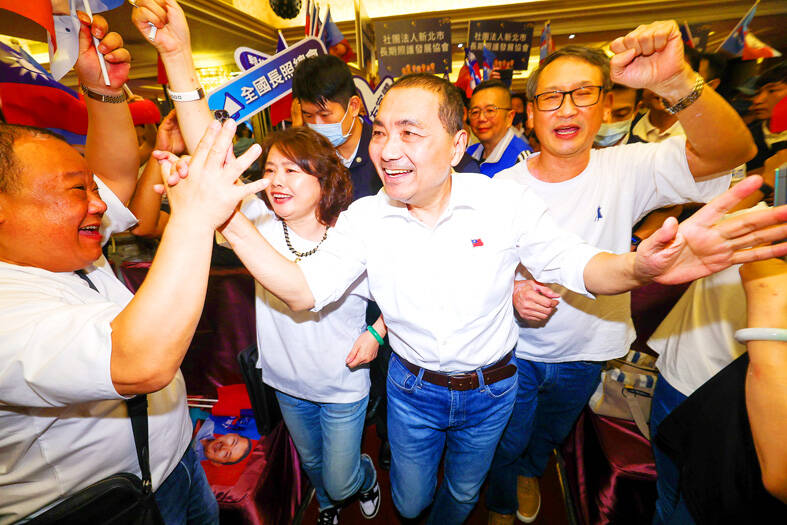 New Taipei City Mayor Hou You-yi, center, the Chinese Nationalist Party's (KMT) presidential candidate, interacts with supporters during a campaign event in Taipei yesterday.
Photo: CNA
TPP spokesperson Christina Yang (楊寶楨) told a news conference yesterday that the two sides had failed to reach an agreement on how candidates would be selected in a potential alliance.
The KMT has proposed an open primary, while the TPP has suggested national polls to determine how Hou and Ko would be paired.
"The problem [of the ongoing stalemate] is that Hou is against conducting polls, but Ko has made it clear that it is too late to hold an open primary," Yang said.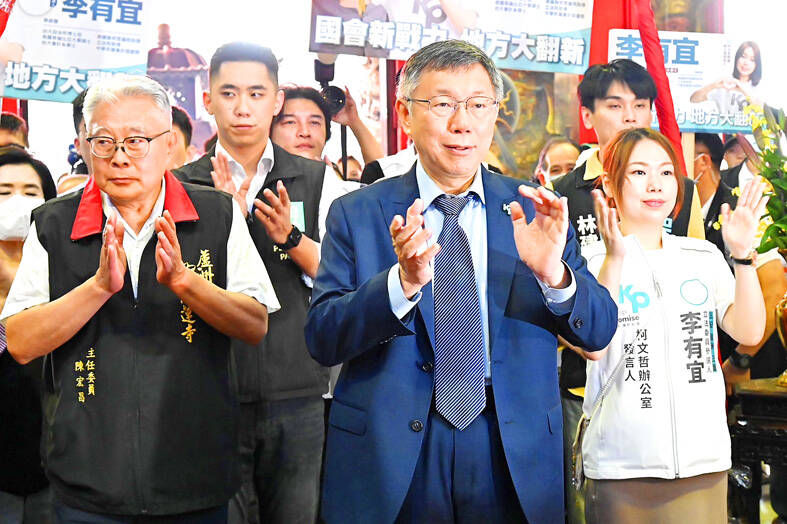 Taiwan People's Party presidential candidate and Chairman Ko Wen-je, center, attends an event at Yonglian Temple in New Taipei City's Lujhou District yesterday.
Photo: Tu Chien-jung, Taipei Times
Ko is optimistic that Chu will come up with a new plan, she added.
However, if he fails to do so, "a future meeting may be rendered unnecessary," she said.
Ko also addressed the situation at another news conference yesterday.
He said that he does not need to be the presidential candidate on the joint ticket, but that he does insist on fair rules and competition in the process of deciding who would be.
Chu separately told reporters that both parties should contemplate how a workable plan could look, adding that he would draw on examples of cooperation among opposition figures in other countries.
Meanwhile, the DPP said that Ko had not adhered to his proclaimed commitment to "openness and transparency."
DPP spokesman Chang Chih-hao (張志豪) in a press release urged the trio to offer a comprehensive explanation regarding the meeting.
The meeting appeared not only to be solely focused on behind-the-scenes political negotiations, but also involved discussions on how to smear and attack the DPP, Chang said.
Comments will be moderated. Keep comments relevant to the article. Remarks containing abusive and obscene language, personal attacks of any kind or promotion will be removed and the user banned. Final decision will be at the discretion of the Taipei Times.