SHU to close its Chinese Literature Department
CLASS OUT: Shih Hsin University said the decision was due to the nation's declining birthrate, fewer students enrolling in school and changing industry trends
Shih Hsin University (SHU) yesterday announced it would close its Chinese Literature Department in two years' time, finding it necessary to make the adjustment due to Taiwan's declining birthrate.
The school's Chinese Literature Department plans to convene a forum next month to provide information and dialogue with those affected, as well as to explain the best ways to protect students' right to education, and working rights for professors, lecturers and teaching assistants, the private university's officials said.
University officials said they had applied this year to the Ministry of Education to stop the enrollment of first-year students in the department beginning in the 2025 academic year.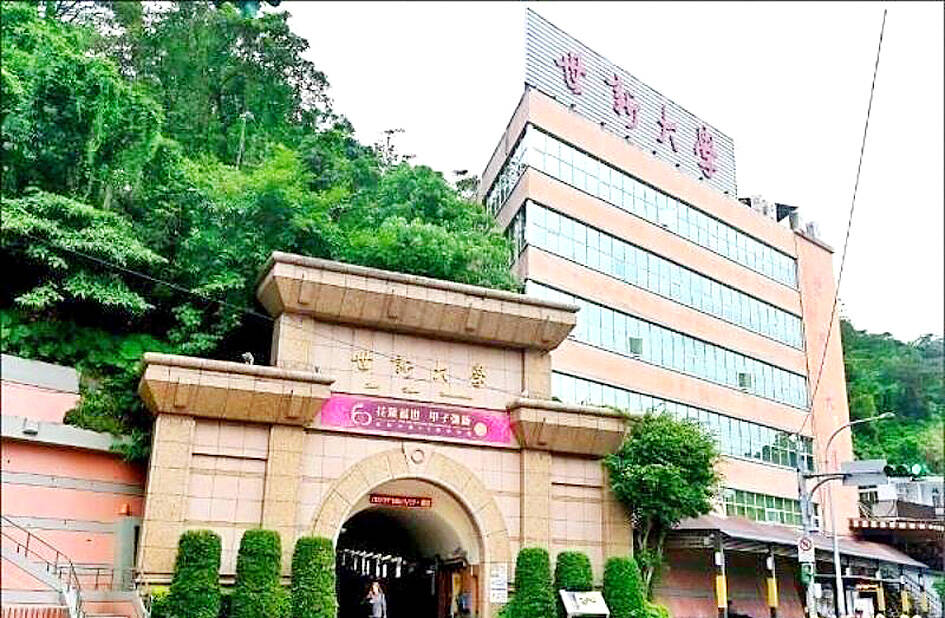 The entrance to the Shih Hsin University campus in Taipei is pictured in an undated photograph.
Photo: Taipei Times
Department of Higher Education section head Chen Kuang-ying (陳冠穎) said the ministry has not received any formal letter on how the university would make curriculum changes and adjustments, although by law, school officials must hold a dialogue with staff and students on how to protect their rights, and explain the procedures to stop enrollment, change department names or merge into another department.
"Each year from February to March, the ministry takes on institutional applications for curriculum changes, meaning that Shih Hsin can apply by March next year, and our ministry will conduct an assessment and check if the school has undertaken proper dialogues, as evaluated on sets of standard criteria," Chen said.
Regarding the move, the Taiwanese Society for the Study of Chinese Literature and Culture in a release yesterday said that cultivating talent is an important investment, and upholding traditional ideals should be SHU's responsibility to society.
"We urge the ministry to reassess its education policies to deal with the crisis in the arts and humanities programs at our school in recent years," the release said.
"Taiwan has experienced a declining birthrate, fewer students enrolling in school and changing industry trends. Therefore, all universities must carefully plan their cultivation of academic talent, and any curriculum adjustments must include full communication and respect the wishes of staff and students. Once a department is terminated, the rights of staff and students must be protected," it said.
"Language and words are the content of a people's collective memory and history, and imbued with a depth and scope for the main structures of a nation, and its people do not merely exist within narrow confines. Language and words are also about contemplation, creativity and expressing human ideas, which are the fundamental basis and union of ideas for all academic fields," it said.
"The borders of a language are the borders confining ways of thinking, so schools should not make rash decisions," it said.
"As an institution of higher learning, it is a place to pursue higher ideals and values. It is best to invest in talent by educating literate, cultured people for society... Right now, the university curriculum for Chinese language and literature is facing severe competition from other professional fields, but we must face up to this in earnest and keep up with society's progress," the release added.
"In academic circles, there is a need for descriptive prose and literature regarding Taiwan's own stories and its people's history, from the older classical to the modern era. Language is the deep research into linguistics and our words to reconstruct the past and imagine the future, and as the firm foundation to understanding the world. It is also for exploring the contemporary zeitgeist, and a tool for self-reflection and the motivation for progress, and this is the essence of the curriculum for Chinese language and culture," it said.
Additional reporting by Jason Pan
Comments will be moderated. Keep comments relevant to the article. Remarks containing abusive and obscene language, personal attacks of any kind or promotion will be removed and the user banned. Final decision will be at the discretion of the Taipei Times.