Montana governor arrives to promote trade relations
'MORE SUBSTANTIAL': More frequent visits by US governors show that Taiwan-US ties are growing in importance for the state leaders, a legislator said
Montana Governor Greg Gianforte yesterday arrived in Taiwan to promote education and trade cooperation, becoming the ninth US governor to visit the country since August last year.
The Ministry of Foreign Affairs welcomed the delegation led by Gianforte, who was on his first trip abroad after becoming governor in 2021.
During the six-day trip, Gianforte is to meet with President Tsai Ing-wen (蔡英文) and engage in exchanges with government officials and industry representatives, the ministry said.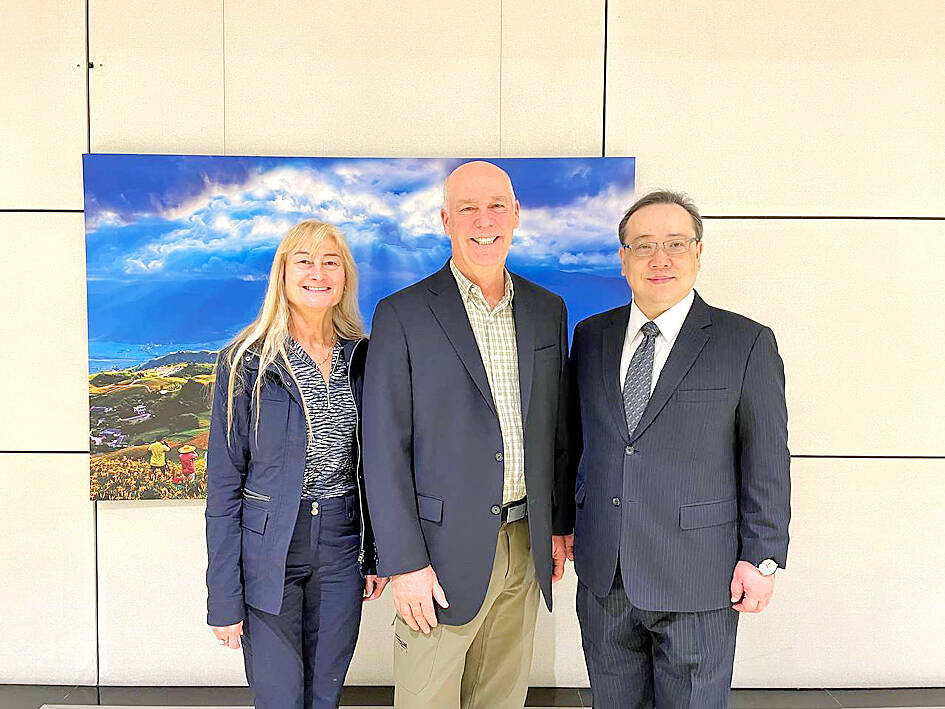 Montana Governor Greg Gianforte, center, and his wife, Susan Gianforte, left, are greeted by Ministry of Foreign Affairs Department of North American Affairs Deputy Director-General Jason Ma at Taiwan Taoyuan International Airport yesterday.
Photo courtesy of the Ministry of Foreign Affairs
The governor is to witness the signing of an agreement on education cooperation between Taiwan and Montana, and attend a partnership launching ceremony between the Importers and Exporters Association of Taipei and the Montana Department of Commerce, it said.
The ministry thanked Gianforte for demonstrating the state's commitment to ties with Taiwan through concrete actions, including by reopening the Montana Asia Trade Office-Taiwan shortly after taking office.
The trip would help bolster bilateral cooperation and partnership between Taiwan and the US, it added.
Gianforte is the ninth US governor to visit Taiwan since August last year, when Taiwan began easing COVID-19 restrictions.
Indiana Governor Eric Holcomb, then-Arizona governor Doug Ducey and Idaho Governor Brad Little visited last year, while Virginia Governor Glenn Youngkin, Michigan Governor Gretchen Whitmer, New Mexico Governor Michelle Lujan Grisham, Arizona Governor Katie Hobbs and New Jersey Governor Phil Murphy visited earlier this year.
Democratic Progressive Party Legislator Lo Chih-cheng (羅致政) yesterday said that visits by US governors showed that Taiwan and the US are moving toward "more substantial" relations.
"The political and economic influence of US state governments might exceed that of many countries," Lo said.
US governors are not only concerned about diplomatic relations, but more importantly about the growth of their states' economies and job opportunities, he said.
Their visits, which aim to deepen economic and trade cooperation with Taiwan, are an affirmation of the strength of Taiwan's high-tech industry, he said.
During Youngkin's visit in April, he signed a memorandum of understanding on economic and trade cooperation with Taiwan, and announced a plan to establish a Virginia trade office in the nation.
He has voiced concerns about China, and earlier this year halted a Ford Motor plan to set up an electric battery plant in his state with a Chinese company, citing concerns about Chinese Communist Party influence over the factory.
There has been speculation that he would seek the Republican Party nomination for next year's US presidential election.
US governors have great potential in politics.
Former US presidents Bill Clinton and George W. Bush served as governors before becoming president, Lo said.
Taiwan should form friendly relations with US governors, who have more freedom to travel as their positions are not as sensitive, he said, adding that their visits could help pave the way for long-term relationships.
In addition to the increased frequency of US governors' visits, the number of offices established by US states has also doubled.
The number of US state offices in Taiwan fell from a high of 30 to eight by 2018.
With the reopening of Pennsylvania's and West Virginia's offices and the establishment of several new offices, 16 US states now have representation in Taiwan.
American Institute in Taiwan Chair Laura Rosenberger has said that two more offices could open, which reflect the opportunities US businesses see in Taiwan.
"This lays a foundation for substantial and mutually beneficial relations between Taiwan and the US," which can directly benefit the nation, Lo said.
The offices would focus on exchanges in culture, education, economy, trade, science and technology, he said.
Taiwan and the US are important political, economic and defense partners, with a relationship based on mutual interests and ideals, especially in human rights and democracy, he said.
Taiwan and the US should move toward more positive and deeper cooperation that "would not be hijacked by the ups and downs of US-China relations," he said.
Comments will be moderated. Keep comments relevant to the article. Remarks containing abusive and obscene language, personal attacks of any kind or promotion will be removed and the user banned. Final decision will be at the discretion of the Taipei Times.