Four DPP challengers criticize 'black gold' families
Four Democratic Progressive Party (DPP) legislative candidates on Monday announced an alliance to counter four prominent "black gold" families, with reputed links to crime and ill-gotten wealth, whose members are running against them in January's elections.
The four DPP candidates are: Legislator Lin Ching-yi (林靜儀), who is seeking re-election in Taichung; agriculture expert Wu Yin-ning (吳音寧), who is running in Changhua County; and New Taipei City Councilor Tseng Po-yu (曾柏瑜) and Hualien County Councilor Chang Mei-hui (張美慧), who are running for legislative seats in their respective constituencies.
Lin told a news conference at DPP headquarters that it is important for people to vote out "black gold" families, who "have for decades used their political status and clout to monopolize local wealth and resources."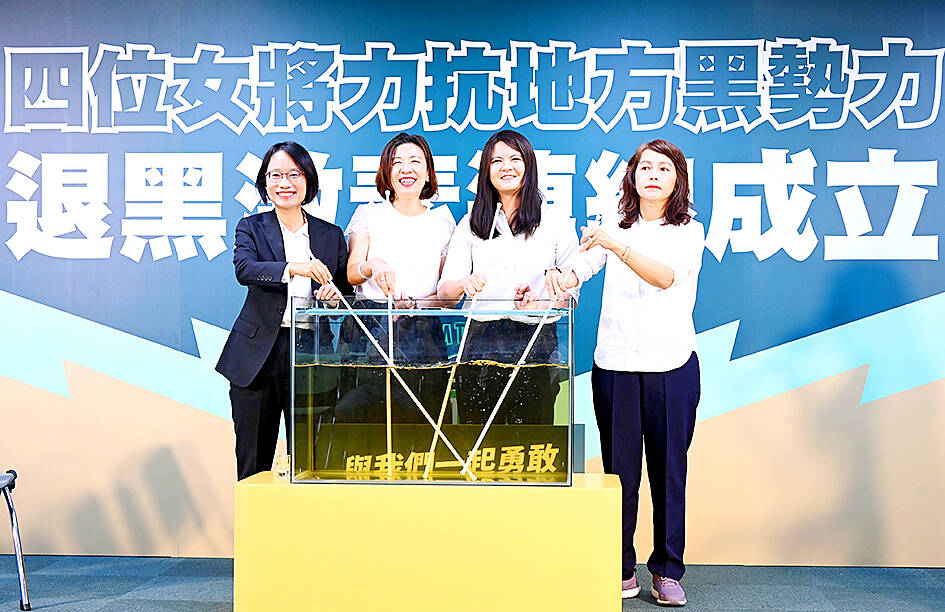 From left, Democratic Progressive Party legislative candidates Wu Yin-ning, Lin Ching-yi, Tseng Po-yu and Chang Mei-hui announce an alliance to remove "black gold" from politics at a news conference at party headquarters in Taipei on Monday.
Photo: Chu Pei-hsiung, Taipei Times
The candidates named the Yen (顏) family in Taichung, the Fu (傅) family in Hualien County, the Lo (羅) family in New Taipei City and the Hsieh (謝) family in Changhua County.
The Yen family has been prominent in Taichung's coastal region for decades, with former Chinese Nationalist Party (KMT) legislator Yen Kuan-heng (顏寬恒) running to take back his old seat, Lin said.
His father, former legislator and Taichung county council speaker Yen Ching-piao (顏清標), has served time for corruption, attempted murder and possession of firearms, and still leads Dajia Jenn Lann Temple (大甲鎮瀾宮), a major religious center in the region that is well financed, she said.
The Yen family "has controlled Taichung's second electoral district for decades, where flash floods take place regularly and schools are dilapidated," she said, also accusing the family of seeking to profit by building an industrial park near Taichung International Airport.
Lin said that after winning in a by-election 20 months ago, she has secured more than NT$800 million (US$24.75 million) in government funds for local construction projects, "just to patch up the many problems long neglected by the Yens."
Chang said that Hualien County has been controlled by KMT Legislator and former county commissioner Fu Kun-chi (傅?萁) and his family for more than 25 years.
Chang accused the "King of Hualien" of treating residents badly, adding that he has served time for stock manipulation, fraud, profiteering, forgery and other financial crimes.
"Under Fu, Hualien County has seen no progress, no major developments and has even been surpassed by neighboring counties," she said. "If anything bad happens, Fu blames it on the central government, and takes credit for anything good."
If elected, she vowed to sustain the legacy and clean politics of her late husband, former Hualien mayor Tien Chih-hsuan (田智宣).
Wu, a former general manager of Taipei Agricultural Products Marketing Corp, said that Changhua County's Hsieh family has controlled local politics for more than four decades.
It is also the only family that has held a legislator's office for three generations, with KMT Legislator Hsieh Yi-fong's (謝衣?) grandfather and mother also serving as lawmakers, Wu said.
"Hsieh Yi-fong is also a KMT Central Committee member, and she is the party's favorite to contest the county commissioner office in the next elections," Wu said. "Her younger brother is Hsieh Dien-lin (謝典林), a former KMT member turned independent, who at the young age of 30 was elected county council speaker" and continues to hold that position.
Their positions have been consolidated by their businesses, the most lucrative and influential of which being their local cable TV service, from which they earn more than NT$500 million in subscription fees each year, she said.
"Our county has had virtually no progress for several decades. The Hsieh family has profited from their political clout, while making residents poorer," Wu said.
In New Taipei City, Tseng pointed to KMT Legislator Lo Ming-tsai (羅明才), who has served seven consecutive terms as legislator starting in 1999, and his father, Lo Fu-chu (羅福助), who served two terms from 1996 to 2002.
Tseng said the two Lo family members are infamous for their "criminal activities, stock manipulation, improper influence in the construction sector and financial fraud."
Lo Fu-chu fled Taiwan in 2012 after being convicted of stock manipulation, tax evasion and other offenses, and has since remained in China, becoming an executive of a Chinese steel company and gaining Chinese citizenship, Tseng said.
"Lo Ming-tsai has won seven straight elections as legislator, abusing his authority to force state banks to invest in his start-up companies, obtaining more than NT$4 billion in loans from state banks," Tseng said, adding that the Lo family has dominated Sindian District (新店) and its surrounding regions for more than three decades.
Citing a judicial investigation, Tseng said the Lo family has been accused of defrauding investors of NT$1.5 billion, as well as illegally occupying public land in Sindian.
Fu Kun-chi, Lo Ming-tsai and Hsieh Yi-fong did not respond to requests for comment.
Asked about the allegations, Yen Kuan-heng pointed to accusations of corruption and malpractice against the DPP government.
"As the ruling party remains deaf and dumb to its endless cases of malpractice, it is all the more important to get rid of those unsuitable legislators who protect corrupt practices and care about the party's will over public opinion," he said.
Comments will be moderated. Keep comments relevant to the article. Remarks containing abusive and obscene language, personal attacks of any kind or promotion will be removed and the user banned. Final decision will be at the discretion of the Taipei Times.