Lienchiang and ministry censured over ferry data
BACKDOOR SPYWARE: Customers of the 'Taima Star' found the personal information they used to purchase tickets through the online system had been leaked
The Control Yuan yesterday censured the Lienchiang County Government and Ministry of Transportation and Communications over a cybersecurity breach that leaked traveler data from the Taima Star (台馬之星) ferry for more than a year, causing travelers to be targeted by fraudsters.
Following complaints of system irregularities and data leaks, the Control Yuan in May initiated a probe that found mismanagement and failure of supervision by the county government and the Maritime Port Bureau.
The main problem was hackers planting backdoor spyware onto the online ticketing system for the ferry, which connects Taiwan proper with the county, Control Yuan members Fan Sun-lu (范巽綠) and Lin Yu-jung (林郁容) said.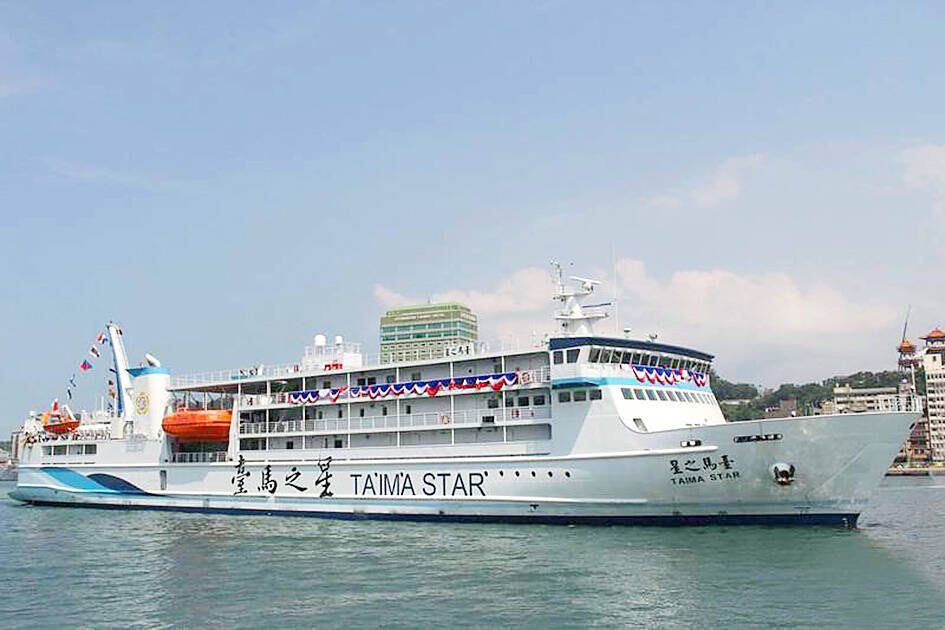 The Taima Star is pictured in an undated photograph.
Photo: Yu Chao-fu, Taipei Times
The county government discovered the breach in December 2021, but failed to fix system irregularities and other problems, Fan said.
"Failure to take remedial action went on until February, when customers found the personal information they used to purchase tickets through the online system had been leaked, resulting in people being targeted by fraudsters," Fan said. "It therefore went on for more than a year, with no action to fix the spyware. Officials were negligent and must address their failure, since consumer rights were violated."
Residents of Matsu Island and its neighboring islets governed by the county are dependent on the Taima Star or flight services to travel to and from the main island, with the ferry taking between seven and 10 hours to reach Keelung Port, Lin said.
Lin and Fan visited the Lienchiang County Government from Aug. 10 to 12 to meet with officials and Lienchiang County Commissioner Wang Chung-ming (王忠銘) of KMT to discuss remedial measures.
Wang said that he had in March already told the contractor to fix the online ticketing system, Lin said.
"But Wang said the contractor refused, saying the business agreement ended at the end of May," Lin said.
"Instead the contractor said people could purchase tickets by telephone, e-mail and via social media, which restricted access to outsiders," Lin added.
The Control Yuan probe also found negligence by the Maritime Port Bureau, which in March approved Keelung-based shipping company Ocean World Engineering and Technology to operate a cargo service to transport goods between Lienchiang and Taiwan proper, which also received approval from the Lienchiang County Government.
Lin said bureau officials failed to oversee the cargo service, as the company's ship did not provide entry and exit records for registry with port authorities in Lienchiang or Taiwan proper.
The bureau was also unable to verify the actual operations of the cargo shipping business and therefore must take responsibility, Lin added.
Comments will be moderated. Keep comments relevant to the article. Remarks containing abusive and obscene language, personal attacks of any kind or promotion will be removed and the user banned. Final decision will be at the discretion of the Taipei Times.