AIT chair arrives for third visit
American Institute in Taiwan (AIT) Chairwoman Laura Rosenberger arrived in Taiwan last night for a five-day visit, during which she will meet with senior government officials, the Ministry of Foreign Affairs said.
This visit, Rosenberger's third to Taiwan since assuming her post on March 20, will focus on such issues as regional peace and security and bilateral trade and investment, the ministry said in a statement. She is scheduled to leave on Oct. 19.
The ministry welcomed Rosenberger, saying it hoped the two sides will build on their existing solid foundation to further deepen their cooperative relationship.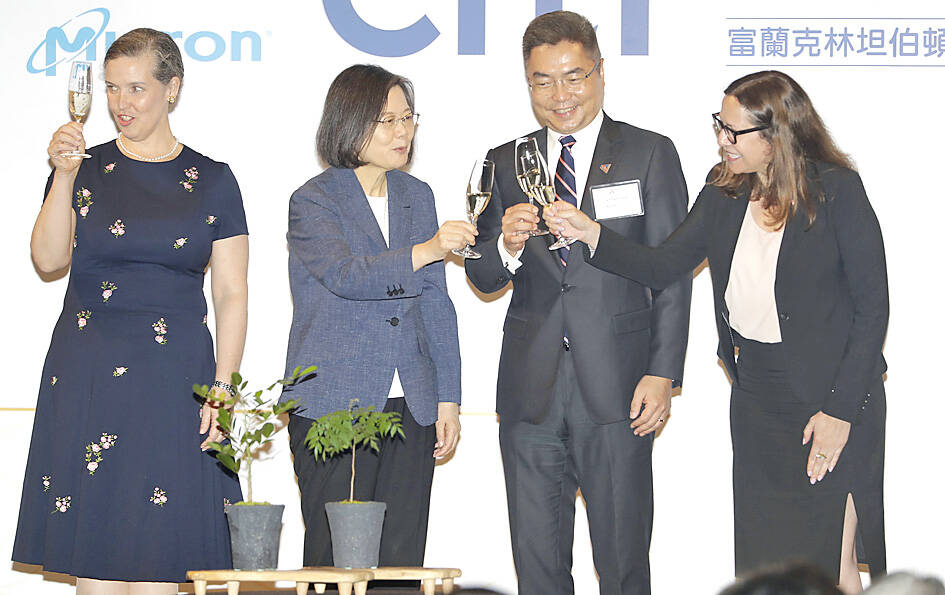 From left, American Institute in Taiwan (AIT) Director Sandra Oudkirk, President Tsai Ing-wen, AmCham Chairman Vincent Shih and AIT Chairperson Laura Rosenberger toast for media during the 2023 Hsieh Nien Fan annual dinner of the American Chamber of Commerce in Taipei on April 19.
Photo: AP
Rosenberger first visited Taiwan from April 18 to 23 as AIT chair, and her second trip to the country was June 5- 10.
It is headquartered in Virginia and has a main office in Taipei and a branch office in Kaohsiung.
Its Taipei director serves as the top US envoy to Taiwan while the chairperson serves more of a ceremonial role.
A Reuters report published in March, citing four people familiar with the Biden administration's thinking, predicted, however, that Rosenberger would take a more "hands-on approach" to building unofficial ties with Taiwan than her two immediate predecessors.
A major focus of her job, the report said, will be to maintain communication channels with candidates in Taiwan's presidential election that is to take place on Jan. 13 next year, which could affect the dynamic between Taipei and Beijing.
Comments will be moderated. Keep comments relevant to the article. Remarks containing abusive and obscene language, personal attacks of any kind or promotion will be removed and the user banned. Final decision will be at the discretion of the Taipei Times.