Research institute on democracy and technology founded
ASSESSMENTS: The national-level institute is to research the influence new technology has on the government, society, and the general public
The National Science and Technology Council (NSTC) launched its Research Institute for Democracy, Society and Emerging Technology (DSET) yesterday, Taiwan's first national-level interdisciplinary institute dedicated to assessing and responding to the impacts that emerging technologies bring to democracy.
Speaking at the launch ceremony in Taipei, NSTC Minister Wu Tsung-tsong (吳政忠) emphasized that national science and technology policy extends its influence beyond the government and technology giants to encompass various societal groups and the public as part of Taiwan's democratic governance and practice.
"The DSET is therefore tasked with conducting systematic research on the effects and risks that the development of emerging technologies might bring to the humanities and society," he said.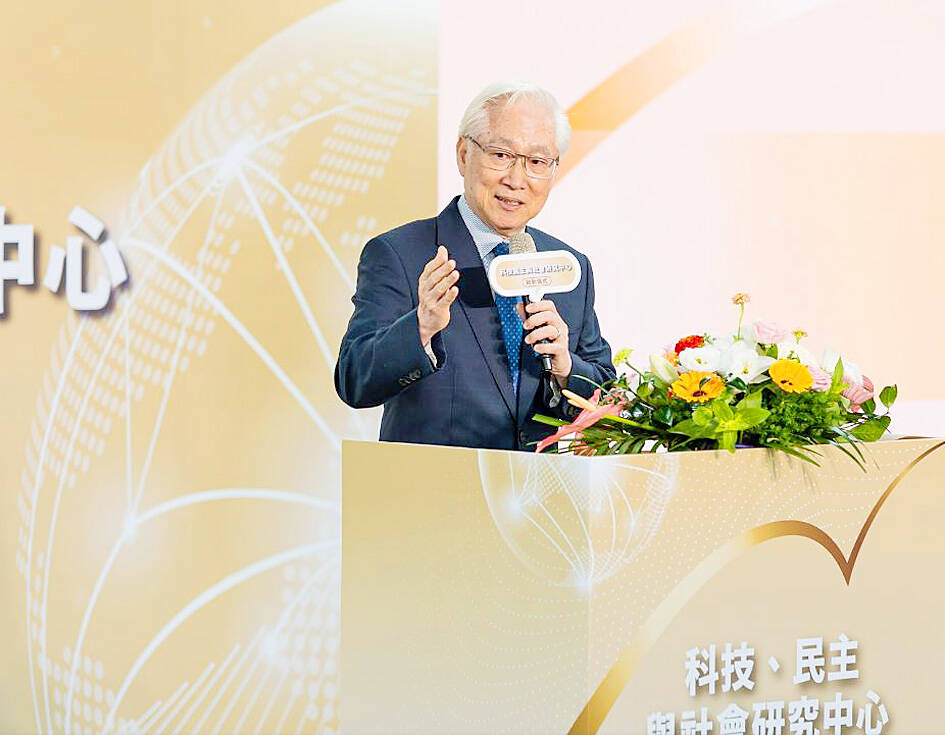 National Science and Technology Council Minister Wu Tsung-tsong speaks at the launch of the Research Institute for Democracy, Society, and Emerging Technology in Taipei yesterday.
Photo: Screen grab from the council's Facebook page
The council said that the new institute aims to foster connections between the government, society and the public in areas such as artificial intelligence, semiconductors, quantum computing, space technology, precision medicine, clean energy and information security.
Also present at the ceremony was Chen Dung-sheng (陳東升), the convener of the DSET's advisory committee, who outlined the institute's major missions, which include providing interdisciplinary policy recommendations and cultivating talent across generations.
Acknowledging that no single think tank in Taiwan can accomplish all tasks, Chen, a sociology professor at Taiwan Normal University, suggested collaboration with institutions such as the Chung-Hua Institution for Economic Research and the Institute for National Defense and Security Research to build an ecosystem for policy research.
The DSET is also set to explore the interactive impact of emerging technologies on democratic society, political dimensions and economic dimensions from a Taiwanese perspective, the council said in a statement.
Comments will be moderated. Keep comments relevant to the article. Remarks containing abusive and obscene language, personal attacks of any kind or promotion will be removed and the user banned. Final decision will be at the discretion of the Taipei Times.