Ministry plans amendments to curb exhaust noise
The Ministry of the Environment is planning amendments to enforce mandatory noise certifications for vehicles' modified exhaust systems by the end of the year.
A total of 23,423 complaints regarding noisy vehicles were filed this year as of August, and fines were imposed on 5,403 cases, the ministry said.
The numbers have surpassed the 21,682 complaints and 4,712 fines last year, it said.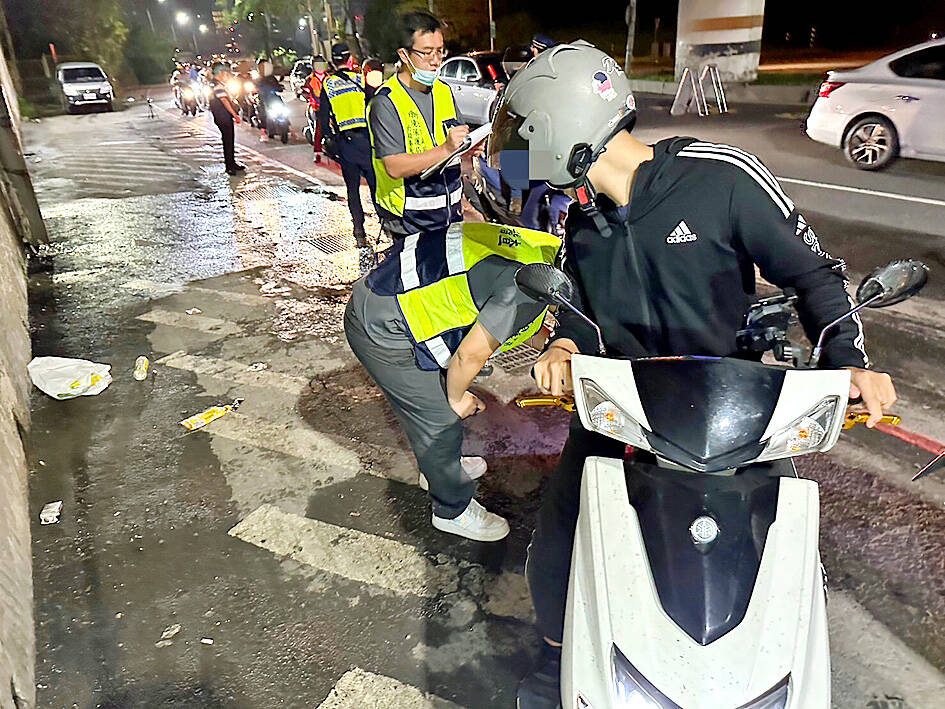 Police inspect a motorcycle's exhaust in New Taipei City's Sijhih District on April 29.
Photo copied by Lin Chia-tung, Taipei Times
A woman surnamed Lee (李) said that noise from modified exhaust systems often wakes her up at night as she lives close to a major road, adding that she had to take sleeping pills and install airtight windows to improve her sleep.
A man surnamed Chen (陳) said he had been filing complaints regarding noisy vehicles for over a decade and hoped louder exhausts could be banned as they are "not a necessity."
The noise from modified vehicles not only makes people irritable but also impairs hearing, he said.
The ministry's Department of Atmospheric Environment Director-General Tsai Meng-yu (蔡孟裕) on Saturday said that the sound volume of general vehicles is about 80 decibels.
Noise exceeding 86 decibels made on roads with a speed limit of 50kph, or 90 decibels made on roads with a speed limit of 50 to 70kph, are considered illegal and owners could be fined up to NT$3,600, he said.
Environmental protection and police units enforcing the law and handling complaints failed to effectively curb noisy vehicle cases, Tsai said.
The current certification system for modified exhausts is unenforceable and it is not followed by all modified-vehicle owners, he said.
Noisy vehicles get fined when they are stopped for exceeding noise levels, Tsai said.
The ministry aims to introduce the "regulations governing certification of the modified exhaust" (改裝排氣管認證作業辦法) to make noise certification mandatory for vehicles with modified exhaust systems, he said.
The certification data would be linked to the vehicle registration data kept by the Ministry of Transportation and Communications, Tsai said.
Exhaust systems that are not legally certified would be in violation of the Road Traffic Management and Penalty Act (道路交通管理處罰條例) and face a fine of up to NT$1,800, he said.
Apart from modified exhaust systems, fines would also be given for noise generated by improperly modified engines and speeding, he said.
In July, the Environmental Protection Administration, which was upgraded to the Ministry of the Environment in August, increased the fines for noisy vehicles at night and around specific places such as schools, libraries and medical institutions, Tsai said.
Acording to the ammendment, modified vehicles above legal noise levels could face a fine up to NT$30,000; while unmodified vehicles surpassing noise limits could face a fine of NT$3,600, he said.
Comments will be moderated. Keep comments relevant to the article. Remarks containing abusive and obscene language, personal attacks of any kind or promotion will be removed and the user banned. Final decision will be at the discretion of the Taipei Times.