Japan's plans have Taiwan focus
RUNWAY UPGRADES: Airports and ports mainly scattered around southwestern Japan are being given major overhauls, primarily serving as civilian-use facilities
Japan has chosen 33 airports and ports as candidates for improvement to enhance military capabilities, with a particular focus on infrastructure that could be utilized in a Taiwan emergency, according to a recent report in Japan's Nikkei Shimbun.
Citing the Japanese government's fiscal budget proposal for next year, the newspaper said Toyko is to name some facilities as essential bases and receive funding for upgrades in line with the revamped national security strategy published last year.
According to an unofficial policy document drafted last month and reviewed by the Nikkei, the Japanese government designated 14 airports and 19 ports for improvement, including 16 facilities in the Ryukyu Islands encompassing Okinawa, as well as Kyushu and Shikoku.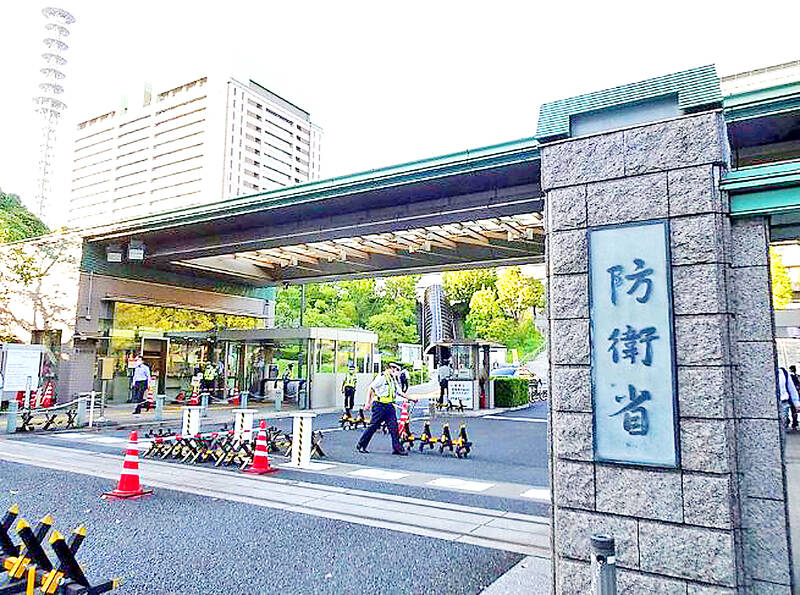 The main entrance to the Japanese Ministry of Defense in Tokyo is pictured in an undated photograph.
Photo: CNA
The selection of the sites suggests a concern with areas near China, a country of surging military capabilities that analysts say could become the focal point of a major conflict in Asia, it said.
New Ishigaki, Miyako and Naha in Okinawa, Kagoshima and Miyazaki in Kyushu, and Kochi in Shikoku are among the airports listed in the government's plan, the Nikkei said.
These airports could be used as bases for the Japan Self-Defense Forces to deploy troops and supply Taiwan with fuel and food in case of a contingency, the newspaper said.
Yonaguni, New Ishigaki and Miyako airports with their 2,000m-long runways are difficult places to take off or land for heavy military transport aircraft including Japan's Kawasaki C-2, capable of moving 100 people, it said.
The capability to accommodate heavy cargo planes would enable the evacuation of local residents if necessary, the newspaper said.
Other airports are being considered for runway extensions and installation of a variety of improvements encompassing new parking lots, taxiways and hangars that would allow their utilization by the Japan Self-Defense Forces and Coast Guard, according to the Nikkei.
A civilian runway of 2,500m or more that is easy to use for defense purposes is a security asset for Japan, a senior Japan Self-Defense Force official was quoted as saying.
Japan is eyeing Yonaguni Island for a new port capable of accommodating escort and patrol vessels, while the docks at Ishigaki, Hirara and Naha ports in Okinawa, Kumamoto port and Hakata port in Fukuoka are to be overhauled, Nikkei said.
Facilities in Hokkaido and Fukui prefectures, which respectively have to deal with Russian and North Korean threats, are also to be upgraded, the Nikkei said.
The list of airports and ports to receive improvements is classified and its content is subject to change, it said.
Japan has begun briefing local officials on its plans and ranking members of the government already visited Miyako over the matter of refurbishing Miyako Airport and the Port of Hirara, Nikkei said.
Comments will be moderated. Keep comments relevant to the article. Remarks containing abusive and obscene language, personal attacks of any kind or promotion will be removed and the user banned. Final decision will be at the discretion of the Taipei Times.