MOC participates in Travel Expo
STORYTELLING: The ministry's pavilion displays the history of Taiwan's sugar industry, showing the crucial turning points in six key locations around the nation
Taking inspiration from the culture of hand-shaken drinks, the Ministry of Culture (MOC) has organized travel itineraries in six locations famous for their sugar production at the Fall Travel Expo, tracing the history of the nation's sugar industry.
"The combination of culture and tourism provides new ways and angles for the world to learn about Taiwan from the best perspective," said Deputy Minister of Culture Sue Wang (王時思) at the opening ceremony of the expo yesterday.
The ministry has a pavilion at the expo which tells the history of Taiwan's sugar industry, documenting the crucial turning points and developments in Kaohsiung, Yunlin, Pingtung, Tainan, Changhua and Taitung.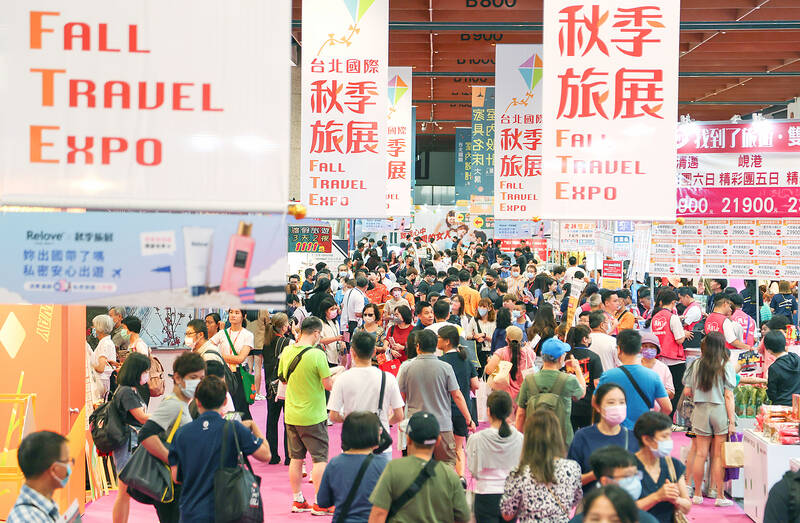 People look for bargains at the International Fall Travel Exhibition at Taipei World Trade Center Hall I yesterday.
Photo: CNA
The Ciaotou Sugar Refinery (橋仔頭製糖所) in Kaohsiung was the nation's first modern sugar factory to adopt mechanized production methods. The large production capacity stimulated the upgrade of the Port of Kaohsiung into an international port and facilitated the development of the city's Gushan District (鼓山), the ministry said.
The Huwei Sugar Refinery Plant (虎尾糖廠) in Yunlin County is the only plant in Taiwan that has operating railway lines carrying sugarcanes, while a plant in Pingtung County was turned into the Civic Park with playing grounds, water features and historical sites, it said.
The historical drama series Seqalu: Formosa 1867 (斯卡羅) was shot in the Annei Sugar Factory (岸內糖廠) in Tainan and the Dulan Sugar Factory (都蘭糖廠) in Taitung was turned into a culture park featuring aboriginal music performances and driftwood art, it said.
The expo is being held at Taipei World Trade Center Hall One (世貿一館) until Monday.
In other news, Tourism Administration Deputy Director-General Trust Lin (林信任) yesterday said that Taiwan hopes China would show goodwill regarding the plan to resume cross-strait tourism.
The Mainland Affairs Council last month announced a plan to resume cross-strait tourism, in which 2,000 Chinese traveling with tour groups would be allowed to enter Taiwan each day, and 2,000 Taiwanese joining tour groups would be permitted to visit China.
The implementation date of the plan would be determined based on China's response, the council said at the time.
Travel Agents Association chairman Hsiao Po-jen (蕭博仁) said the tourism industry hopes the government would lift all travel restrictions on cross-strait tourism.
He suggested that Taiwan can open its borders to all tourists and encourage Taiwanese people to travel abroad to show Taiwan's sincerity as a free and democratic country.
Travel Quality Assurance Association chairman Chang Yung-chen (張永成) said Taiwan can lift the ban on tour groups traveling to China to help the industry build up momentum and ease cross-strait tensions.
Additional reporting by CNA
Comments will be moderated. Keep comments relevant to the article. Remarks containing abusive and obscene language, personal attacks of any kind or promotion will be removed and the user banned. Final decision will be at the discretion of the Taipei Times.