Flu vaccinations to start on Monday
PREVENTION: Influenza can develop into serious complications, with 164 deaths reported this flu season, an expert said, urging at-risk groups to get vaccinated
Government-funded influenza and pneumococcal vaccinations targeting at-risk groups are to begin on Monday, the Centers for Disease Control (CDC) said yesterday.
Flu vaccinations are to be offered in two phases, while pneumococcal vaccinations for people aged 65 year or older would be offered in three phases, CDC Director-General Chuang Jen-hsiang (莊人祥) said.
The first phase of flu shots are to be offered to healthcare and disease prevention workers; elderly people; long-term care facility workers and residents; children from six months to preschool age; pregnant women, and people with underlying health conditions, rare diseases or catastrophic illnesses, CDC Division of Preparedness and Emerging Infectious Disease Deputy Director Chih Yi-chien (池宜倩) said.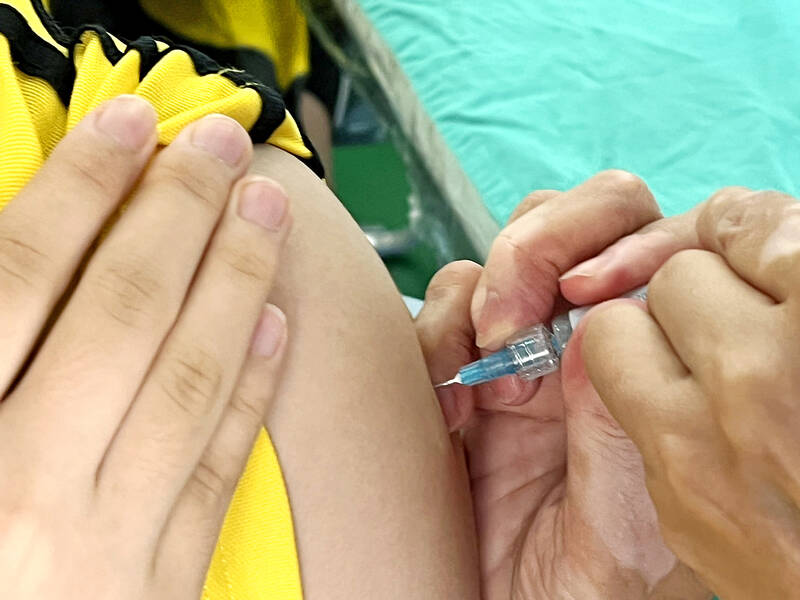 A student receives a vaccine shot in Yunlin County yesterday.
Photo: Huang Shu-li, Taipei Times
They also include parents of newborns younger than six months; nursery or preschool workers; students from elementary to senior-high school age; and livestock and animal disease prevention workers, she added.
Chih said that the second phase is to start on Nov. 1, when eligibility would be expanded to include people aged 50 to 64.
Aside from students and certain people, who would be vaccinated on campuses or at designated locations, all other eligible recipients can book an appointment at a contracted healthcare facility or public health center, she said.
Chuang said that 6,986,900 doses of government-funded flu vaccines have been prepared for this flu season.
CDC Division of Acute Infectious Diseases Deputy Director Liu Hui-rong (劉慧蓉) said that publicly funded pneumococcal vaccination includes two doses — a dose of 23-valent pneumococcal polysaccharide vaccine (PPV23) and a dose of 13-valent pneumococcal conjugate vaccine (PCV13) — for people born in or before 1958.
In the first phase, people who had received a PCV13 (or PCV15) shot at least one year earlier, would receive a dose of PPV23, Liu said.
High-risk groups (people with impaired spleen function, cochlear implants or cerebrospinal fluid leakage, or those undergoing immuno-suppressive or radiation therapy, or preparing for an organ transplant) can receive the PPV23 eight weeks after a PCV13, she said.
The second phase it to start on Nov. 27, when a dose of PCV13 would be offered to people 65 or older who have never received any dose of a pneumococcal vaccine, she said.
The third phase is to start on Dec. 25, with a PCV13 shot for people who had received a PPV23 at least a year earlier, she said.
Although people aged 65 or older are recommended to get three vaccines (for flu, pneumococcal and COVID-19), few would meet the eligibility requirements for the first phase of the pneumococcal vaccination, Chuang said.
Most elderly people can plan to get their COVID-19 and flu shots before Nov. 27 and the pneumococcal vaccine in the second phase, he said.
National Vaccine Injury Compensation Program convener and Mackay Memorial Hospital medical specialist Chiu Nan-chang (邱南昌) said that at-risk people should ensure they get their flu shots.
The flu is not the same as the common cold, and can develop into serious complications, such as pneumonia, encephalitis, myocarditis and even death, Chiu said, adding that 741 cases of complication from flu and 164 deaths have been reported this flu season.
Among the serious flu complications, 54 percent were people aged 65 or older, 82 percent were unvaccinated and 82 percent had underlying health conditions, he said.
The government-funded flu vaccines are quadrivalent vaccines, protecting against two influenza A viruses and two influenza B viruses, he said.
The government is using four brands of vaccines this year, two imported and two domestically produced, all of which have passed inspection standards, so people do not have to ask for a specific brand, Chiu said.
Pneumococcal infections are caused by the Streptococcus pneumoniae bacteria, and can cause invasive pneumococcal disease and lead to sepsis, meningitis and other fatal complications, he said, adding that 201 cases of invasive pneumococcal disease have been reported this year, 44.3 percent of whom were elderly people.
Fewer people have reported experiencing adverse reactions from pneumococcal vaccines, with only some recipients reporting temporary pain at the injection site from a PPV23 shot, relatively fewer than from a COVID-19 vaccine, he said.
Should people experience a serious allergic reaction after getting a vaccine, they should seek immediate medical attention, he said.
Chiu, who is also a pediatric infectious diseases specialist, said that at least four types of respiratory infectious diseases are spreading locally, including the flu, respiratory syncytial virus, adenoviruses, enteroviruses and COVID-19, so people should maintain good personal hygiene and practice proper cough etiquette, and avoid or wear a mask when going to crowded areas.
He also said that eligible recipients of the vaccines should get vaccinated as soon as possible for better protection.
Comments will be moderated. Keep comments relevant to the article. Remarks containing abusive and obscene language, personal attacks of any kind or promotion will be removed and the user banned. Final decision will be at the discretion of the Taipei Times.