CCP using Matsu visit for 'united front' work: party
BE ALERT: The Taiwan Statebuilding Party urged national security agencies and the MAC to thoroughly scrutinize those visiting from the temple in China's Fujian Province
The Taiwan Statebuilding Party yesterday alleged that a visit planned by the Matsu Temple in Meizhou Township in China's Fujian Province for November is an attempt by the Chinese Communist Party (CCP) to use religion as part of its "united front" tactics.
The party urged national security agencies to thoroughly vet those visiting to prevent Chinese spies from entering Taiwan.
China's Taiwan Affairs Office (TAO) spokeswoman Zhu Fenglian (朱鳳蓮) said that multiple groups, including the Taiwan Matsu Fellowship, had signed a petition requesting that the Meizhou Matsu tour Taiwan.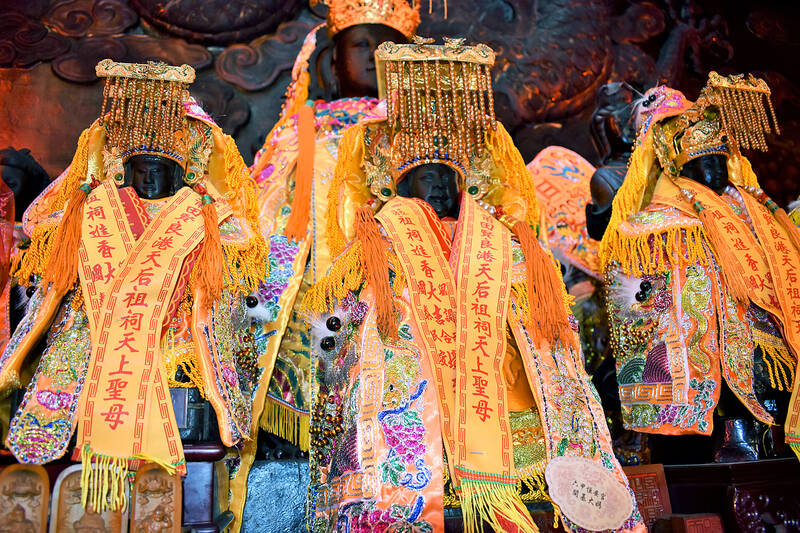 Matsu figures from Heng An Temple in Tainan's Lioujia District and the Matsu Temple in Meizhou Township, Fujian Province, China, are pictured in Tainan on Nov. 4, 2019.
Photo: Yang Chin-cheng, Taipei Times
The Meizhou temple had been quick to respond and arranged to visit from Nov. 3 to 13, she said.
Matsu is a deity revered by people on both sides of the Strait, and the Meizhou Matsu is no stranger to Taiwan, having previously visited to great fanfare, Zhu said.
The TAO is "happy to see the Meizhou Matsu tour Taiwan and bless our Taiwanese compatriots with her grace," Zhu said.
Taiwan Statebuilding Party Chairman Wang Hsing-huan (王興煥) said that trade, commerce, religion, education, culture and tourism are all means used by China to spread its "united front" rhetoric.
Anyone who denies this is either working with China or is completely ignorant of China, he said.
Wang said The Economist had reported that China was attempting to infiltrate Taiwan via connections in religious circles.
The Taiwan Matsu Fellowship and the Taiwan First Matsu Fellowship, representing Jenn Lann Temple (鎮瀾宮) in Taichung's Dajia District (大甲) and Gongfan Temple (拱範宮) in Yunlin County's Mailiao Township (麥寮) respectively, had previously invited the Meizhou Matsu to Taiwan, Wang said, adding that high-ranking representatives of both fellowships had also met with TAO Director Song Tao (宋濤).
Wang called on the Mainland Affairs Council (MAC) to base its review of the Meizhou group on whether any are mouthpieces for China's "united front" tactics and asked national security agencies to prevent questionable parties from entering Taiwan.
Taiwan Statebuilding Party spokeswoman Yang Pei-hua (楊佩樺) said that China is using the event as a platform for its "united front" rhetoric, even saying that Matsu is like a mother to Taiwanese.
The Matsu Temple has sent out invites to Taiwanese temples and followers asking them to attend events in Fujian, she said, adding that Chinese media are reporting that Taiwan's religious groups are answering the invitations.
National security agencies must be on guard regarding the November visit, she said.
Comments will be moderated. Keep comments relevant to the article. Remarks containing abusive and obscene language, personal attacks of any kind or promotion will be removed and the user banned. Final decision will be at the discretion of the Taipei Times.