Poet and writer Lin Heng-tai dies
Acclaimed Taiwanese poet and writer Lin Heng-tai (林亨泰) died on Saturday at the age of 98, the Ministry of Culture said yesterday, adding that it would submit a request for Lin to be honored with a posthumous presidential citation.
Born in 1924 in Beidou County, Taichung Prefecture — which is now known as Changhua County — during the Japanese colonial era, Lin was best known for modern vernacular-style poetry, the ministry said in a statement.
Using the pen names Hen-jen (亨人) and Huan-tai (桓太), Lin was affiliated with several literary organizations, including the Silver Bell Society (銀鈴會), Modernism (現代派), the Li Poetry Society (笠詩社), Taiwan PEN (台灣筆會) and others, the ministry said.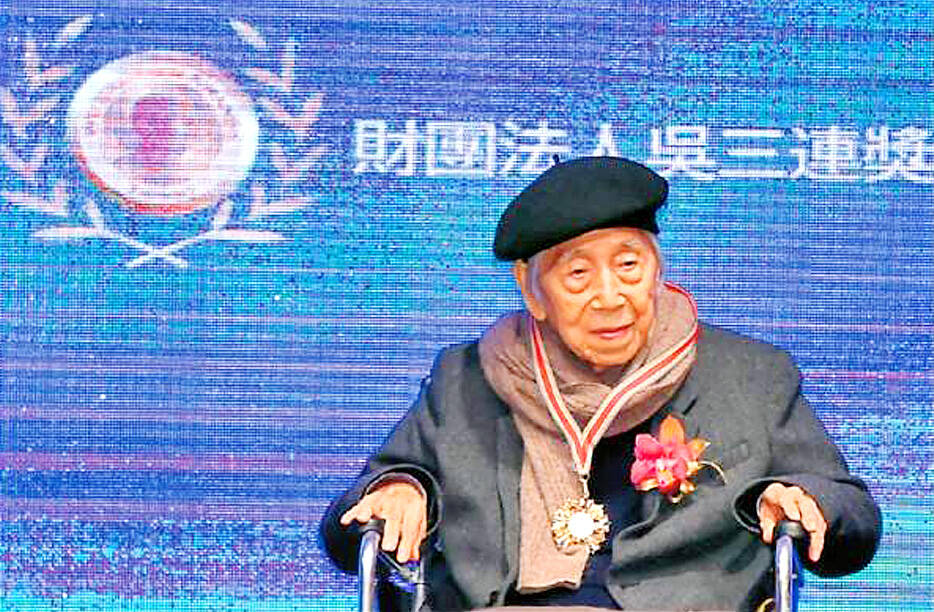 Taiwanese poet and writer Lin Heng-tai is pictured in an undated photograph.
Photo: Taipei Times
In 1949, he published his first poetry collection called The First Cry of the Soul (靈魂的產聲), and in 1956, he became part of the "Modern School" led by poet Ji Xian (紀弦).
Eight years later, he cofounded the Li Poetry Society with literary friends and served as the first editor-in-chief of the Li Poetry (笠詩刊) magazine.
Modern poetry was Lin's primary genre, the ministry said, adding that, from the release of his first poetry collection in 1949 to Poetry of Life (生命之詩) in 2009, Lin was active for six decades.
He also authored such works as The Long Throat (長的咽喉), Collected Poems of Lin Heng-tai (林亨泰詩集) and The Unbeatable History (跨不過的歷史), and translated An Introduction to the Method of Paul Valery.
Lin received numerous awards throughout his career, including the Oxford Prize for Taiwanese Writers, the Wu San-lien Literary Award and the National Award for Arts, the ministry said.
Minister of Culture Shih Che (史哲) said that Lin was a poet and writer who held a prominent position among the "translingual generation" of writers in Taiwan.
Lin was leaving behind a priceless legacy and a profound example for generations to come, Shih said.
Comments will be moderated. Keep comments relevant to the article. Remarks containing abusive and obscene language, personal attacks of any kind or promotion will be removed and the user banned. Final decision will be at the discretion of the Taipei Times.