PLA activity 'unusual' but understood: Chiu
Recent movements by the Chinese People's Liberation Army (PLA) have been "highly unusual," but the military maintains a grasp of the situation, Minister of National Defense Chiu Kuo-cheng (邱國正) said on Friday, after the military for the first time said it was monitoring troop movements in China's Dacheng Bay (大埕灣).
The minister gave the remarks to reporters before appearing at the legislature on the first day of its new session.
The Ministry of National Defense on Thursday evening released an air force surveillance photograph of a PLA Shaanxi Y-8 anti-submarine aircraft, and said it was monitoring the PLA Rocket Force and ground movements near Dacheng Bay in Fujian Province's Zhaoan County, a PLA amphibious landing site.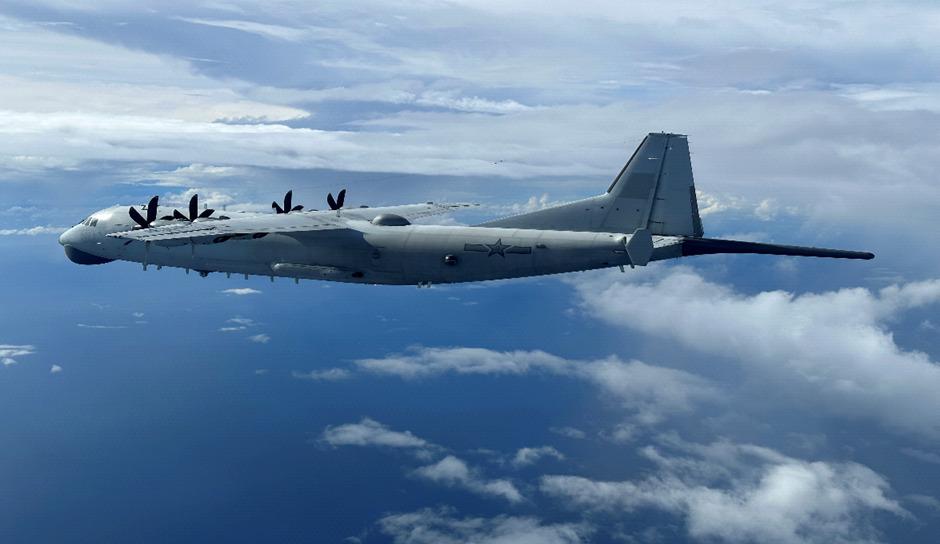 A Chinese People's Liberation Army Shaanxi Y-8 anti-submarine aircraft is pictured in a surveillance photograph released by the Ministry of National Defense on Thursday evening.
Photo courtesy of the Ministry of National Defense
Chiu said there was no particular revelation in the announcement, but that PLA movements "have been highly unusual lately."
Responding to criticism that the ministry was making the situation seem more serious by making too many public announcements, Chiu said it would seem like a coverup if the information were reported by another source.
The PLA has been conducting joint exercises throughout this month, which are understood by the nation's military, he said, adding that the ministry is committed to describing the facts as they stand.
Thursday night's announcement was likely a form of "intelligence deterrence," a concept proposed by the US military to show the PLA that Taiwan "knows every movement you take," Institute of National Defense and Security Research fellow Su Tzu-yun (蘇紫雲) said.
As for troop movements near Dacheng Bay, Su theorized the ministry mentioned them as the exercises were likely on a larger scale than usual.
Comments will be moderated. Keep comments relevant to the article. Remarks containing abusive and obscene language, personal attacks of any kind or promotion will be removed and the user banned. Final decision will be at the discretion of the Taipei Times.