Ministry scraps ID cards' mirror photos after complaints
The Ministry of the Interior has banned the use of mirror photos on national identification cards.
Taiwanese nationals were required to prepare a front-facing "half-body" color photo or digital photo taken within the past two years when applying for an identification card for the first time,
However, the ministry has since removed the term "half-body" in the updated regulation due to complaints regarding its vagueness.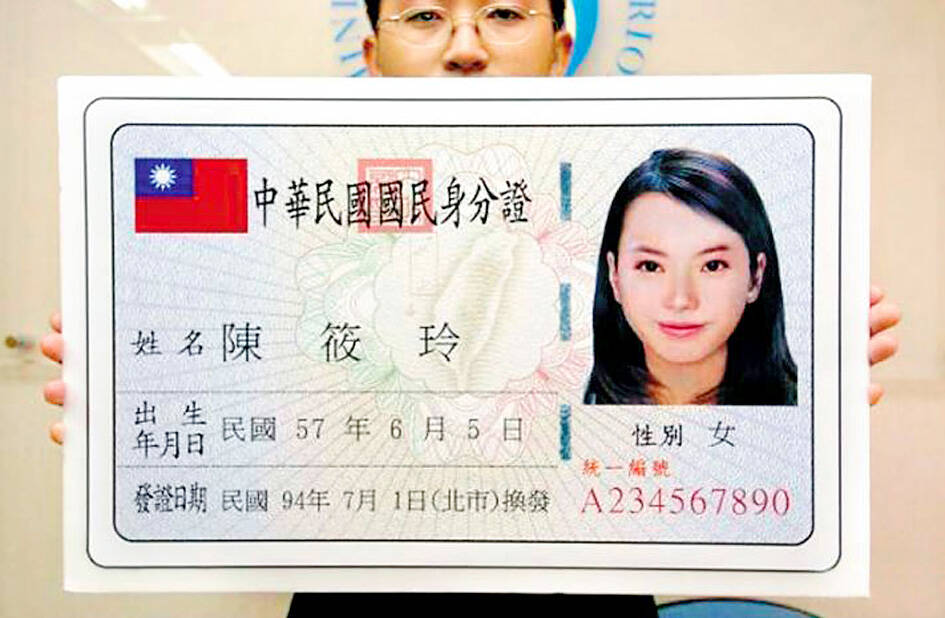 An official holds a sample of the national identification card, in Taipei in an undated photograph.
Photo: Taipei Times
Published on Tuesday last week, the amended regulation on the formats and photos of national identification cards includes the stipulation that the length of the portrait from the top of the head to the bottom of the chin should be between 3.2cm and 3.6cm.
Composite photos and mirror photos — where the portrait's left and right sides are reversed — are also prohibited, the regulation says.
It said that people should continue to use their original identification card number when restoring household registration, re-registering after canceling birth registration, and when being approved to reside domestically after canceling or abolishing initial household registration or restoring citizenship.
Those who re-register with different identities should be assigned a new identification card number, the updated regulation showed.
Those who are wanted, detained, or restricted from leaving the country in accordance with the Immigration Act (入出國及移民法) are banned from applying to change their national identification card numbers, it said.
The ban also applies to those who have been sentenced to a prison term and have not been declared eligible for probation or allowed to commute the sentence to a fine or community service, it said. The ban is valid for three years onward from the date of sentencing.
When same-sex married couples adopt their partner's children through step-parent adoption or co-adopt children, the parents should not be marked as "adopted" on the children's national identification cards, it said.
Comments will be moderated. Keep comments relevant to the article. Remarks containing abusive and obscene language, personal attacks of any kind or promotion will be removed and the user banned. Final decision will be at the discretion of the Taipei Times.