NARLabs shares Taiwan's achievements in London
National Applied Research Laboratories (NARLabs) showcased Taiwan's achievements in fields such as semiconductors and artificial intelligence (AI) chips at the CogX Festival at the O2 arena in London last week.
As a first-time participant, NARLabs displayed Taiwan's achievements in semiconductors, AI chips, organs-on-chips, information security, reducing carbon emissions and semiconductor talent cultivation, it said.
The CogX Festival, launched in 2017, is one of the world's largest technology exhibitions. This year's event was held from Tuesday to Thursday last week, focusing on the challenges humans are likley to face over the next decade in the "Exponential Age."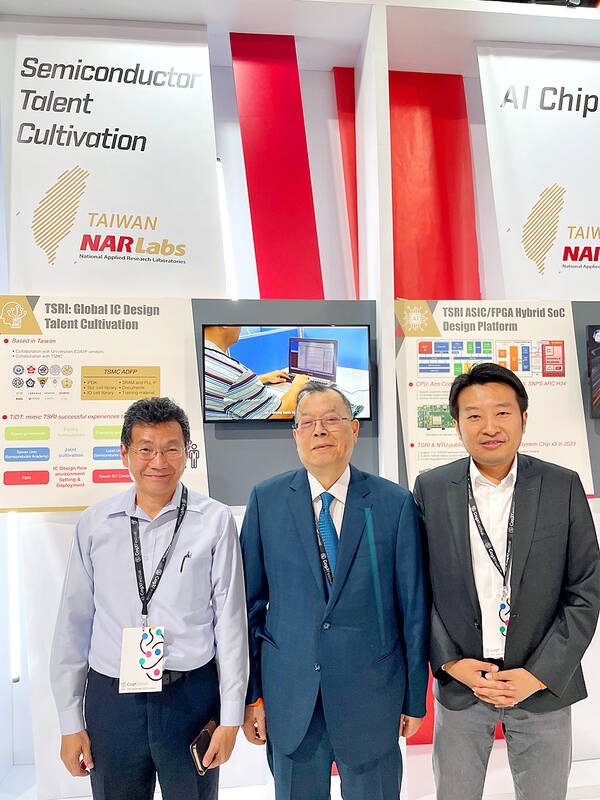 From left, National Applied Research Laboratories (NARLabs) vice president Lin Bou-wen, Powerchip chairman Frank Huang and NARLabs chief operating officer Hsu Yu-hsueh are pictured at NARLabs' booth at the CogX Festival in London in an undated photograph.
Photo courtesy of National Applied Research Laboratories
More that 500 speakers were invited to share their insights at the event, which drew more than 1,000 start-ups and about 9,000 attendees, the CogX Festival Web site said.
Several NARLabs researchers were invited to be speak at the festival's Semi Impact Summit, including Chang Chau-lyan (張朝亮), director-general of NARLabs' National Center for High-performance Computing.
Developments from edge AI computing to the large language models needed for generative AI prove that human intelligence and innovation are what have made chips powerful, he said.
Juang Ying-Zong (莊英宗), deputy director-general of NARLabs' Taiwan Semiconductor Research Institute (TSRI), said that the evolution of AI has created a hugely different computing environment.
A hybrid computing environment that integrates AI, high-performance computing and quantum computing is therefore needed to meet the world's current needs, he said.
Chai Juin-fu (柴駿甫), deputy director-general of NARLabs' National Center for Research on Earthquake Engineering (NCREE), said that combining an AI-integrated earthquake early warning system and a post-earthquake structural safety monitoring system can effectively reduce property losses caused by earthquakes.
Yu Chih-sheng (游智勝), an associate researcher at NARLabs' Taiwan Instrument Research Institute (TIRI), spoke about the development of vacuum technology and Taiwan, as well as the cutting-edge optical components that were used on Formosat-5, the first satellite designed and manufactured in Taiwan.
At NARLabs' booth, the NCREE displayed its seismic isolation system, which has been used in many countries and saved billions in economic losses, NARLabs said in a news release.
The organs-on-chips jointly developed by NARLabs' National Laboratory Animal Center, TSRI and TIRI, were also on display, it said, adding that the chips are expected to help accelerate the development of new drugs and precision medicine.
Comments will be moderated. Keep comments relevant to the article. Remarks containing abusive and obscene language, personal attacks of any kind or promotion will be removed and the user banned. Final decision will be at the discretion of the Taipei Times.