Hsinchu Mayor Kao issues a video apology
Hsinchu Mayor Ann Kao (高虹安) issued a video apology on Friday over recent controversies involving her, including accusations by Democratic Progressive Party (DPP) city councilors that her boyfriend had tried to meddle in an event the city was planning to hold.
In the two-and-a-half-minute video, Kao, a member of the Taiwan People's Party (TPP), apologized for the media coverage surrounding Lee Chung-ting (李忠庭), the man the DPP councilors said was her boyfriend.
"I apologize to the general public and citizens for the recent controversies and extensive media coverage that have occupied a significant portion of media space," Kao said.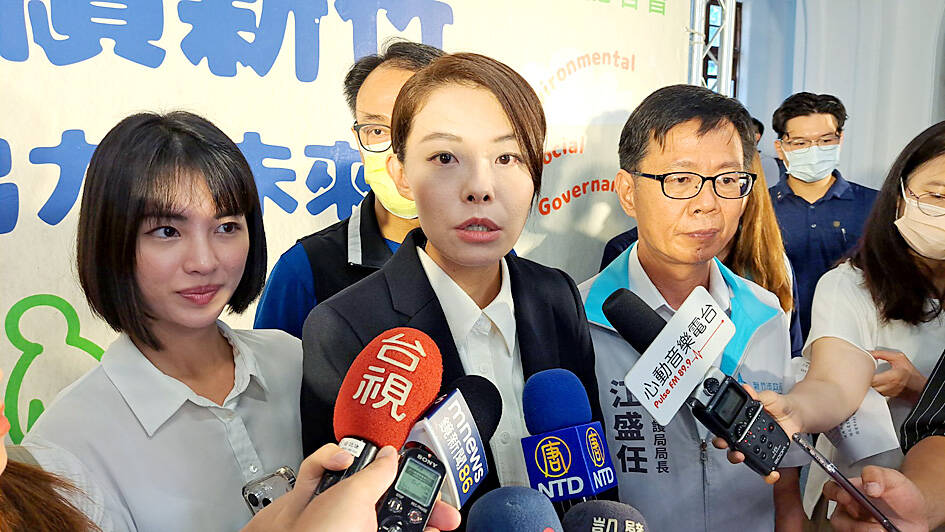 Hsinchu Mayor Ann Kao, center, speaks to reporters in Hsinchu City on Friday.
Photo: Hung Mei-hsiu, Taipei Times
She announced that, effective immediately, city government officials are prohibited from having any contact with Lee. Any violation would lead to severe punishment, Kao said, adding that it applies to her as well.
Kao said that Lee has never been involved with any municipal decisionmaking, and a limited number of city officials, who were old acquaintances of Lee, maintained what she called 'social interactions' with him.
"Mr Lee has never set foot in the mayor's office," she said.
CONTROVERSIES
Kao's remarks came amid controversies about her handling of potential conflicts of interest, following accusations from former Hsinchu Cultural Affairs Bureau director Chien Kang-ming (錢康明) that Lee had attempted to meddle in the city's governance.
Chien said that he had been asked by Kao to resign by Sunday last week, and Lee sought to interfere in city affairs by telling him how to deal with a New Year's Eve party.
Chien alleged that Lee said the party would be an event jointly held by the Hsinchu city and county governments, and Chien should leave the matter to him.
Kao is awaiting trial in a separate corruption case, after being indicted by the Taipei District Prosecutors' Office last month in connection with the alleged misuse of public funds while she was a member of the Legislative Yuan from 2020 to last year.
Kao has repeatedly denied any wrongdoing.
Over the past few weeks, she has also been involved in other controversies, including allegations of a close relationship with property developers.
However, there has not been any evidence presented that she had violated any laws or conducted herself in a way that has harmed Hsinchu.
Comments will be moderated. Keep comments relevant to the article. Remarks containing abusive and obscene language, personal attacks of any kind or promotion will be removed and the user banned. Final decision will be at the discretion of the Taipei Times.