Two arrested for illegal bets on election outcome
Police have made two arrests related to an election betting operation allegedly headed by a Chinese operator with the intention of influencing Taiwan's elections, the Criminal Investigation Bureau (CIB) said on Thursday.
The two male suspects surnamed Lee (李), 22, and Liu (劉), 30, were arrested in New Taipei City and Hsinchu County respectively, and detained for questioning earlier this month, officials from the CIB office in Taichung said in a news release.
Evidence points to Liu, who has prior criminal convictions, as the leader of the betting pool, acting as the representative for the mastermind based in China, the CIB said, adding that the person in China instructed Lee and other ring members to collect money, handle transactions and keep accounts.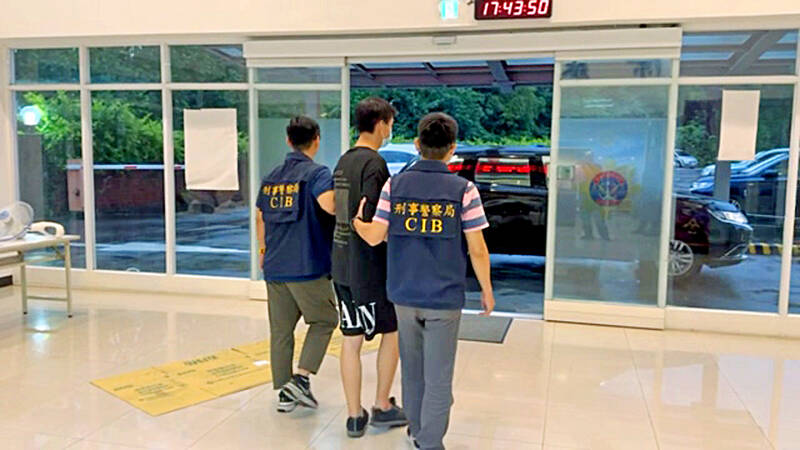 Criminal Investigation Bureau (CIB) officers escort a suspect surnamed Liu at the bureau's Taichung office earlier this month.
Photo courtesy of the CIB Taichung office
Police investigators said they last month came upon an advertisement of "Betting on 2024 Presidential Election with given odds and latest poll figures," on a Facebook page registered to a foreign IP address, the bureau said.
From a voice recording of a conversation between the mastermind and Liu, investigators deduced that the mastermind is Chinese, as his accent and word choice indicated as much, they said.
The betting scheme was likely organized by groups in China to influence the outcome of the presidential election in January, investigators said.
The investigators found five people had made bets of up to NT$50,000, the bureau said.
Prosecutors questioned the two suspects, who are facing charges on money laundering offenses and breaching of the Presidential and Vice Presidential Election and Recall Act (總統副總統選舉罷免法) and the Public Officials Election and Recall Act (公職人員選舉罷免法).
"Election betting pools usually have large transaction flows. They can cause damage to democratic elections, at times even more than traditional vote-buying," Prosecutor-General Hsing Tai-Chao (邢泰釗) said.
By tracing the money, prosecutors have found that illegal election betting in Taiwan is promoted mainly on social media, with significant financing by companies in southeast Asian countries, he said.
"These companies are based overseas, but target Taiwanese with their online gambling businesses, and now they offer bets on election outcomes," he said. "They are likely using underground channels and cryptocurrencies to transfer a large amount of funds into Taiwan, and many of them either have Chinese owners or they are financed to serve Chinese interests."
"We must enhance efforts to crack down, as they should be considered as hostile forces aiming to meddle in elections," Hsing said.
Yunlin County Chief Prosecutor Tai Wen-liang (戴文亮) said that in past years, investigators have observed increasingly more illegal gambling on election outcomes, in which operators receive large sums of funds from unknown sources to skew the odds to entice people to bet on particular candidates.
"Those who place large wagers would go to their relatives and friends to persuade them to cast their vote for a certain candidate, or to bet," Tai said.
Comments will be moderated. Keep comments relevant to the article. Remarks containing abusive and obscene language, personal attacks of any kind or promotion will be removed and the user banned. Final decision will be at the discretion of the Taipei Times.