'Fair' spreads awareness
The non-governmental organization Sunshine is holding a three-day "fair" in Taipei to spread empathy and support for sex abuse victims.
The event is being held at the Social Innovation Lab in Taipei's Daan District (大安), opening yesterday and continuing through tomorrow.
By displaying the clothing victims were wearing and the prejudices they faced, the "fair" aims to foster empathy for their experiences, while also offering support for recovery and a sense of community, the organization said.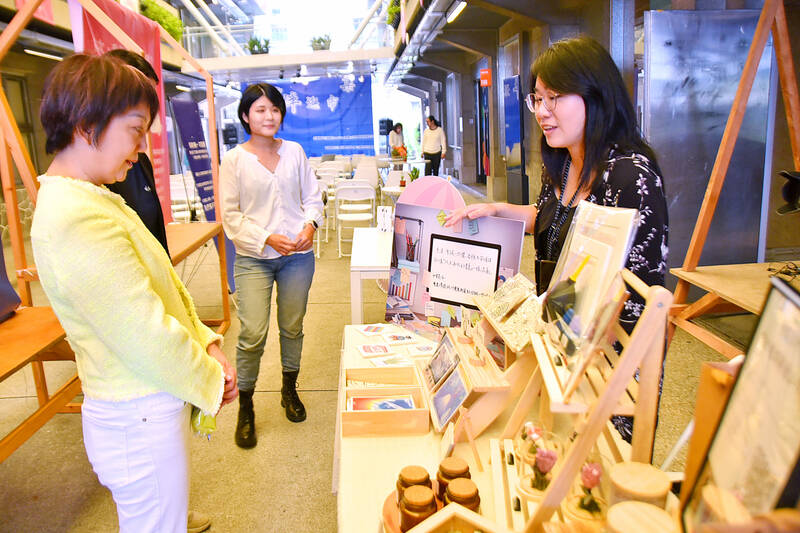 Legislator Fan Yun, left, yesterday peruses a display at a "fair" in Taipei's Social Innovation Lab on post-trauma recovery for victims of sex abuse.
Photo: Wu Po-hsuan, Taipei Times
Sunshine is an online community that was founded to provide a platform where other victims could share their experiences anonymously and feel less lonely, Sunshine founder Tang Ching (湯淨) said yesterday.
Tang said she had been sexually abused by a friend for months, but when she finally reported the incident, the police and the social welfare workers were very unfriendly.
Her own family members blamed her style of dress, causing her to feel increasingly isolated, she said.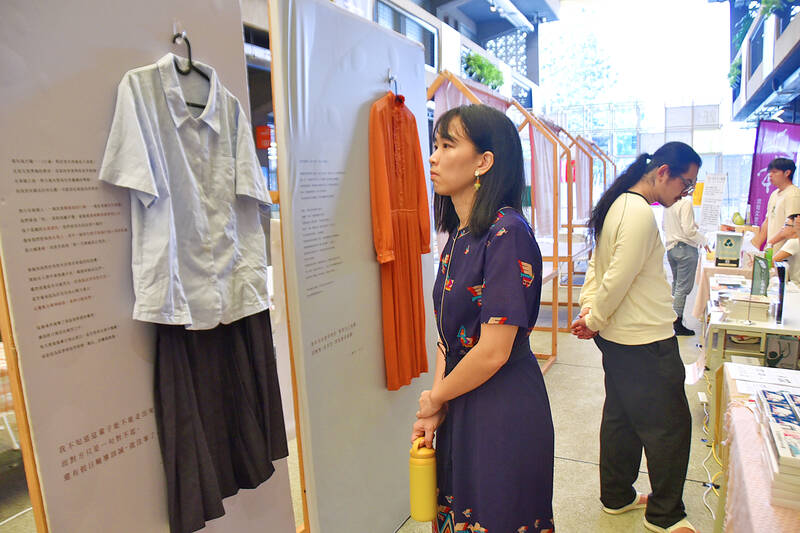 A visitor to an event in Taipei's Social Innovation Lab yesterday views clothing worn by a sex abuse victim.
Photo: Wu Po-hsuan, Taipei Times
Democratic Progressive Party Legislator Fan Yun (范雲) said it was ludicrous that victims of sexual abuse are condemned.
"The perpetrators are the ones who should be condemned," she added.
Many people shared their experiences in May at the start of the #MeToo movement, which showed that victims are finally feeling empowered, Modern Women's Foundation executive secretary Wu Tzu-ying (吳姿瑩) said, adding that the public reaction has been sympathetic.
About one-quarter of victims are students, with 78 percent experiencing post-traumatic stress disorder, she said, adding that there needs to be greater support for victims and increased measures to stop sexual abuse altogether.
Taiwan Association for Wellbeing of Children and Adolescents secretary-general Lee Tzu-chia (李姿佳) said that victims of sexual abuse are easily triggered by types of clothing, smells or animal sounds, but that such involuntary reactions are often met with a lack of understanding from their family members.
"We hope that everyone can help support victims and help them defeat their inner demons," she said.
Soochow University Department of Sociology student Huang Ching-ru (黃靖茹) said that telling victims' stories is very important, as it helps others to understand what victims have gone through.
The main problem facing victims is that the authorities and the public often misunderstand or misrepresent their situation, she added.
Comments will be moderated. Keep comments relevant to the article. Remarks containing abusive and obscene language, personal attacks of any kind or promotion will be removed and the user banned. Final decision will be at the discretion of the Taipei Times.