Dozens of Chinese planes and ships around Taiwan, ministry reports
Dozens of Chinese warplanes and 10 navy ships were detected around Taiwan, the Ministry of National Defense said yesterday, after warning that Beijing was conducting air and sea drills in the western Pacific.
Ten Chinese naval vessels and 68 aircraft were detected near the nation between 6am on Wednesday and 6am yesterday, the ministry said in a statement.
Forty of the aircraft had crossed the median line of the Taiwan Strait and entered the southwest or southeast air defense identification zone (ADIZ), it said.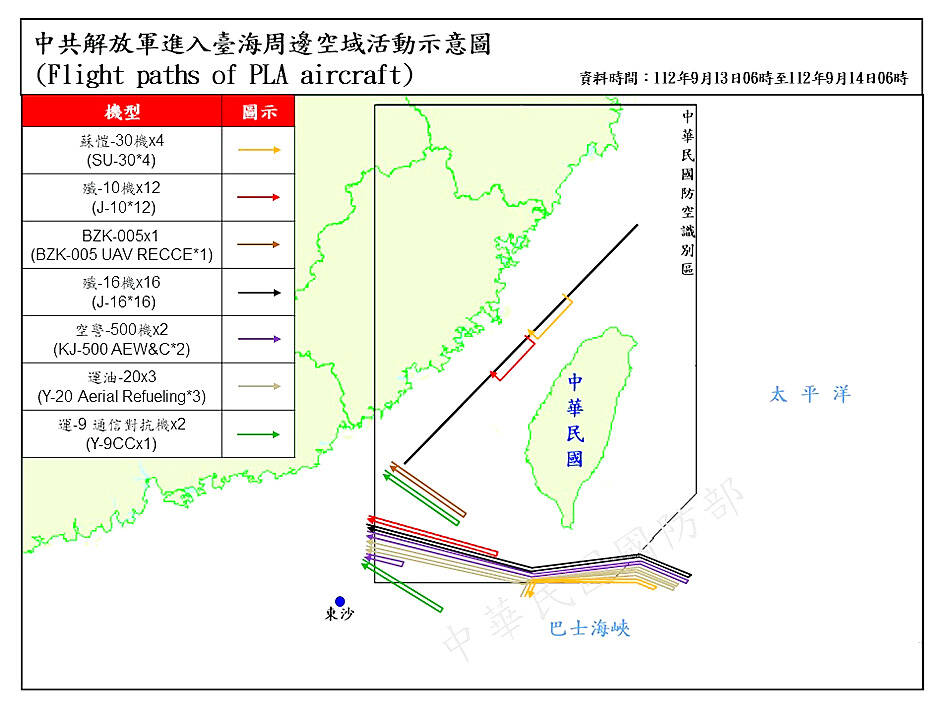 A map shows Chinese People's Liberation Army movements near Taiwan from 6am on Wednesday to 6am yesterday.
Photo courtesy of the Ministry of National Defense
This was followed by another 13 aircraft entering the southwest ADIZ yesterday, the ministry said in a separate statement.
Taipei had already said some of those planes and warships were heading to an unspecified area of the western Pacific to "conduct joint sea and air training" with China's Shandong aircraft carrier.
The Shandong, one of two operational aircraft carriers in the Chinese fleet, was detected on Monday about 110km southeast of Taiwan heading into the Pacific, the ministry said.
The Japanese Ministry of Defense also said on Wednesday that its navy had detected six ships — including frigates, destroyers, one fast combat support ship and the Shandong — sailing in waters about 650km south of Miyakojima Island.
It also confirmed that jets and helicopters had been detected taking off and landing on the Shandong.
Taipei this week said that China was stepping up "gray zone" activities around Taiwan, accusing Beijing of seeking to raise regional tensions and pressure the territory while avoiding all-out conflict.
China's military "has been tasked to develop capabilities to take over Taiwan," one expert said.
"Those military exercises are aimed at developing and practicing those capabilities," said Bonnie Glaser, a China expert at the Washington-based German Marshall Fund. "We should expect its trend to continue, with growing pressure on Taiwan."
China has not commented officially on any drills being conducted in the western Pacific, but the PLA's Eastern Theater Command, which organizes drills around Taiwan, said on Wednesday that an "aviation unit" had carried out training "recently" in a range of "thousands of kilometers" without mentioning Taiwan.
In April, China conducted military exercises to simulate the encirclement of Taiwan after President Tsai Ing-wen (蔡英文) met US House of Representatives Speaker Kevin McCarthy in California.
At the time, Taiwan detected 71 Chinese warplanes in a 24-hour period, matching the record daily high set in December last year.
China last week said its troops were "on constant high alert," after two ships belonging to the US and Canada sailed through the Taiwan Strait.
The US Navy said the transit demonstrated "the commitment of the United States and our allies and partners to a free and open Indo-Pacific."
Additional reporting by CNA
Comments will be moderated. Keep comments relevant to the article. Remarks containing abusive and obscene language, personal attacks of any kind or promotion will be removed and the user banned. Final decision will be at the discretion of the Taipei Times.