Language classes boost migrants
SALARY BOOSTS: By completing Mandarin or Hoklo language lessons and 20 hours of carer training, they can be designated intermediate skilled foreign workers
By the time the clock strikes 9am, the searing July heat is already permeating Taipei. At a private girls' high school, Filipino and Indonesian students are sitting in a classroom, eager to learn, surrounded by coffee, energy drinks and milk tea. Their first task? Sing along to Friends (朋友), a 1997 hit by Mandopop singer Wakin Chau (周華健).
If this has you scratching your head in bewilderment, you probably have never heard of the free Mandarin course the Taipei Department of Labor is offering migrant workers in the city.
Now in its second year, the program, launched in collaboration with the Taipei Language Institute, is designed not only to help migrants breeze through their day-to-day lives in Taiwan, but also to help them obtain the certification necessary for them to be re-designated as members of the "foreign intermediate skilled workforce" by the Ministry of Labor, which can help them earn higher wages.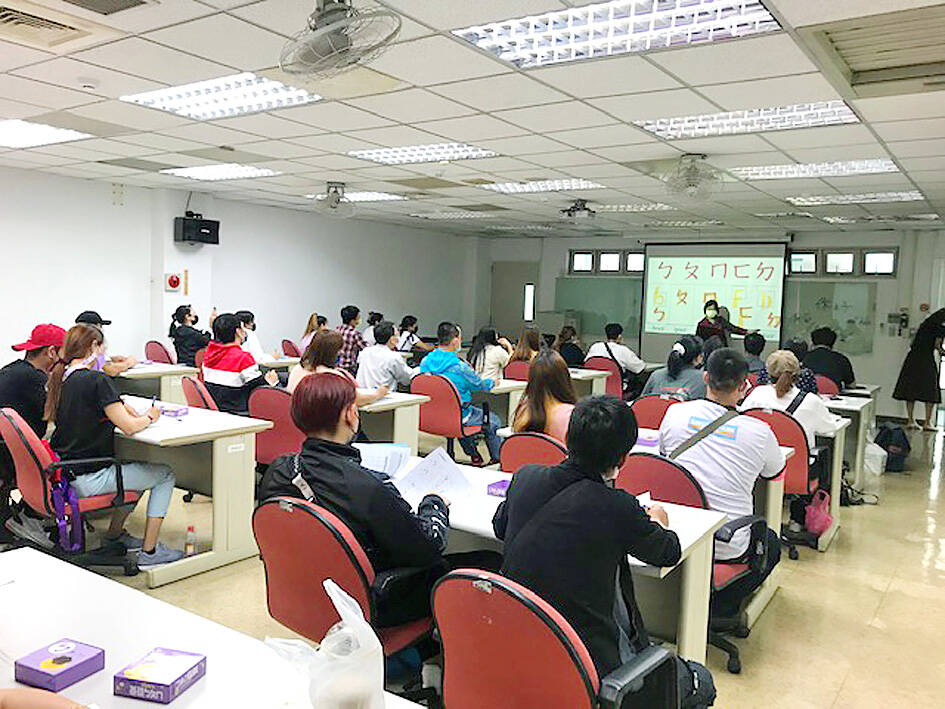 People attend a Mandarin class in New Taipei City in an undated photograph.
Photo courtesy of the Ministry of Labor
Acknowledging Taiwan's need for foreign workers amid a labor shortage, the Cabinet on April 30 last year launched the Long-Term Retention of Skilled Foreign Workers Program, under which foreigners who have worked in Taiwan for six years or more and have passed a skills test, as well as foreign students who have obtained an associate or higher degree in Taiwan, are potentially eligible for reclassification as part of the intermediate skilled foreign workforce.
To attain the status, migrant live-in caregivers were also previously required to pass the Ministry of Education's Mandarin or Hoklo (also known as Taiwanese) test, or their employer had to inform the local government that they could speak Mandarin or Hoklo well enough and therefore did not need to be tested.
Hsu Yu-han (徐郁涵), a section chief at the Taipei Foreign and Disabled Labor Office, said that migrant live-in caregivers would be able to attend 36 hours of Mandarin or Hoklo classes and be granted a certificate, which would allow them to bypass the language proficiency test.
As such, migrant live-in caregivers employed in Taipei, who make up about 90 percent of the city's migrant workforce, could take advantage of the free Mandarin course, Hsu said.
BENEFITS
After finishing the language lessons and completing 20 hours of caregiving training, they can be re-designated as intermediate skilled foreign workers, and qualify for higher wages, Hsu said.
The Workforce Development Agency's Web site says that there is no limit to the number of years intermediate skilled foreign workers can be employed in Taiwan.
Furthermore, their employers are not required to pay an employment security fee, and the workers can also receive a higher salary and advance their skills.
To prevent migrant workers from affecting employment opportunities for Taiwanese, those who hire migrant workers are required to pay an employment security fee stipulated by the Employment Service Act (就業服務法), funds that the government draws on when it wants to boost the employment rate, improve labor welfare or oversee the employment of foreign workers.
After working for another five years with the status, such workers can apply for permanent residency, the Web site says.
Intermediate skilled foreign workers continue to receive labor and health insurance protections, and if they work in industries covered by the Labor Standards Act (勞動基準法) and retire in Taiwan, they receive a lump-sum pension payment calculated under the labor pension system that was in force before July 1, 2005.
The minimum monthly wage for live-in migrant caregivers is NT$20,000 and they are not covered by the Labor Standards Act, while the minimum monthly wage for migrant workers in construction, manufacturing and skilled care facilities is NT$26,400, as defined by the legislation.
The minimum monthly wage for migrant fishers employed on distant-water vessels is US$550.
However, under foreign worker employment qualifications review standards introduced by the labor ministry, foreign workers are eligible for a pay raise when they qualify as members of the intermediate skilled foreign workforce, on the condition that their monthly wages, negotiable with their employers, were lower than the minimum payment set for intermediate skilled foreign workers stipulated in the Employment Service Act.
Under this designation, live-in caregivers are paid at least NT$24,000 a month, caregivers at skilled care facilities are paid at least NT$29,000 a month, those who do not have work experience, but have earned an associate or higher degree in Taiwan are paid no less than NT$30,000 a month, and those working in construction, manufacturing and deep-sea fishing are paid no less than NT$33,000 a month.
Workforce Development Agency data showed that 10,276 intermediate skilled foreign workers, comprising 4,072 industry workers and 6,204 caregivers, have been employed since the program's launch until June 30.
However, with the rising trend of learning Mandarin, many students enrolled in the program are already thinking about their post-Taiwan plans.
DREAMS
Pariatun from Indonesia said that in addition to learning to speak Chinese, she hoped to learn to write Chinese characters because she wants to teach the language when she returns to her home country.
"In Indonesia, there are a lot of jobs that require you to speak some Mandarin or cook Chinese dishes. You can earn more money if you have these skills," she said.
Aside from singing Mandarin pop songs, students also learn phrases that can be used in a range of real-world situations, such as when shopping, engaging in their domestic care roles or going to hospital.
During the class, the teacher instructed the students to repeat the new phrases after her before they broke off into pairs to practice the new vocabulary in short dialogues.
Freeya Ouyang (歐陽心如), who was commissioned to teach the program, said the Mandarin or Hoklo that migrant workers learn in Taiwan would significantly increase their mobility in Mandarin-speaking countries, and it would help if they do business or find jobs in such countries.
Comments will be moderated. Keep comments relevant to the article. Remarks containing abusive and obscene language, personal attacks of any kind or promotion will be removed and the user banned. Final decision will be at the discretion of the Taipei Times.