Navy requesting NT$616.2m for dry dock cranes
The navy has requested NT$616.2 million (US$19.27 million) for new dry dock cranes to help enhance its domestic wartime ship repair capacity, it said on Sunday.
Under a defense budget proposal for fiscal year 2024 submitted to the legislature, the navy plans to spend NT$377.7 million in 2025 and NT$377.9 million in 2026 to acquire the cranes.
Although it did not disclose the technical specifications of the purchases or say which supplier it would use, the navy said that the new cranes would allow damaged warships to be repaired more efficiently to better support the military.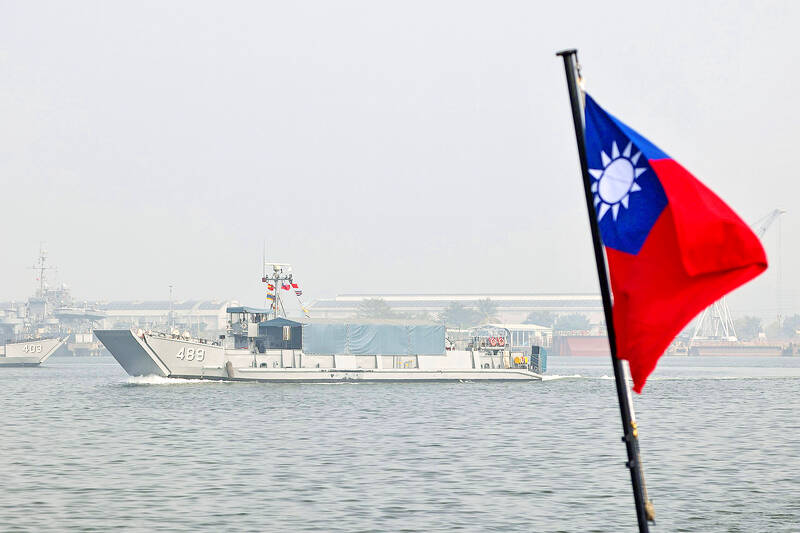 A Taiwan flag flutters as a vessel participates in a navy drill ahead of the Lunar New Year holiday in Kaohsiung on Jan. 2, 2021.
Photo: Ann Wang, Reuters
An assessment released in March last year by the Ministry of Economic Affairs' Industrial Cooperation Program showed that Taiwan might be able to manufacture dry dock cranes domestically.
Taiwan's naval shipbuilding capacity had progressed significantly in the past few years, the navy said, citing the domestically developed landing platform dock Yushan and the Tuo Chiang-class corvette.
More diverse vessels are either in production or being launched as part of the nation's efforts to bolster its wartime readiness, it said.
In other news, the state-run Military News Agency last week reported that the military police is to debut its newly purchased heavy motorcycles in a military base opening event later this month.
The Taipei-based 202nd Military Police Regional Command's Quick-Reaction Company is to showcase its new Indian Challenger motorcycles at a Sept. 24 "open house" event at an army base in Hsinchu County, it said.
The company is the only military unit in Taiwan equipped with heavy motorcycles.
It previously used 65 aging Japanese-made Yamaha Royal Stars, before the Military Police Command spent NT$65 million replacing them with US-made Indian Challengers.
The unit took delivery of them in November last year.
The military police is a separate branch of the armed forces tasked with protecting government leaders from assassination or capture, guarding strategic facilities, and conducting counterintelligence against enemy infiltrators, spies and saboteurs.
Comments will be moderated. Keep comments relevant to the article. Remarks containing abusive and obscene language, personal attacks of any kind or promotion will be removed and the user banned. Final decision will be at the discretion of the Taipei Times.