Lottery jackpots boosted by NT$660m
In a bid to boost ticket purchases during the Mid-Autumn Festival, Taiwan Lottery said on Tuesday said that it would raise the jackpots in several of its lotteries by NT$660 million (US$20.62 million), an increase of NT$40 million from last year.
Although this year's Mid-Autumn Festival falls on Sept. 29, Taiwan Lottery said it would start to boost the jackpots from tomorrow.
It added that its major lotteries such as the Super Lotto, the Lotto 6/49, and Bingo Bingo would begin offering increased payouts.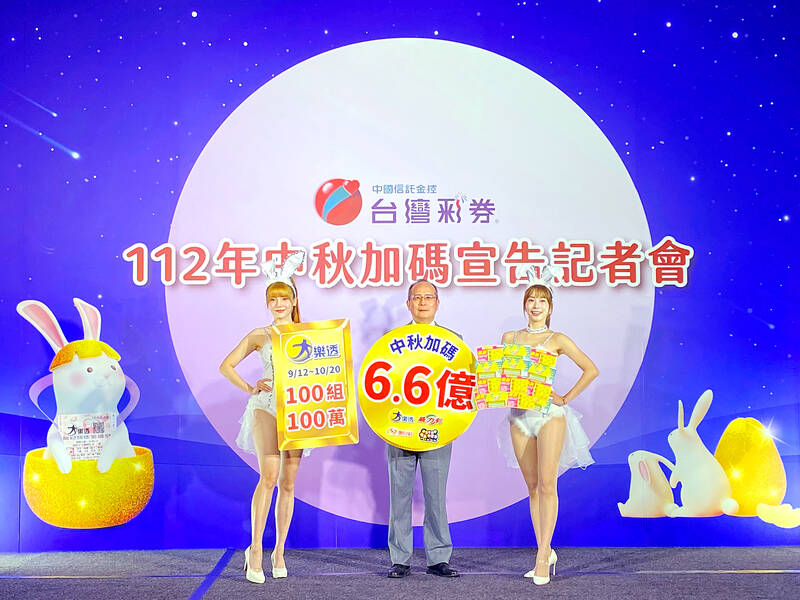 Taiwan Lottery general manager Hsieh Chih-hung, center, attends a news conference in Taipei on Tuesday.
Photo: Cheng Chi-fang, Taipei Times
From tomorrow until Nov. 9, the Taiwan Lottery would put an additional NT$200 million into the jackpot if the accumulated lottery jackpot for the top prize falls below NT$400 million. The jackpot booster would only be raised once during the period.
Regarding the Super Lotto, ticket holders must have six winning numbers drawn from 38 numbers in the first set, and one winning number out of eight numbers in a second set to win the top prize. The lottery has two draws — on Monday and Thursday — each week.
Starting from Tuesday, the additional prize money for the Lotto 6/49, in which ticket holders must pick six numbers from 49 numbers to win the top prize, would be distributed through a special draw, Taiwan Lottery said.
Six winning numbers are drawn for the special draw, it said, adding that as long as ticket holders select the same six winning numbers, they would win NT$1 million or an equal share of the prize money along with the other top-prize winners.
Taiwan Lottery said the additional prize money for the Lotto 6/49 would be distributed by Oct. 20, or until the extra money is used up.
The Lotto 6/49 takes place twice a week, every Tuesday and Friday.
A total of 612 Taiwan-based ticket buyers of the Lotto 6/49 have won the special NT$1 million prize, it said, citing statistics up until last year.
Taiwan Lottery said it would also add prize money for Bingo Bingo, where lottery ticket buyers bet on a big or a small number, an odd number or an even number in the tickets every five minutes.
On Tuesday, Taiwan Lottery unveiled two new lottery scratch cards with a total of NT$1.14 billion in prize money, and with more than 2.43 million prizes available.
Comments will be moderated. Keep comments relevant to the article. Remarks containing abusive and obscene language, personal attacks of any kind or promotion will be removed and the user banned. Final decision will be at the discretion of the Taipei Times.